News > Spokane
A mosque in the making
Sat., Sept. 1, 2007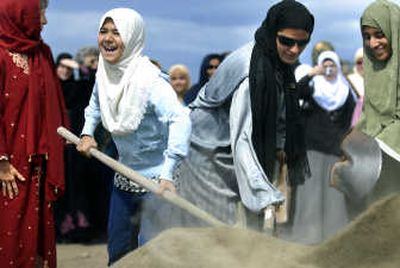 Spokane's Muslims prayed on a tarp under a tent Friday, in the hopes that a year from now they'll be worshipping on the same spot in the region's first traditional mosque.
With prayers and a ceremonial ground- breaking, the Spokane Islamic Center took a big step toward a mosque with more room and a higher profile, including the symbolic presence of a minaret. Muslims from the Spokane and Coeur d'Alene area have worshipped for years in a renovated home on the North Side that's too small for the crowds on religious holidays.
"This is a very important day for Muslims in Spokane," said Alaa El-Din Aamer, financial officer for the center. "This is going to be symbolic; you can see it even from the highway. People will know there's a mosque here."
The new mosque will be at 6301 E. First Ave., just off the eastbound I-90 exit at Sprague. Roughly 200 people attended Friday's groundbreaking, including Muslims from around the region and public officials.
Saleh Elgiadi, chairman of the center's board, said the 6,000-square-foot building is expected to cost $550,000, and about half of that has been raised. He said the center hopes to start construction by fall, once its permits are in place with Spokane Valley.
"We are hoping to start before the snow flies," he said.
The Islamic Center's current mosque is a remodeled house at 505 E. Wedgewood. Center President Mamdouh El-Aarag said it's too small for the roughly 200 people who attend the two annual Eid festivals that are key Islamic holidays.
He said the new mosque will have prayer halls for men and women, as well as common areas with a kitchen and a library. Center officials said they hope that, in addition to serving as a center of worship and life for Muslims, it will also operate as a public facility where non-Muslims can learn about the religion.
El-Aarag said it's important for Muslims to show that they're part of the community at large and to address the bad reputation the religion has gotten from fundamentalist terrorists.
"The Spokane community has been great to us, probably because as Muslims we are involved in the community and treat it as our city," he said. "We don't isolate ourselves."
Spokane's Muslim population is relatively small, estimated at around 1,000 people. El-Aarag said that the typical turnout at Friday prayers is about 60, and he hopes the new center will bring in Muslims from different backgrounds.
He also said the new mosque is exciting for the next generation of Spokane Muslims, including his 7-year-old son.
"He's here in the U.S., he has lots of challenges growing up in the U.S. as a Muslim – the TV, the media, school – he feels different," he said. "He's very excited that we're going to have something that looks like a real mosque."
Local journalism is essential.
Give directly to The Spokesman-Review's Northwest Passages community forums series -- which helps to offset the costs of several reporter and editor positions at the newspaper -- by using the easy options below. Gifts processed in this system are not tax deductible, but are predominately used to help meet the local financial requirements needed to receive national matching-grant funds.
Subscribe to the Coronavirus newsletter
Get the day's latest Coronavirus news delivered to your inbox by subscribing to our newsletter.
---