News > Home
Pam Lund
Tue., Sept. 18, 2007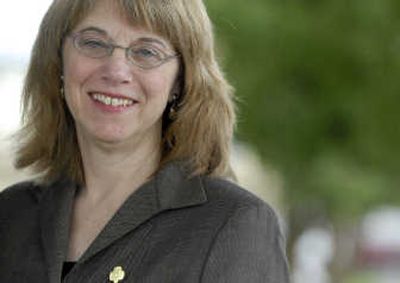 She's taught junior high and high school. She's been a consultant for private industry. And she's worked in the Washington state governor's office, coordinating work-force training programs.
Pam Lund is drawing from all three areas as the new chief executive officer for Girl Scouts Eastern Washington and North Idaho.
"It's a great perspective to bring to the Girl Scouts," says Lund, who moved to Spokane in April to take the job. "No matter where I work, there is a big conversation about supply and demand."
The private sector needs employees with certain skills, and the Girl Scouts can help its members learn those skills, says Lund, adding that the 95-year-old organization is in the midst of change.
"The world has changed. The way girls think about life has changed," Lund says. "We have a responsibility to listen to what girls need. We're competing with every other organization, competing for girls' time."
Lund says she feels blessed to have been raised with a sense of self-confidence she feels every young girl needs.
"I see my role here as an encourager, as a leader, as a change agent," Lund says. "By making the change, we'll be better on the other side."
Why Spokane?
The job was the primary draw for Lund and her husband, Chuck, to move from Olympia to Spokane.
"I get a chance to lead a brand-new organization into the future, to tease out of board members and staff something everyone is completely proud of," Lund says.
Lund notes that Spokane has other enticements, too. She grew up in a small town in California and liked this area's small-town feel. "I like the more rural living," she says.
Real estate
The Lunds bought a daylight-basement home built in 1978 in the Glenrose area that looks out on Browne Mountain. Pam Lund says she fell for the home after looking at nearly 30 others.
"It fit all the needs for both my husband and me," she says. "It has character."
Settling in
Lund says she's been so busy at work she's barely had time to explore the area. But she has found time to garden – she's into perennials – and do some cooking. "I had one career as a gourmet cooking teacher," she says. "I like to read cookbooks."
Lund's husband, who she describes as a private person, is retired "and having a great time" learning the area, she says.
The couple had several friends in Spokane before the move. And they also "got to know the Realtor quite well," Lund says with a laugh.
Missing the familiar
Lund says she misses old friends from the West side, as well as the sounds and smells of the ocean.
"I could get there in a day and back," she says. "But here we're much closer to the mountains."
Local journalism is essential.
Give directly to The Spokesman-Review's Northwest Passages community forums series -- which helps to offset the costs of several reporter and editor positions at the newspaper -- by using the easy options below. Gifts processed in this system are not tax deductible, but are predominately used to help meet the local financial requirements needed to receive national matching-grant funds.
Subscribe now to get breaking news alerts in your email inbox
Get breaking news delivered to your inbox as it happens.
---