News > Home
Dexter DuPont
Tue., Sept. 25, 2007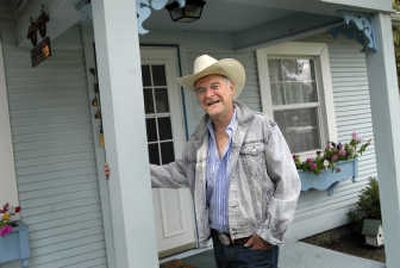 In a fog of grief, Dexter DuPont moved to Spokane.
Devastated by the death last winter of his wife, the 72-year-old former actor packed his belongings into a 17-foot trailer and left Burbank, Calif. It began to snow as he pulled into the driveway of his small rental home across from Audubon Park.
"I thought, 'Oh, man, did I make a big mistake,' " said DuPont, remembering that chilly April day. But, encouraged by his two grown children who live in the Spokane area, he decided to give it a chance. And he's glad he did.
Back in Burbank, he lived in the same home for 18 years and barely knew his neighbors.
"Everyone is too busy making a buck," DuPont said. "I'm not a rich guy. But I'm rich now. I've got the people of Spokane."
And they've got him. Two teenage boys living to the north mow his lawn. The family to the south has him over for barbecues. "I've been around so many nice people here," he said.
His home is a mix of memories. A large photograph of his wife, Dianne, hangs over the mantel. A sketch of Will Rogers and an autographed movie poster from a Gene Autry film hang in the kitchen. Photographs of the comedy duo Laurel and Hardy hang in the laundry room, near photographs of his beloved cat, Baby Kitty.
DuPont grew up in Green Bay, Wis., dreaming of being "a cowboy, a policeman and a fireman," he said, adding he chose acting so he could be all three. He took acting and directing classes at the Goodman Theatre, part of the Chicago Art Institute, before heading to Hollywood in the mid-1950s.
After a director cast him as a cowboy, DuPont says, he learned to ride horses and took parts in several Westerns. He played a member of the Dalton gang in an NBC movie, "The Outlaws." He played an angel in a "Twilight Zone" episode called "The Hunt." He appeared in an episode of "Empire," a 1960s TV series starring Ryan O'Neal.
"I really did a very few things," he said, characteristically dismissing his achievements. "I'm not really known by anybody."
DuPont gave up acting in the 1960s because his family needed a steadier income, he said. He sold Cadillacs for 20 years before going into real estate. He met Dianne when they shared a desk at Century 21. She died of bone and lung cancer on Dec. 26. They'd been married 18 years.
Since coming to Spokane, he's joined a bereavement group at a Lutheran church, and the support helps him cope with her loss, DuPont said. "I've learned there are a lot of people in the same boat."
He spends time with his children and his five grandchildren. He walks and runs three miles around the park each day. He watches the Green Bay Packers on television at the Swinging Doors Tavern on Francis Avenue. He's taking his daughter to see one of his favorite plays, "The Rainmakers," at Interplayers Theatre.
He did voiceover work in California and would like to do more in Spokane. "I think I have a role or two in me yet," he said.
In short, DuPont said, he's settling into his new home.
"I love it here. It's the best kept secret on the face of the earth."
Local journalism is essential.
Give directly to The Spokesman-Review's Northwest Passages community forums series -- which helps to offset the costs of several reporter and editor positions at the newspaper -- by using the easy options below. Gifts processed in this system are not tax deductible, but are predominately used to help meet the local financial requirements needed to receive national matching-grant funds.
Subscribe now to get breaking news alerts in your email inbox
Get breaking news delivered to your inbox as it happens.
---