Sports
Former Eagle lives life on TV
Tue., April 1, 2008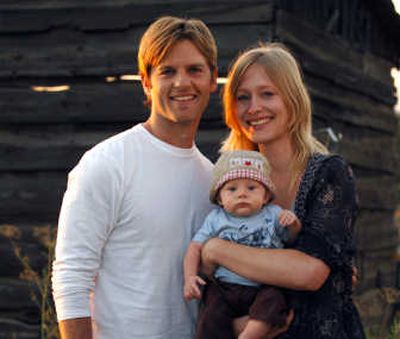 Trevor St. John's life has taken him from pastoral Orchard Prairie to the bright lights of New York City. In truth, however, he's only as far away from home as your nearest television set.
The former West Valley athlete comes into homes daily as the conflicted conniver Todd Manning on the ABC soap, "One Life To Live."
Since landing a part as Aiden Quinn's stand-in in the Spokane-made film "Benny and Joon," he's gone on to such movies as "Crimson Tide," "The Bourne Ultimatum" and "The Kingdom" and acted in several sitcoms and made-for-TV movies as well as his current daytime gig.
He returns home this month to produce a short film based on a screenplay he co-wrote with his cousin, Graham Sharman. St. John's father, former Spokane TV broadcaster Mark, is playing a part and friends are extras.
But it was not 20 years ago that St. John was balancing a bat on his nose, his dad recalled, to entertain baseball teammates, making a hit as an aggressive linebacker or trying to find a hole to run through as a running back during a futile season of Eagles football.
"My fondest memories of my athletic endeavors at West Valley are of the friendship and camaraderie I had with the other players," said St. John, who preferred to answer questions via e-mail, which he said is customary in his industry.
"I tried not to take anything too seriously during practice or off the field and was relentless in my attempts to get other players laughing."
St. John was a member of the Eagles' undefeated playoff football team in 1987 and never came off the field the next year when they were winless. His coach, Steve Kent, called him "incredibly coachable and dedicated. He always knew where he wanted to go as an athlete. As far as someone doing what he was supposed to, he did. But we were terrible."
With little blocking, yards as an inside veer runner were hard to come by, said St. John. He does remember a long run in which the hole he was supposed to go through closed. But he improvised and got loose.
"Man, did I get an earful," he recalled. " 'What the hell are you doing? You're NOT a daylight runner.' Sorry, I didn't mean to gain any yards."
His favorite was baseball and, he said, he pored over the Charlie Lau hitting book, attending clinics and taking thousands of cuts off a tee.
"Instead of relaxing me, I became self-conscious and never learned to trust myself," he said, even going through a Chuck Knoblauch period when he couldn't throw the ball.
"I wonder what I could have accomplished if someone had said, 'Hey, kid, relax. Don't try so hard,' " St. John said.
As it turned out, his entertainment calling came in another form. At Whitworth, where he attended on a music scholarship, he discovered theater, did a couple plays at Interplayers and auditioned for "Benny and Joon."
Casting director Rick Montgomery told him if he ever decided to try L.A. he would help and found St. John an agent a year and a half later. He played a skinhead in "Higher Learning" in 1995.
The move to New York came from a desire to do more theatre work.
"Plus," he said, "it's much closer to Sweden, where my wife is from."
St. John got the job as Todd Manning in 2003 after originally being cast as a another character.
Soap operas, he said, are a different animal entirely from prime-time television or film.
"First, the amount of material shot in a day is absurd," he said.
An entire episode is shot each day and sometimes he goes through as many as 80 pages of dialogue.
"One of the biggest challenges I've faced in this genre is the inability to behave physically like people do in life," said St. John. "There's so much material to get in the can that the actors are forced to stand directly across from each other. It's very difficult."
St. John said acting was something that probably was always in the back of his mind. Watching television growing up "I always had a sixth sense about human nature. It was kind of natural for me."
His first play at Whitworth was Shakespeare's "As You Like it," earning the lead as Orlando. Things went from there.
The short St. John is filming here, he said, is semi- autobiographical, an abbreviated version of a full-length script he'll try to get it into film festivals and hopefully have the full version picked up by a movie studio.
"I think it's terrific," he said.
Although he's producing a film in Spokane, his goals are to keep working as an actor.
"My idols have been journeymen like Charles Durning (among others)," he said.
An accomplished percussionist and owner of a fitness business, St. John and his wife, Sara, have a year-old son, Aiden. Sara is co-owner and graphic designer for an on-line strategy and design company called Fabric Interactive that has clients ranging from Porsche to Yahoo and Sacred Heart Medical Center in collaboration with Sharman Communications.
New York is home, but Orchard Prairie still holds a huge place in his heart.
"I love going back there, love the smell of winter wheat or alfalfa and the beautiful vistas from my childhood home," St. John said. "Although, I'm very angry about the idea of a possible Bigelow Gulch 'highway' tearing apart that precious land.
"But that's another story altogether."
Local journalism is essential.
Give directly to The Spokesman-Review's Northwest Passages community forums series -- which helps to offset the costs of several reporter and editor positions at the newspaper -- by using the easy options below. Gifts processed in this system are not tax deductible, but are predominately used to help meet the local financial requirements needed to receive national matching-grant funds.
Subscribe to the sports newsletter
Get the day's top sports headlines and breaking news delivered to your inbox by subscribing here.
---