News > Voices
Wineries join forces
BridgePress Cellars, Emvy launch debut wines with help from Mountain Dome, Grande Ronde
Thu., Aug. 14, 2008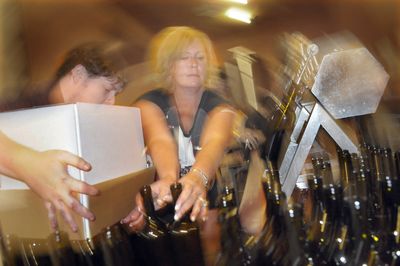 Mountain Dome Winery, a family-owned sparkling wine producer in the Foothills area of Spokane County, helped create Grande Ronde Cellars back in the late 1990s, and now Grande Ronde is widely regarded for producing elegant red wines.
This year, the pattern is repeating itself with Grande Ronde and Mountain Dome giving life to three new labels, under cooperative arrangement in two cases with new winemaking families.
The two new family wines as well as a set of new house-made whites have been released in recent weeks.
Grande Ronde co-owner Dave Westfall said the offerings are providing opportunities for budding winemakers and adding extra variety to the list of wines available through the combined operations. A tasting room under the Grande Ronde ownership is located at 906 W. Second Ave.
BridgePress Cellars, a venture by Brian and Melody Padrta, is debuting with a 2005 Cabernet Sauvignon from Seven Hills Vineyard in Walla Walla. It was bottled under the Grande Ronde license, although the Padrtas are seeking their own license from the state.
Their 2005 grapes came from a one-acre section of the Seven Hills Vineyard contracted to Grande Ronde. Grape clusters were pruned to yield less than two tons on that acre, increasing the intensity of the fruit. At crush, about 10 percent of the initial grape juice was poured off, leaving a larger percentage of skins and solids to intensify the wine during fermentation.
The result shows concentrated dark cherry fruit, coffee and vanilla flavors with moderate tannins. The result was much to the liking of the Padrtas, whose goal is to make bold Cabernet. They've sold 80 of their 120 cases.
"We want wine we can really cellar," said Melody Padrta, who took an interest in making wine after raising the couple's three children. "We wanted small volume, more of a boutique wine," she said. Her husband is an orthopedic surgeon in Spokane and uses his spare time for winemaking.
The name BridgePress refers to the roots of the friendship between the Padrtas and Westfall, who met years ago through bridge tournaments. The wine label uses images from playing cards.
"It all starts at the card games," said Westfall.
But their relationships are more like a family. During a bottling session last week at Mountain Dome, members of the Padrta family rubbed elbows with Westfall, his son, Dave Westfall Jr., and owners of the Mountain Dome operation, including Erik Manz, son of the late Mountain Dome founder, Michael Manz.
Through Grande Ronde, the second new wine is a 2002 blend of Cabernet and Merlot bottled under Emvy Cellars by owners Mark and Valerie Wilkerson. They named the wine Devotion.
Wine drinkers familiar with Grande Ronde may recognize the taste. Emvy's Devotion is a combination of the 2002 vintages made originally for sale as Grande Ronde wine. It is soft, flavorful and easy to drink.
Manz said older Grande Ronde wine was used for Devotion to get the Wilkersons' effort under way. The Wilkersons also have created a line of Emvy merchandise. They operate under their own license.
In yet another new offering, Grande Ronde has just released a cellar white made from 90 percent Sauvignon Blanc and 10 percent Semillon. In addition, Westfall and partner John Mueller are releasing a new label to Grande Ronde called Kibbitzer, a card term for someone giving too much advice.
Kibbitzer's two wines are slightly sweet with 2 percent residual sugar. They are a black Muscat and a Chenin Blanc.
Westfall said that through the cooperative arrangements the new winemakers can create top-quality products without the risk of spending a lot of money for equipment and contracts, and "because it's their own product, they are all excited about it."
Local journalism is essential.
Give directly to The Spokesman-Review's Northwest Passages community forums series -- which helps to offset the costs of several reporter and editor positions at the newspaper -- by using the easy options below. Gifts processed in this system are not tax deductible, but are predominately used to help meet the local financial requirements needed to receive national matching-grant funds.
Subscribe to the Coronavirus newsletter
Get the day's latest Coronavirus news delivered to your inbox by subscribing to our newsletter.
---
Subscribe and log in to the Spokesman-Review to read and comment on this story