News > Nation/World
Fisherman pulls shark from lake
Sun., Aug. 31, 2008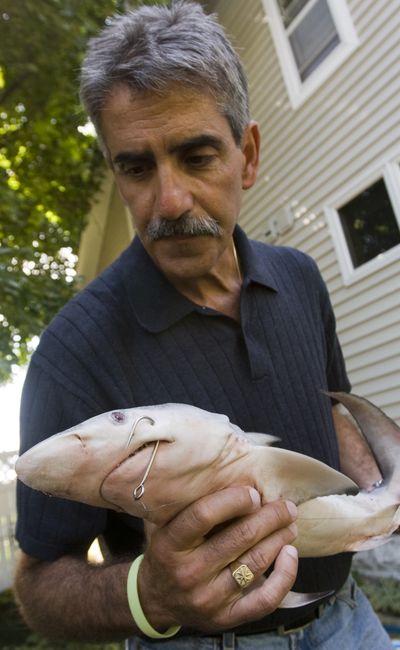 There's no telling what might turn up in Lake Michigan.
Rich Fasi, of Traverse City, says he found a dead 2-foot shark in the water while fishing on West Grand Traverse Bay on Wednesday.
The saltwater fish was a juvenile blacktip shark, said Mark Tonello, a fisheries biologist from the Michigan Department of Natural Resources.
Tonello said someone might have caught the shark off the Atlantic Coast and kept it on ice while bringing it to northern Michigan.
Another possibility is that the dead shark was dumped by someone who had kept it as a pet, Tonello said.
Pittsburgh
Whooping cough outbreak traced
Medical officials say staff members and some patients at a Veterans Affairs hospital are getting preventive treatment for whooping cough after an outbreak was traced to several workers at an outpatient clinic.
Officials said tests confirmed 11 cases of the respiratory bacterial infection among employees at the VA Pittsburgh Healthcare System facility. The chief of the VA's infectious disease division says no patients have been found to be ill with the disease.
Reno, Nev.
Burning Man hit by dust storm
A dust storm chased away some participants from the counterculture Burning Man festival before its traditional climax Saturday night on the northern Nevada desert, authorities said.
Roger Farschon, incident commander for the federal Bureau of Land Management, said the dust storm on the Black Rock Desert about 110 miles north of Reno began early Saturday afternoon.
The annual celebration of radical self-expression was scheduled to climax Saturday night with the torching of its 40-foot signature effigy.
The crowd on Saturday morning reached a record 49,599, up from 47,097 last year, authorities reported.
From wire reports
Local journalism is essential.
Give directly to The Spokesman-Review's Northwest Passages community forums series -- which helps to offset the costs of several reporter and editor positions at the newspaper -- by using the easy options below. Gifts processed in this system are not tax deductible, but are predominately used to help meet the local financial requirements needed to receive national matching-grant funds.
Subscribe now to get breaking news alerts in your email inbox
Get breaking news delivered to your inbox as it happens.
---