News > Spokane
Trial will determine Oakes' heirs
Illegally adopted sons or distant relatives could inherit estate of woman who lived as Billy Tipton's wife
Sun., Dec. 7, 2008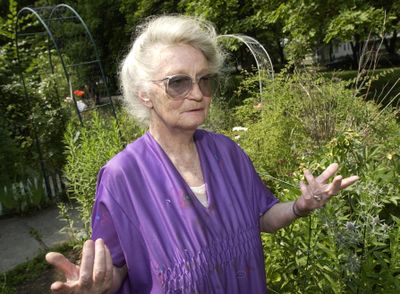 It's hardly a typical probate. In fact, it's a web of lies, court documents say.
The colorful saga of Kitty Oakes and Billy Tipton – the former stripper and the Spokane bandleader who lived as a man but was revealed at death to be a woman – will be the backdrop to a three-day Spokane County Superior Court bench trial starting Monday.
The trial will feature allegedly tampered documents, a court-ordered DNA test for a reluctant youngest son, and the claims of feuding siblings who want their share of Oakes' money.
At issue: Who will inherit Kitty Oakes' $300,000 estate from the sale of her Manito Boulevard home – the three illegally adopted boys she failed to provide for in a will, or distant relatives of her mother and the Ohio father she never knew?
Kathleen "Kitty" Tipton Oakes, born Stella Marie Banks, was a flamboyant redhead known as the "Irish Venus" who lived as Tipton's wife in Spokane from 1962 until they separated in 1980. Oakes remarried in 1984 and later divorced. Tipton died in 1989 – when his sex was publicly revealed.
Oakes was 73 when she died last year, forced out of her South Hill home in 2006 by cancer and dementia and involuntarily committed to Eastern State Hospital.
One issue in the complex probate of Oakes' estate has been resolved: Pamela Marie Lyon, later known as Pamela Marie Lewis, a potential "mystery heir" whose birth certificate was found among Oakes' possessions, is not a biological daughter. Superior Court Judge Michael Price recently ordered DNA tests of 64-year-old Lewis, described in a Spokane County guardianship file as a paranoid schizophrenic who lives in an assisted care facility. Lewis' DNA was tested by Orchid Cellmark, a scientific testing company, and compared to Oakes' DNA, court documents say.
In an Oct. 3 report, attorney James Woodard, Lewis' guardian ad litem, said he had concluded that she "is not an adopted child or a natural/biological child of the decedent."
Old family grievances are likely to rear up during the trial.
William A. Tipton, the youngest adopted son, has long been at odds with his other two adopted siblings, John T. Tipton, aka Jonathan Clark, and Scott Tipton, aka Scott Miller.
In the battle for the rights to Billy Tipton's story after the musician's death, William sided with his adoptive mother rather than his brothers. The squabbles grew so intense that Billy Tipton's ashes had to be split two ways between the dueling relatives.
William, born in 1969, was awarded Tipton's show business memorabilia and the diamond ring he wore while playing the piano. Jonathan, the oldest, and Scott, the middle child, were barely acknowledged – with $1 each – in Tipton's will, according to Tipton's biographer, the late Diane Wood Middlebrook.
In a recent court declaration, William asserts he's the only true heir to his mother's estate because he's the only one to produce a birth certificate in response to a request from Lynn St. Louis, the attorney representing Thea Skomo, the personal representative of Oakes' estate.
The birth certificate says William was born Nov. 17, 1969, in Pendleton, Ore. He has also recently asserted that he is Oakes' biological child.
"While I was told by my parents that I was adopted, obviously I don't recall such taking place. I do know that I was raised as a child of my parents and that the State of Oregon issued a birth certificate which says I was born to the deceased," William Tipton said in his declaration.
The attached birth certificate lists one of Oakes' former names, Stella Marie Flaherty, under "mother's maiden name." It also lists "Dee L. Tipton" under the father's name.
Dorothy "Dee" Tipton was Tipton's name as a child in Kansas City, where Tipton grew up in a prosperous family and studied music.
In a dissenting memorandum, Jonathan Clark challenges the validity of William Tipton's birth certificate.
"Two females cannot conceive a child, even though a Birth Certificate exists," Clark's memorandum says.
All three children believed they were legally adopted and didn't know their father was a woman until Tipton's death, Clark added.
"Does an individual with a birth certificate that is void due to fraud have a right to inherit … by virtue of the existence of said birth certificate?" he asks.
Clark and Miller have provided no documentation of their adoption. St. Louis filed a motion Nov. 17 seeking sanctions against William for refusing to show up on Nov. 7 for court-ordered DNA testing to resolve his claim that he's Oakes' biological son.
The birth certificate he submitted to the court contains "false statements at least as to one of the birth parents," St. Louis said in her motion, listing the "evidence of falsehoods" that pervades the case.
Allegedly false or doctored documents include: two marriage certificates for Billy Tipton and Stella Marie Tipton (Kitty Oakes) bearing the same date but from two different states, Idaho and Nevada; two death certificates for Billy Tipton, one identifying him as a man and one as a woman; a birth certificate for John Thomas Tipton, who was never legally adopted by and is not the biological child of Tipton and Oakes; and William Tipton's birth certificate.
Miller and Clark admit they weren't legally adopted, but William Tipton "has not conceded the fact," St. Louis said.
Despite the family history, the court "cannot allow a party claiming to be a biological child, a claim first raised just months ago, to continue to assert such a claim on the basis of a questionable birth certificate while defying a court-ordered DNA test that would resolve the issue definitively," St. Louis said.
On Oct. 28, Oregon's Center for Health Statistics provided an affidavit concluding that William Tipton was not legally adopted.
Last Monday, acting on a motion from St. Louis, Price imposed a $1,250 sanction on William Tipton, payable to Oakes' estate, for ducking his DNA test – but he gave Tipton a second chance to take the test. The judge has also denied Tipton's motion for summary judgment to exclude the other two siblings from the inheritance.
In this week's trial, Price must first determine whether Clark, Miller and Tipton are lawful, "first-level heirs," according to the trial management report. He must also decide under the "doctrine of equitable adoption" whether they should inherit equal portions of the estate – or whether William Tipton inherits all or none of it.
Price, in his Oct. 31 trial minutes, said he's inclined not to grant equitable adoption but will listen to all the evidence before ruling.
Oakes could have written the sons into a will, but she did not, St. Louis noted. If Price decides none of the sons is eligible, "then more remote relatives of Kitty S. Oakes would inherit" and the lawyers for the three sons would not be entitled to fees from Oakes' estate, according to St. Louis.
St. Louis has asked the "second-tier" heirs to submit affidavits declaring their relationship to Oakes. The three sons have objected to including any of those 41 heirs, who live in the Midwest and South, in the probate.
Local journalism is essential.
Give directly to The Spokesman-Review's Northwest Passages community forums series -- which helps to offset the costs of several reporter and editor positions at the newspaper -- by using the easy options below. Gifts processed in this system are not tax deductible, but are predominately used to help meet the local financial requirements needed to receive national matching-grant funds.
Subscribe now to get breaking news alerts in your email inbox
Get breaking news delivered to your inbox as it happens.
---