News > Spokane
Holiday travel costs deserve second look
Holiday travel costs deserve second look
Mon., Dec. 15, 2008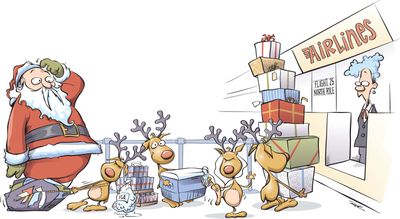 A few short months ago, the idea of traveling home for the holidays was a daunting proposition. Gas hovered above four bucks a gallon. Airfares steadily climbed, and airlines added fees for everything from checked baggage to holding a child on your lap. What a difference a few months – and an economic crisis – can make. In Spokane and Coeur d'Alene, gas prices have tumbled to levels not seen in more than four years. And as airlines strive to keep people in the seats, they're offering deals here and there that can still make it competitive for people in the Inland Northwest to fly, rather than drive, to regional destinations, said Todd Woodard, spokesman for Spokane International Airport. "The economy has started to drift downward and airlines are starting to lower their fares to fill seats," Woodard said. With that in mind, here are some questions and answers regarding your prospects of making a last-minute travel decision for the holidays.
Q: Isn't time running out for Christmastime plane tickets?
A: Running out, maybe – but it's not all the way out, at least for several regional destinations we checked last week. If you're flexible on dates and times, and if you're not shooting for high-demand tourist locations, you can still get tickets – and possibly deals. Best price to Boise over Christmas week – looked up at Orbitz.com – was $178. Best price to Seattle was $111.
Unlike in past years, waiting may not be a bad idea for travelers who can be a bit flexible. Jennifer Cook, spokeswoman for AAA Washington, said that the organization's Thanksgiving survey found people were waiting to make travel plans. "I think a lot of people made their decision closer to the holiday. Looking for the deals," she said. "We may see that again."
Q: What if I bought a ticket over the summer for a destination that's now a lot cheaper? Can I cancel and rebook it?
A: It depends. Here's a real example. In July, a couple purchased two tickets to New Orleans over the holidays for a total of $1,191.98 on United Airlines. Now, if you wanted to buy those same tickets today for six weeks from now, they'd be a whole lot cheaper – $426 without taxes.
But on high-priced Christmas travel days and with United's $150 per ticket cancellation fee, our Louisiana-bound couple would pay much more. The best deal for one round-trip ticket over the Christmas holidays was more than $800 – more than the original ticket, and much more than tickets now being sold for non-peak times.
Q: Gas is cheaper than milk again. Shouldn't I just drive?
A: If you're going somewhere in the region, this has become a more practical option. Say you're headed to Seattle: It now costs around $30.21 to drive there and back (in a car that gets 31 mpg, at last week's average Spokane price of $1.62 – a price you can beat by a dime at some places). Best-price plane tickets in the next couple weeks range from $111 to $155.
So it's a lot cheaper to drive right now. An analysis of 100 U.S. travel destinations in November found that the average airfare had fallen 17 percent since July – while fuel costs had been cut in half.
But consider your time: Depending on how you travel, when you stop, how to get to and from the airport, etc., driving to and from Seattle will take you two to three extra hours.
Q: We don't all have family in Seattle.
A: Well, you could drive to Boise for $45.67 – less than half the cost of flying. Of course, your time spent on the road then is much greater, perhaps 16 to 20 hours total, depending on the weather and how much you want to test those Oregon state troopers. If you're headed to Missoula, the trip now doesn't cost much more than $20 in gas.
Q: What about the snow?
A: Weather is the holiday wild card. Driving out of Spokane, you'll hit mountain passes that can be nasty. Woodard said that's one reason flying is still a popular choice. Get stuck on Snoqualmie Pass once, he said, and flying will become your favorite winter option.
Local journalism is essential.
Give directly to The Spokesman-Review's Northwest Passages community forums series -- which helps to offset the costs of several reporter and editor positions at the newspaper -- by using the easy options below. Gifts processed in this system are not tax deductible, but are predominately used to help meet the local financial requirements needed to receive national matching-grant funds.
Subscribe to the Coronavirus newsletter
Get the day's latest Coronavirus news delivered to your inbox by subscribing to our newsletter.
---
Subscribe and log in to the Spokesman-Review to read and comment on this story