News > Spokane
Man who raped daughter agrees to long term
He put video of 10-year-old's assault on Internet
Thu., Dec. 18, 2008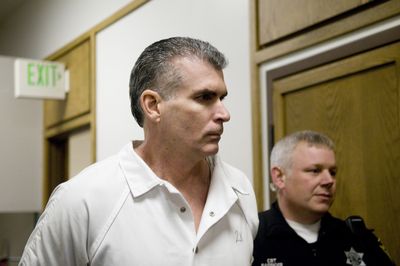 A former reserve sheriff's deputy – a fugitive twice featured on "America's Most Wanted" – agreed Wednesday to serve 50 years in prison for raping his 10-year-old daughter and posting a video of the attack on the Internet.
Kenneth John Freeman pleaded guilty in U.S. District Court in Spokane to two counts of production of child pornography and a third count of interstate transportation of a minor for the purpose of engaging in unlawful sexual activity.
Afterward, he appeared in Spokane County Superior Court and pleaded guilty to three state companion charges of first-degree child rape – state charges transferred from Benton County, where the crimes occurred from September to November 2000.
Freeman videotaped sex acts with his daughter and later put the images on the Internet where, authorities said, it became one of the most-watched child porn videos ever.
His daughter, Kylie Freeman, willingly appeared on the popular TV show "America's Most Wanted," leading a Toronto police detective to draw a link between her and a 10-year-old girl he had seen on a child-porn video clip and then-fugitive Kenneth Freeman. That detective's hunch led U.S. authorities to open a criminal investigation.
In both Spokane courtrooms Wednesday, the former bodybuilder avoided eye contact with his 19-year-old daughter, who took a front-row seat to watch her father confess to his crimes.
Kylie Freeman has started a Web site to tell her story and hopes to become publicly involved in helping other child sex crime victims, her stepfather, Chris Peale, said at a news conference.
Although The Spokesman-Review generally does not name victims of sexual assault, Kylie Freeman has not shied away from being publicly identified.
Benton County Prosecutor Andy Miller said he believes Kenneth Freeman pleaded guilty because he didn't want to see his daughter testify against him in courtrooms in Spokane, Portland and the Tri-Cities if charges filed in three jurisdictions had gone to trial.
It was because of her willingness to come forward that Freeman agreed to serve 50 years in prison, the prosecutor said.
Jim McDevitt, the U.S. attorney for Eastern Washington, said the lengthy term "is rather extraordinary."
Under terms of the federal plea agreement drafted by Assistant U.S. Attorney Stephanie Lister and defense attorney Carl Oreskovich, Kenneth Freeman would have to forgo any profits if he were to sign over book or movie rights to his story.
That unusual provision was written into the agreement after Freeman, who'd been living in China, wrote a 400-page autobiography while in custody in Hong Kong, where he was arrested last year.
U.S. District Court Judge Lonny Suko entered Freeman's pleas to one count of production of child pornography, filed in the Eastern District of Washington, and charges of production of child porn and interstate transportation of a minor for sexual activity, filed in the District of Oregon.
In state court, Judge Kathleen O'Connor accepted the change of venue from Benton County and accepted Freeman's three guilty pleas to separate counts of first-degree child rape.
Asked by O'Connor to detail his crimes, Freeman said, "It's hard to summarize, your honor." When pressed by the judge, Freeman said, "I did things that were morally wrong."
The 46-year-old defendant is scheduled to be sentenced on the morning of March 25 on the federal charges, and that afternoon in state court.
Under terms of the plea deal, any sentence he receives in state court will be concurrent to the 50-year term he agreed to accept – without filing an appeal – in U.S. District Court. He will serve the sentence in the federal prison system.
Local journalism is essential.
Give directly to The Spokesman-Review's Northwest Passages community forums series -- which helps to offset the costs of several reporter and editor positions at the newspaper -- by using the easy options below. Gifts processed in this system are not tax deductible, but are predominately used to help meet the local financial requirements needed to receive national matching-grant funds.
Subscribe now to get breaking news alerts in your email inbox
Get breaking news delivered to your inbox as it happens.
---