News > Spokane
School roof collapses
Damage still being assessed at Capital High
Fri., Dec. 26, 2008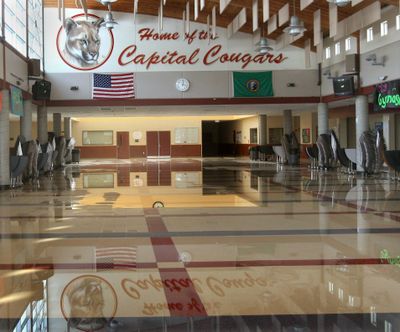 OLYMPIA – About 2,500 square feet of the roof at Capital High School collapsed Thursday morning under the weight of more than a foot of heavy snow that has accumulated over the past week.
The collapse occurred at about 4:55 a.m., above a hallway and library area just back from the main entrance of the school, said Olympia Assistant Fire Chief Greg Wright. Wright said the area of the collapse is as big as a residential home.
The roof collapse set off a fire alarm and a burglar alarm at the school, dispatching the fire department to the scene, Wright said. The fire alarm and burglar alarm were ripped apart by the collapse, Wright said, and the collapse also broke water pipes at the school.
Wright said firefighters worked around the periphery of the school Thursday – no one can enter the school until a structural engineer says it is safe to do so.
"We can't go anywhere near the collapse zone," Wright said. "…  A structural engineer will look at the whole structure and make sure nothing else will cave in. At this point they don't have that started."
No one was inside the school at the time of the collapse, Wright said.
Peter Rex, a spokesman for the Olympia School District, said he is scheduled to meet today with a structual engineer who was located and hired to inspect the site. The gas and power at the school were turned off after the collapse, Rex said.
"No one's allowed in until a structual engineer can come in and say it's safe to enter the building," said Rex, who also will meet with the school's insurers.
Rex said it remains to be seen what will happen when school is scheduled to reopen after the winter break.
"If we can get in and it's a fairly confined area, then we can operate around it." he said.
Wright said moisture from the week's worth of snow likely added to the weight on the flat roof, and if the drainage pipes were frozen and blocked, all of those factors could have contributed to the roof to giving way.
Rex said Capital High School was built in 1976 or 1977. He added that most of the other schools in the district "have some kind of sloped roof," but the one at Capital is flat.
Local journalism is essential.
Give directly to The Spokesman-Review's Northwest Passages community forums series -- which helps to offset the costs of several reporter and editor positions at the newspaper -- by using the easy options below. Gifts processed in this system are not tax deductible, but are predominately used to help meet the local financial requirements needed to receive national matching-grant funds.
Subscribe now to get breaking news alerts in your email inbox
Get breaking news delivered to your inbox as it happens.
---