News > Spokane
Post Falls Library joins digital age
Sun., Dec. 28, 2008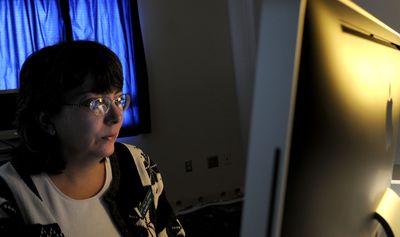 Libraries are places in which to learn, to imagine, to think.
It used to be books that provided the fodder – all that learning and imagining and thinking. These days, the Internet plays an increasing role. At the Post Falls Library, digital video technology has been added to the mix.
Post Falls Library patrons can now complete video projects from beginning to end – from filming through final edit – free of charge. The library has digital video cameras available for checkout. Once footage has been shot, patrons can book time in the library's new editing room, working to shape their videos on new Mac computers using iMovie or the professional-level program Final Cut Pro.
The only cost will be for training needed to learn the editing skills. It's all part of an effort to bring more patrons into the digital age, library director Joe Reiss said.
"We're predicting that the future of libraries lies in the digital world," he said. "We're trying to teach people to think and write and create digitally. We all know we're in a transformative age, and this library is no different than the rest of society. The library has to move forward to stay vital. We're putting our bet down on this."
The library is teaming with the Spokane nonprofit Community-Minded Television to provide necessary training. Classes, which range from no charge to $100, will be offered at the TV station's downtown Spokane studio. They'll cover video production skills and programs, including high-definition camera certification, basic lighting, Photoshop, Final Cut Pro and Adobe Illustrator, said Jeff Anttila, CMTV's general manager. The next round of classes begins in January; for a schedule, visit www.cm-tv.org/.
Job training. Inspiring creativity. Drawing people to the library. All these elements come together in the Post Falls project.
"For a lot of people, maybe they think we've drifted from our core mission," Reiss said. "If they could see how people are using the library, they'd see at least 50 percent of what the library does is electronically based, and that's growing all the time. That's everything from DVDs you can check out to Internet access.
"We do some of these things because they're on the fringes of what we're really all about here, and that is information," Reiss said.
Carolyn Lamberson
Ripple effect of auto crisis
Government assistance for the auto industry. It's a hot and divisive topic.
With each passing day, the uncertainty of the future of the Big Three grows. But without some sort of bailout, what will happen to not just the manufacturers and dealerships, but other industries that rely upon car sales?
One owner of a Sandpoint auto dealership says the prospect of the car industry not receiving any monetary assistance is a frightening prospect – not just for auto manufacturers but the country as a whole.
"It's a trickle-down effect that can't happen," said Jeff Rokstad, owner of Rokstad Ford Mercury in Sandpoint. "It's not just Ford, General Motors and Chrysler, it's everything associated with it from the banks that finance the car loans to the supplier of parts to the charities who rely upon the support of local businesses."
Rokstad said the government should provide some sort of financial assistance to the Big Three auto companies and in return the manufacturers should provide a plan on just how they will pay back the money.
The money, Rokstad added, should be used by the auto manufacturers to improve the fuel mileage on all cars and trucks, producing a more desirable product for the consumer, resulting in increased sales.
"The nation in good times could sell 17 million new cars," said Rokstad. "Analysts have forecasted the auto industry will sell about 12.5 to 13 million new cars in 2009."
Greg Taylor, owner of Taylor-Parker Motor Co. in Sandpoint, and Kathy Sims of Coeur d'Alene Honda returned last week from Washington, D.C., where they met with the Idaho congressional delegation.
"Kathy and I are on the board of directors for the National Auto Dealers Association," Taylor said. "There were approximately 150 (nationwide) of us that went to D.C. to discuss this issue with our congressional delegations, all with the same purpose of hopefully getting some type of bridge loan package approved.
"Everyone is searching for a possible approach that will work to thaw the credit markets, which is a critical part of the whole economic recovery efforts," Taylor said. "The current $14 billion request would be adequate, but only if a strong economic stimulus package is included at the outset of the new administration. Unless credit markets thaw and a degree of consumer confidence is restored, the auto industry along with many more parts of the national economy will suffer catastrophic damage."
Like Rokstad, Taylor says the overall economic effect is beyond comprehension.
"It will put this economy in a faster and much deeper tailspin," he said, "which of course, no one can even comprehend the magnitude of."
Patty Hutchens
It's been sledders' heaven
The continuous snowfall may have adults muttering under their breath and reaching for snow shovels, but it has kids bursting with excitement and reaching for their sleds.
The sledding hill in Valley Mission Park was doing a steady business last week as parents braved the snarled streets to bring kids down for an hour or two of outdoor fun.
Sam Stachofsky brought his four kids, his visiting brother-in-law Doug Havde and his three kids, plus three other young cousins out for a day of sledding.
"The dads are playing, and the moms are shopping," Stachofsky said.
Bumps on the hill sent many a sledder flying before they got to the bottom of the hill. "I got a wipeout," said Richele Stachofsky, 10. "I was in front and snow just came up and I fell out. We went over a bump."Nina Culver
Local journalism is essential.
Give directly to The Spokesman-Review's Northwest Passages community forums series -- which helps to offset the costs of several reporter and editor positions at the newspaper -- by using the easy options below. Gifts processed in this system are not tax deductible, but are predominately used to help meet the local financial requirements needed to receive national matching-grant funds.
Subscribe to the Coronavirus newsletter
Get the day's latest Coronavirus news delivered to your inbox by subscribing to our newsletter.
---
Subscribe and log in to the Spokesman-Review to read and comment on this story