News > Spokane
Swimmers keep their cool
Wed., Jan. 2, 2008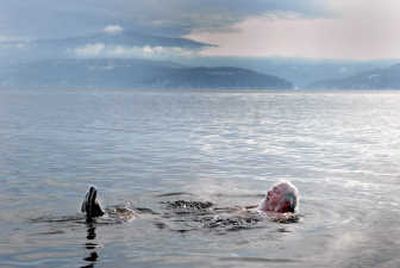 After 30 years of winter swims in the frigid waters of Idaho and Montana, "Polar Bear" Rick Klin swears he doesn't get cold shivers or goose bumps.
He beat everyone into the water at Coeur d'Alene's Sanders Beach on Tuesday, diving in moments before the official Polar Bear Plunge countdown was complete.
"Come on in," the 65-year-old Libby, Mont., man shouted to hundreds shivering along the shore. One man accepted the invite.
Together they bobbed in the water, faces turning redder by the second, as the clock ticked toward noon.
The sandy ground, frosted in snow, shook as a stampede of goose-fleshed and bare-skinned bodies ran into the lake. Shrieks filled the air.
It was the first plunge for 8-year-old Aspen Grimm, of Coeur d'Alene.
"I'm really nervous," she said. "It's freaky."
Following a quick dunk and dash back to shore, she stood on a beach towel, shifting her weight from one pink, sand-speckled foot to the other.
"My feet hurt," she said, hugging a blanket tight around her shoulders.
Her grandfather, 62-year-old John Amonson, of Wallace, is a seasoned plunger, participating in the event every year since 1995.
It's an adventure, he said.
"I don't want to get to 90 years old and think I should have done this or should have done that," he said.
Amonson wore denim shorts and a plaid flannel shirt, shedding all but a black-and-blue Speedo and his socks before running into the water.
He was back out and dressed in a matter of minutes.
"Same as every year," he said casually, holding out his arm. "I just barely got goose bumps. Nothing serious."
Mark Freeman, of Post Falls, came for his second Polar Bear Plunge better prepared than last year.
Starting with three layers of clothing, the 38-year-old gradually disrobed in an attempt to acclimate his body to the cold air. Minutes before the countdown was complete, he was wearing only a T-shirt and his swimming trunks.
"The second you hit the water, it's like this sharp pain and it sucks the air out of you," he said.
He had hot coffee waiting for him when he emerged.
Klin prefers to bury himself in the snow once he gets out of the lake – and then take another dip to wash the snow off.
"This is warm water," he said, his voice dropping to a whisper. "Don't tell anybody."
Back home in Libby, the drink is about 35 degrees when he takes his weekly winter dunks with the Libby Polar Bear Club. Lake Coeur d'Alene runs about 10 degrees warmer, he said.
He said he typically spends about 45 minutes strolling around in his wet trunks before dressing.
"The body handles everything," he said.
Local journalism is essential.
Give directly to The Spokesman-Review's Northwest Passages community forums series -- which helps to offset the costs of several reporter and editor positions at the newspaper -- by using the easy options below. Gifts processed in this system are not tax deductible, but are predominately used to help meet the local financial requirements needed to receive national matching-grant funds.
Subscribe to the Coronavirus newsletter
Get the day's latest Coronavirus news delivered to your inbox by subscribing to our newsletter.
---