News > Home
The Young family
Tue., Jan. 22, 2008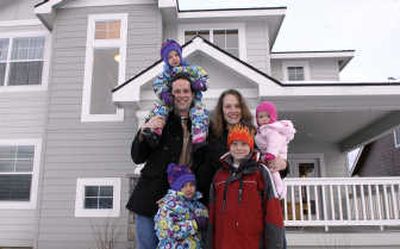 Baby Ella was the tipping point.
For years, Shane and Allison Young flirted with the idea of moving from Portland to Coeur d'Alene. When the couple learned they were expecting a fourth child, they decided it was time to commit.
"Both of us looked at each other and said, 'Mercy,' " Shane says. "We needed a bigger support network."
Allison grew up in Coeur d'Alene, and her parents, brother, aunt and cousin still live there. Within a month of Ella's birth, the couple sold their Portland home and bought a new one in the Lake City. The family moved in early July.
"We had 20 years of life changes in a month," Shane says. "That fourth child gave me a lot more faith I could build a business over here."
Why Coeur d'Alene?
Shane, a freelance photographer, travels frequently for work. He keeps a studio in Portland, where he also is co-founder of Zelda Wisdom, a successful line of books, greeting cards and calendars featuring a photogenic English bulldog named Zelda. Shane photographs Zelda while author Carol Gardner gives her a voice. On Zelda's web site, Oprah Winfrey is quoted as saying of the bulldog featured on dozens of Hallmark cards: "This doggy diva is queen of the catwalk."
Shane's busy work life meant Allison could use help wrangling four children between the ages of six months and 8 years. "My mom is here," she says, adding that grandparents living less than a mile away gave her the freedom recently to travel to Portland with Shane and Ella.
The Youngs say they love Coeur d'Alene's easy pace. "I can go to Costco, and there's hardly anybody in line," Allison says. "I used to spend an hour if not more in the car every day. And my husband, he spent more than that."
Real estate
The couple considered buying a turn-of-the-century house on Spokane's South Hill but chose a home closer to Allison's parents. While the four-bedroom, Craftsman-style home built by Greenstone is new, it has an older home's style, including a garage off the alley, Shane says. "The kids can ride their bikes without having to cross driveways."
The neighborhood near Lake City High School has bike paths and parks. The elementary school is three blocks away, which gives Shane and 8-year-old Elliot time to chat on their leisurely walk to school each morning.
"That's what we love," Allison says.
Settling in
Allison recalls an idyllic Coeur d'Alene childhood where she went to the beach, walked with friends to Tubbs Hill and rode her bike around town. While she can't imagine allowing her children such freedom to roam, she finds herself enjoying those same adventures again – this time with her kids.
"I came back and did what I used to do," she says, noting the city has gotten bigger but maintained its charm. "And there's a Starbucks."
The Youngs spent nearly every day of their first Coeur d'Alene summer at the beach, playing with cousins, Allison says.
"They're little fish," she says of her children. "They love being in the lake."
Years spent in rainy Portland make this winter's snowfall especially sweet. Just recently, Allison and the kids built a snowman and, with the help of recycling bins, a fort.
Shane recently opened a studio in an old schoolhouse near downtown Coeur d'Alene. Just after joining Greater Spokane Inc., he was hired to photograph business owner profiled on the organization's Web site.
Shane says he's built rapport with other freelance photographers in the region. "I've found a lot of warmth and generosity from the other photographers."
Missing Portland
Both Shane and Allison say they miss Portland's diverse population and urban feel, with Shane adding he plans to take his children on "field trips to the big city."
But the Youngs also say they expected a much tougher transition. "Our life is centered on family, which is what it's about here," Shane says. "I thought I'd miss Portland a lot more."
Local journalism is essential.
Give directly to The Spokesman-Review's Northwest Passages community forums series -- which helps to offset the costs of several reporter and editor positions at the newspaper -- by using the easy options below. Gifts processed in this system are not tax deductible, but are predominately used to help meet the local financial requirements needed to receive national matching-grant funds.
Subscribe to the Coronavirus newsletter
Get the day's latest Coronavirus news delivered to your inbox by subscribing to our newsletter.
---