News > Spokane
Olympic athletes mix work, play
U.S. softball team competes in exhibition game against Spokane All-Stars
Fri., July 11, 2008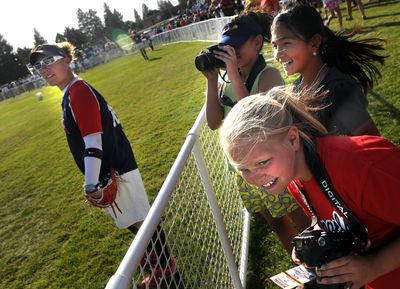 "Forty-eight cities, 43,522 miles, one goal."
That's the slogan painted on the U.S. national softball team's equipment trailer.
It's not a typical family vacation, but for several on the team it must do – and it is a lofty adventure as the team prepares for next month's Olympic Games in Beijing.
Spokane was the latest stop.
On Thursday, Stacey Nuveman, in the outfield while the Olympians took batting practice, took a moment to bond with her 13-month-old son, Chase. Pitcher Jennie Finch had her son along for the trip as well.
For the husband of Jessica Mendoza, the contest provided a homecoming.
Adam Burks, a 1987 University High School graduate and multisport athlete, was at Franklin Field wearing a Mendoza jersey, as were Jessica's parents.
"We met at a wedding in Southern California where we live," said Burks, an assistant engineer for the city of Moorpark in Ventura County.
He was in the U.S. Marines and served in Desert Storm before returning to Spokane and completing his education at Eastern Washington University. His father, John, still lives here, but Burks eventually moved to California where his mother lived.
"I met Jessica in the 2004 Olympic year. We hit it off from there, and it blossomed," he said. Their relationship was necessarily long-distance because of her softball commitments. "Life has a funny way of working out."
The crowd formed at 5 p.m. for the 7:30 exhibition game between the U.S. team and the Spokane All-Stars. The spectators took their places in the grandstands that surrounded Field No. 2 to watch the Olympians take batting practice.
Josie Schultz, a Freeman student who will be entering sixth grade, was an early arrival.
"I'm here to see Lovie Jung," she said, "because she plays second base and I play second base. She's my hero."
Schultz's sister Casey Olson, who will pitch next year at the University of Great Falls, added: "You get to watch them on TV all the time, and its 'awe.' In person it's 'awesome.' I liked Cat Osterman a lot."
The All-Stars lined up to greet their foes when the Olympic tour bus rolled in at 5:08 p.m., completing its journey from Portland. The Olympians will leave here for South Dakota and take the plane from there for the rest of their tour.
The business of defending their Olympic gold-medal performance lies ahead.
Local journalism is essential.
Give directly to The Spokesman-Review's Northwest Passages community forums series -- which helps to offset the costs of several reporter and editor positions at the newspaper -- by using the easy options below. Gifts processed in this system are not tax deductible, but are predominately used to help meet the local financial requirements needed to receive national matching-grant funds.
Subscribe now to get breaking news alerts in your email inbox
Get breaking news delivered to your inbox as it happens.
---