Wildfire chars homes, Forces evacuations
Blaze 'not slowing down'; residents move to shelters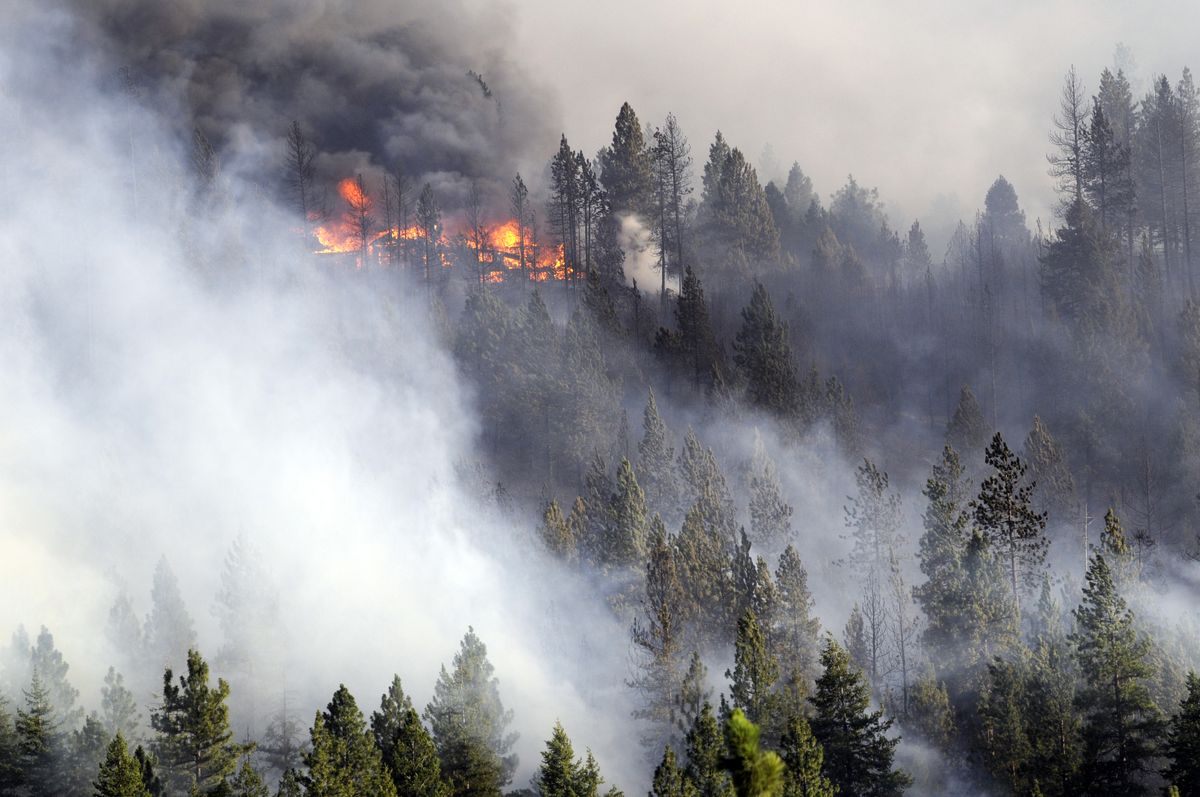 Fueled by fierce winds and fed by dry vegetation, a wildfire erupted Thursday in the Spokane Valley, destroying at least eight homes and charring more than 1,200 acres of land near the Dishman Hills Natural Area.
About 100 firefighters were battling the blaze, which started about 3:20 p.m. and sent up dark plumes of smoke that settled over Spokane Valley and into North Idaho.
As darkness fell, Bill Clifford, spokesman for the Spokane Valley Fire Department, said "it's not slowing down any."
No injuries were reported, Clifford said. The fire was pushed to the southeast by winds gusting up to 50 mph, Clifford said. The Fire Department was being assisted by the Washington Department of Natural Resources and Fire District 8 and requested aerial assistance. Clifford said he hadn't seen a similar blaze in the Valley since Firestorm in 1991.
Homes in an area bounded by 32nd Avenue, 44th Avenue and Dishman-Mica Road were evacuated. Dishman-Mica Road was closed for much of the evening, but reopened shortly before 11 p.m. The evacuation area included the Ponderosa neighborhood, which was hard-hit in Firestorm 1991.
Additional assistance was expected today, as strike teams from around the state and Kootenai County arrive. Gov. Chris Gregoire, speaking at a fire command center, said, "I am prepared to put whatever resources into it, if necessary."
Cheney Fire Chief Mike Winters said the blaze started in the Southwood neighborhood, which has many trees and undeveloped lots. When Southwood resident Laurie Johnson returned home about 3:30 p.m., the fire looked out of control.
"There was only one fire truck here. I was quite concerned," she said. "The wind was strongly in our favor."
The area sports rugged terrain, few roads and plenty of trees and brush. "It's going to make it a challenge for us through the night, safetywise," Winters said.
A stream of cars packed with people fleeing the flames moved north on Dishman-Mica. A pickup was loaded down with belongings, including a child's rocking horse.
Getting information throughout the day was a challenge. Spokane County sheriff's spokesman Sgt. Dave Reagan had a simple explanation: "(Fires) are always chaotic because they move so quickly."
Along Park Road, neighbors gathered to share bits of information and speculate about burning homes.
One group included Ross Taylor, whose family homesteaded the fertile pasture and built a house on the forested slope.
He and his family watched as cars came down from the smoke-shrouded hill. Some drivers were crying as they clutched steering wheels and slowly navigated the growing throng of onlookers. Others looked stunned by the mandatory evacuation order and possibility that their homes might burn.
Then Pete Abbey, owner of Frednecks in Rockford, drove out of the woods in a vintage fire truck and told the Taylors their house was still standing. After a few "thank Gods," hugs and handshakes, Taylor talked about how fires from motorbikes and firecrackers are common on his hill – but nothing like what happened Thursday afternoon.
He compared it to a 1960 fire that swept through the pines above his house. This one was closer. He left his house, a big workshop and his 1932 Ford, a five-window, red-and-black coupe he keeps garaged.
When he saw the flames climb into the tall trees near his property he knew it was time to go, he said.
His daughter, Cassie Taylor, brought his inhaler – a necessity as he recovers from a bout of pneumonia.
As the Taylors watched the smoke receding from their property, a huge house downwind and a half-mile to the west exploded in flame. Nervous neighbors used their cell phones to take pictures and call family and friends.
Dr. Bill Coleman, a cardiac surgeon at Sacred Heart Medical Center, was among those gathered along Park Road.
Coleman said he tried to reach the house of a neighbor and colleague who was out of town. He wanted to gather some belongings for his neighbor but was turned back by officials enforcing the evacuation.
By 7 p.m. residents of the Kokomo neighborhood east of Dishman-Mica Road were watching the smoke and flames on the wooded hillside to the west. Embers drifting from the big fire started spot fires much closer to the road, fires that would threaten homes if they grew.
Periodically, an officer would drive by. One stopped and addressed some of the crowd.
"They came by and said, 'Get buckets, get hoses, get people,' " said Bobbi Mazza. "So here we are."
Within half an hour, at least 100 people with as many as 50 5-gallon buckets had formed a fire brigade.
"It's nice to see everyone chip in together," said Brenda Harm, a Kokomo resident.
Mazza said that at one point, fire spread to the base of a utilty pole.
"We were right on top of it," she said.
But even as the crowd worked along Dishman-Mica, they feared that homes had been lost in the woods above.
"It breaks your heart," said Rod Light, who lives in Chattaroy but works in Spokane Valley.
The owner of one of those houses, Natasha Sinclair, said she was evacuated about 6:15 p.m. Her property borders the eastern boundary of the Dishman Hills Natural Area.
"I don't know if my house is still good or not," Sinclair said. When a deputy told her to leave, she said she was "loading up all my pictures. … And my kids are OK."
She was optimistic about the fate of her house.
"We have a pretty good defensive area. We have the firefighters up every year and they always say it looks pretty good," Sinclair said.
"We just built a fire road so they could get into the hills."
Jim Gibbard, who lives in an area north of the Ponderosa, at 9700 E. 24th Ave., was searching for his springer spaniel as his house was engulfed in flames.
Ammunition and propane bottles could be heard exploding in the background.
Residents in the area south of 18th near Park, about a dozen homes, also were asked to evacuate. At least two homes burned in that area.
By evening, the Red Cross had set up a shelter and information center at University High School. North Central High School also was open to evacuees.
Few people turned out at first, but more began to arrive after 8 p.m., just as Red Cross workers unloaded ice water and sandwich fixings. Volunteers were preparing for a long night, as a large swath of homes remained under a warning for possible evacuation.
About 50 families had signed up at the University High shelter, and the list was growing by the minute, said Jennifer Reynolds, a volunteer with the Red Cross.
Spokane Valley Mayor Richard Munson declared a state of emergency for the city in conjunction with a declaration of emergency for Spokane County. His message to Spokane Valley residents: "Just remain calm. We have things under control. Everyone's doing their job really well."
Staff writer Meghann M. Cuniff contributed to this report.
---