Using their imagination
Kids take part in Camp Invention at Bird Aviation Museum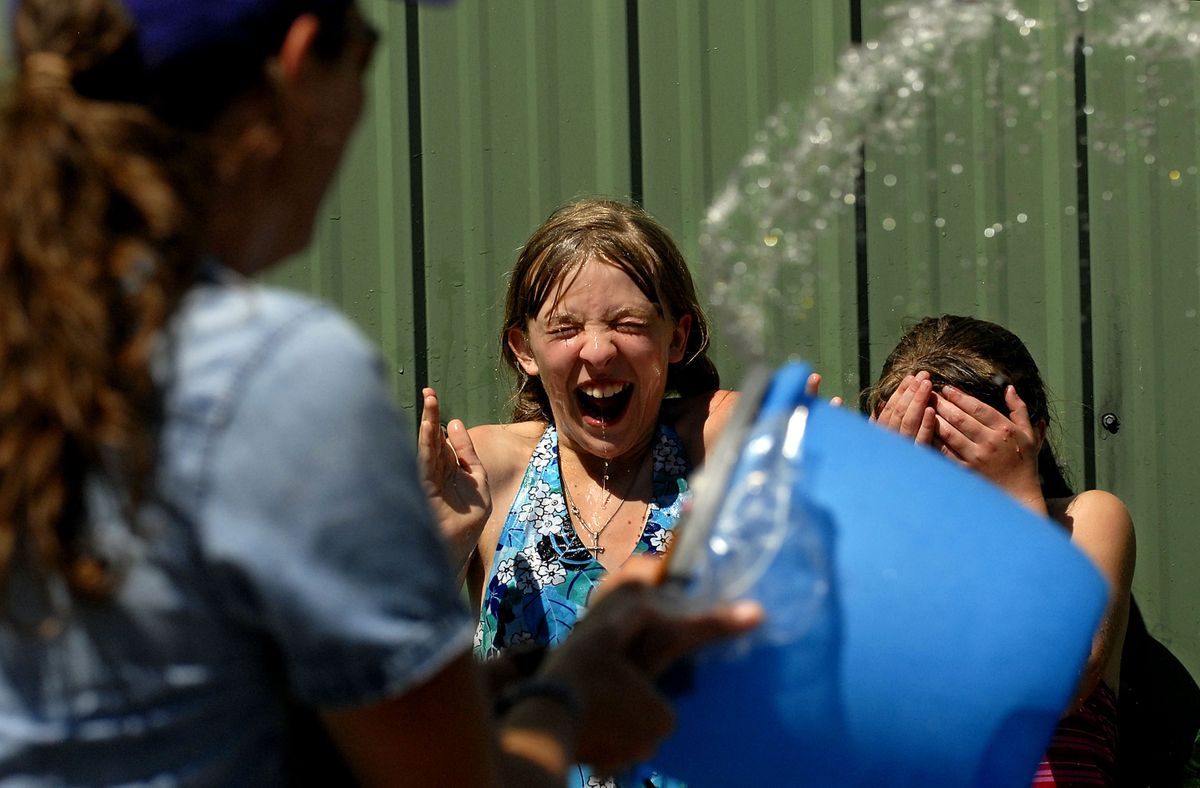 Xandra Sonandre stood back and cocked her head to one side.
"There's one thing you have to add," Xandra said, and began wrapping Grace Butcher's legs in blue plastic bubble wrap. "What if a 3-D monster came out of the swamp and grabbed your legs?"
The place: Planet Zak.
The time: Not so long ago.
The mission: Get across the swamp.
Grace, bedecked in bubble wrap, a plastic poncho and wearing a shoebox on her head, was ready for the challenge: Acid rain, swamp monsters and all.
More than 100 kids spent the past week at Sagle's Bird Aviation Museum and Invention Center for the area's first-ever Camp Invention.
Typically the nationwide summer program is held inside schools, but inventor Forrest Bird opened his museum and spread of property near Sagle to the program this summer and camp quickly filled up. More than 50 applicants were turned away because there wasn't room for more.
"You're in one of the most inspiring settings in the world here," said Christine Jayo, Camp Invention's regional coordinator.
Cows roamed the property as groups of children gathered in the shade of large white tents near Bird's museum and airplane hangars.
While some explored the imaginary Planet Zak and came up with ways to navigate the planet's swamps in search of food, others took apart appliances and began creating inventions of their own.
Some took on the challenge of creating a Rube Goldberg machine that would break a balloon.
Kyle Perry and his teammates were planning on using parts from a coffee maker, remote control and a telephone.
How to pop the balloon?
"We're not quite sure," 10-year-old Kyle said, surveying the parts through a pair of plastic safety goggles. "We're thinking something with a wire to pop it."
Nearby, 10-year-old Alexandria Fredericks held a piece off a typewriter in her hands and spun small wheels from the paper feed under her thumb.
"How about these?" she asked, looking to 12-year-old Abigail Nelson.
"We're figuring on making something with a ramp that will make it pop on nails," Abigail explained as she continued dismantling an appliance.
"It's reverse-engineering," she said.
Nicole Dash, a teacher from Farmin-Stidwell Elementary, supervised children on Planet Zak as they made last-minute changes to their costumes.
"They've been so funny and creative and they're having a blast with this," Dash said. They learn about problem-solving and teamwork in a fun way through Camp Invention, she said. "They get to use their imaginations and they're never wrong, so they take risks."
Bird believes his own creativity was spurred at a young age and an early interest in math and science.
"I think my daddy had a lot to do with it," Bird said. "He was sharp in math and physics. I had a lot of help."
Hosting Camp Invention is a way to encourage those skills in another generation, Bird said.
"These kids are fantastic," he said. "It's so much fun. I hope it will address them toward the sciences."
If they don't learn the basics at an early age, Bird said the children will struggle in those areas later in life.
"If we prepare them now, it's just tremendous," he said. "That's our goal."
Throughout the week, children were introduced to inventors. They learned about birds of prey from a raptor biologist. They used pedal power from bicycles hooked to generators to run blenders and make fruit smoothies.
Camp Director Rachel Riddle, Bird's stepdaughter and director of the museum, said she hopes to make Camp Invention an annual event at the museum, which is open to the public from 8 a.m. to 4 p.m. Monday through Saturday.
Admission is free.
For information visit www.birdaviationmuseum.com or call (208) 255-4321.
---