Wildfire ignites frightening flashback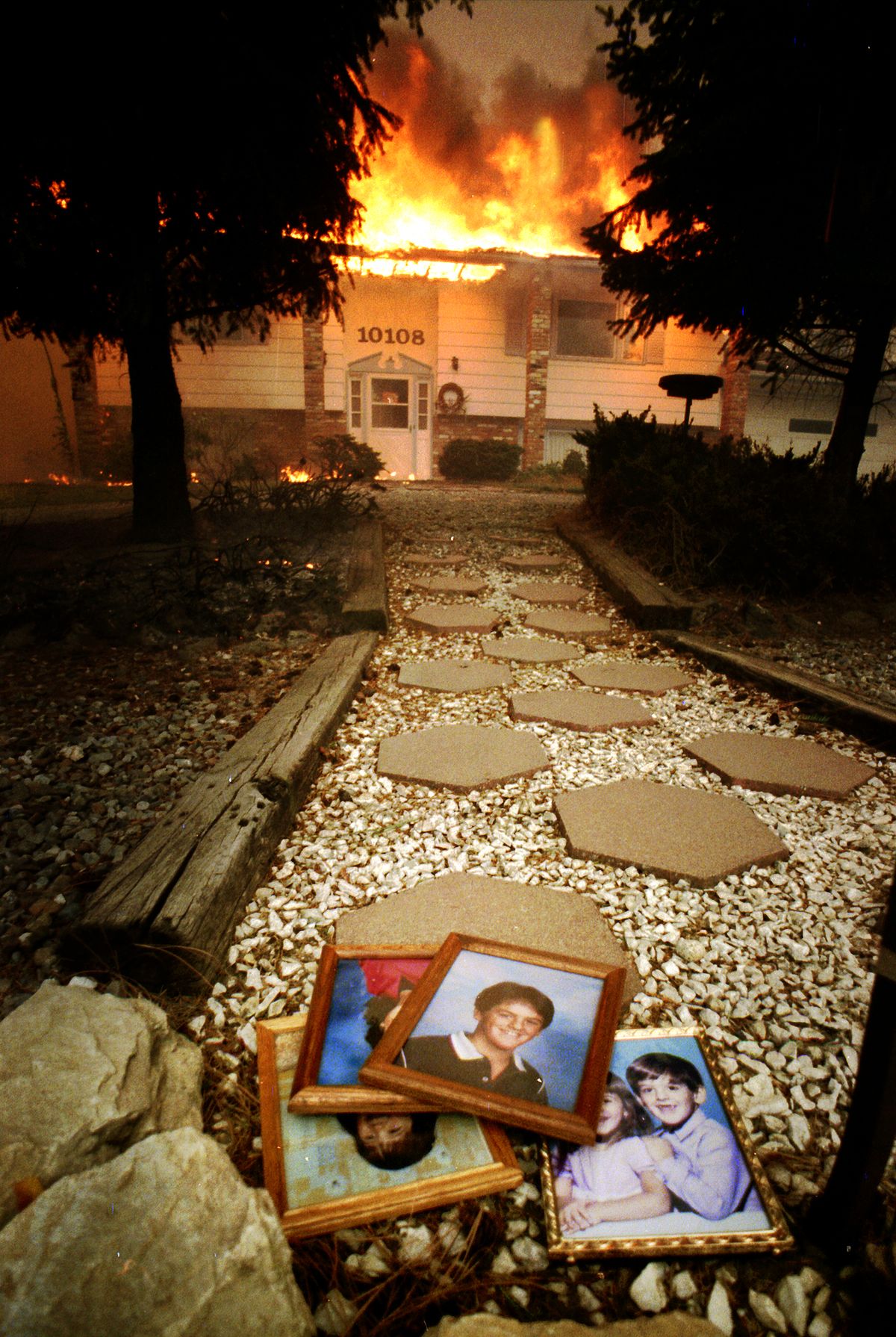 The wind-driven wildfire that destroyed 13 homes Thursday and early Friday and forced Spokane Valley residents to evacuate carried eerie reminders of the 1991 firestorm.
As smoke and flames advanced, residents of the Ponderosa neighborhood again packed up their wedding photos, pets, guns, classic cars and home movies. Again, they gathered essential paperwork and left their homes, not knowing whether they'd see them intact again.
"We're lucky the wind didn't keep blowing, or we could have had real problems here. Again," said Ponderosa resident James Bachmeier.
He remembered Oct. 16, 1991, when fires fanned by hot, gusting winds swept into the subdivision and burned 15 homes. Embers were thrown 70 yards ahead of the fire, littering rooftops and starting house fire after house fire.
That '91 fire was among 80 blazes across Eastern Washington and North Idaho that burned 50,000 acres and 112 homes. Two people died; it was among the worst fires in the region's history.
Pictures by Spokesman- Review photographers helped define the disaster, including one by the late Kit King, which captured a man diving over a fence as flames rushed toward him. Another by Colin Mulvany showed family photographs a firefighter rescued from the burning home of Ron Connell and placed across the front walkway. At the time, the firefighter said: "I can't save the house. This is all I can do."
Nine Mile and Chattaroy were especially hard-hit by the firestorm of '91. Financial losses were in the millions of dollars.
The blaze was arguably Spokane's worst since the 1889 blaze that obliterated most of the city's downtown.
Ponderosa resident Jacque Plante said Thursday night that while the fire brought back memories of 1991, police were better organized and left residents with better assurances against looting.
In 1991, the evacuation was haphazard as firefighting and law enforcement resources were stretched thin.
Plante checked in with the American Red Cross station at University High School after packing his truck, a trailer and his wife's car with personal and home-based business belongings – and, of course, his dog, a Yorkie named Angel.
Bachmeier helped firefighters 17 years ago in his neighborhood.
It never reached that point Thursday, but in Bachmeier's view, it was getting close.
"It looked like the flames were maybe within 200 yards" of one part of the subdivision, he said. "It looked for a while like (the fire) was going to come down the hill. Thankfully it didn't."
---