Tour North Country
Colville, Chewelah have good nature viewing, good golf, good food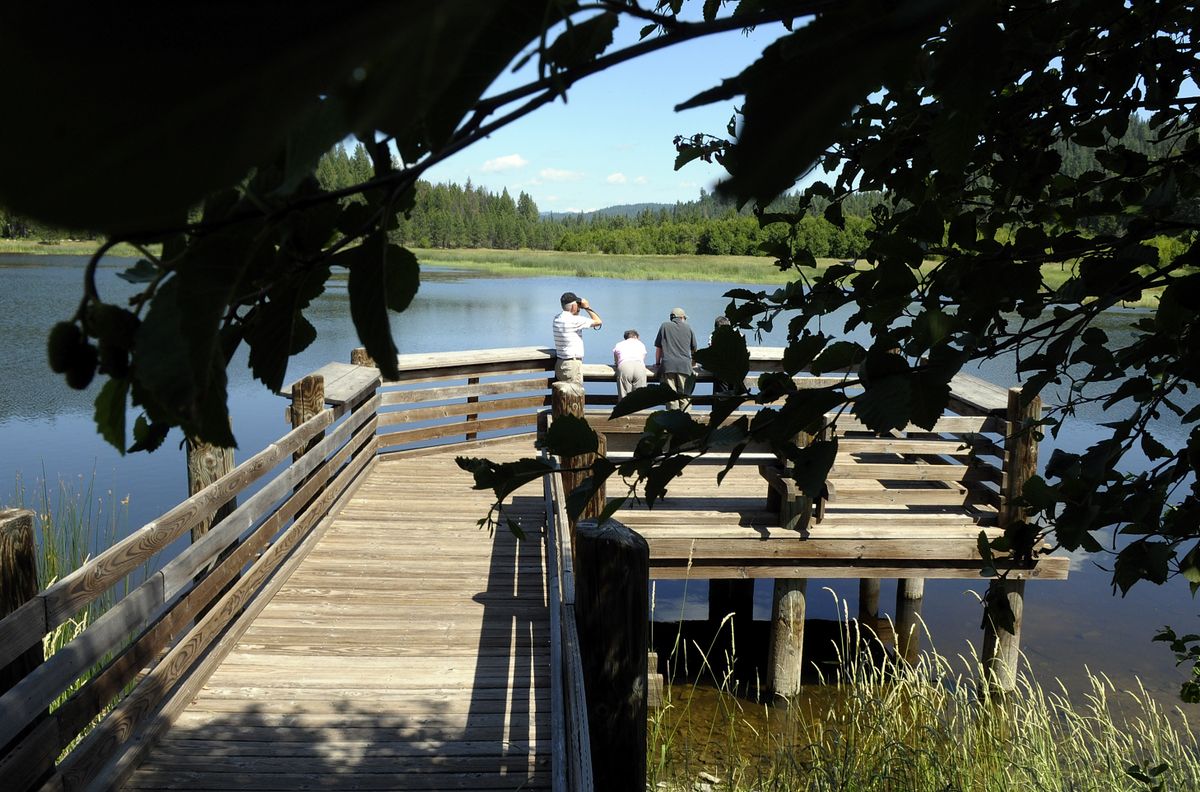 Driving all the way to Colville for dinner seems almost – decadent.
Same thing with driving all the way to Chewelah for golf.
Or all the way to the Little Pend Oreille River to commune with a moose.
Yet put 'em all together into one day trip – now, that's a great day in the North Country, a little more than an hour north of Spokane.
So here's a day-trip itinerary with a bit of everything:
• The Little Pend Oreille National Wildlife Refuge in the morning, with its moose and osprey and woodpeckers.
• The Chewelah Golf and Country Club in the afternoon, with its unique 27-hole golf course, carved out of the mountains.
• Colville's antique and specialty shops, for those who would rather shop than golf.
• Dinner at Lovitt, the Colville restaurant that ranks among the best in the Northwest.
The Little Pend Oreille National Wildlife Refuge is a 40,000-acre gem about 13 miles east of Colville. A lot of people barely even know it's there – it gets relatively few visitors by refuge standards – and most of those are hunters in the fall and fishermen in the spring.
You'll have the place almost to yourself during a morning visit in the summer, although you'll have to share with the white-tailed deer and various other critters.
"We have everything from moose to weasels and otters," said Steve Fowler, refuge manager.
On a quick visit like this, the best plan is to follow a gravel-road driving loop that takes you past the refuge headquarters, south to Potter's Pond, a 15-acre lake stocked with trout. Check out the osprey, ducks and turtles. Then head north past McDowell Lake, a sparkling 47-acre fly-fishing-only lake loaded with rainbow trout and beautiful cattail meadow habitat.
Enough with nature. Now it's time to drive about 23 miles to Chewelah for "a good walk spoiled," i.e., golf. The Chewelah Golf and Country Club, 2537 E. Sand Canyon Road, is a spectacular course – not only because it has 27 holes, nine over the usual quota, but because of its gorgeous setting. It's wedged into a niche of the Selkirks, a few miles north of Chewelah, with ponderosa pines lining nearly every hole and wild rocky outcrops looming above.
It's beautifully maintained and loaded with character – and critters.
"We see lots of deer, turkey, elk – and I just saw a moose the other day," said head pro Jason Pitt.
You'll feel a bit like a mountaineer on a few holes. Hole No. 9 plunges down a steep incline; hole No. 10 goes nearly straight up. It's like hitting a drive into a green, grassy wall.
"People love the downhill hole – they say it's really pretty," said Pitt. "They hate the uphill hole, and I can't say that I blame them."
Still, the climb will help you work up an appetite for dinner – an important consideration on this trip. (By the way, you can easily do the golf part of the trip in the morning and the refuge in the afternoon, saving a gallon or two of gas.)
Not a golfer? Congratulations on your good judgment. But it also means you might want to find something else to do between your refuge excursion and dinner. A pleasant afternoon can be had by walking through Colville and checking out the antique and specialty stores, including Barman's Country Store, which is a combination of antique store, gift shop and old-time soda fountain. Have yourself an old-fashioned ice cream soda or a malted milkshake – but don't wreck your appetite.
If you're not a shopper, there's another place in the North Country to open your wallet: the Chewelah Casino, right off Highway 395 on the southern approach to Chewelah. It's operated by the Spokane Tribe and it features slots, craps, roulette and blackjack tables.
And now you head back to Colville to your reward at the end of the day: Lovitt, a restaurant on the south edge of Colville, 149 Highway 395 S., which has won widespread raves from restaurant critics.
How many Inland Northwest restaurants have a framed New York Times story about the owner-chef on the wall?
Kristen and Norman Six have created a culinary gem here in this 1908 farmhouse, serving ingredients largely from local purveyors. And we mean extremely local – a lot of their greens and vegetables come right from their own garden. Beef, pork and chicken come from Stevens County pastures – and some of it is smoked in the chef's own smoker (this is the kind of place where Chef Norman even cures his own prosciutto). Seafood comes from a little farther away – say, Pike Place Market. The menu changes weekly, depending on what's fresh and available, and the prices are largely in the teens.
There may be no better way to end a North Country excursion than by sitting at a Lovitt window table, watching the sun set over the Colville River valley, sipping a local China Bend wine or Lost Falls beer and digging into halibut with crispy prosciutto.
---