Potty-training made easier
Alarm reminds toddlers to 'hop, hop, hop to the potty place'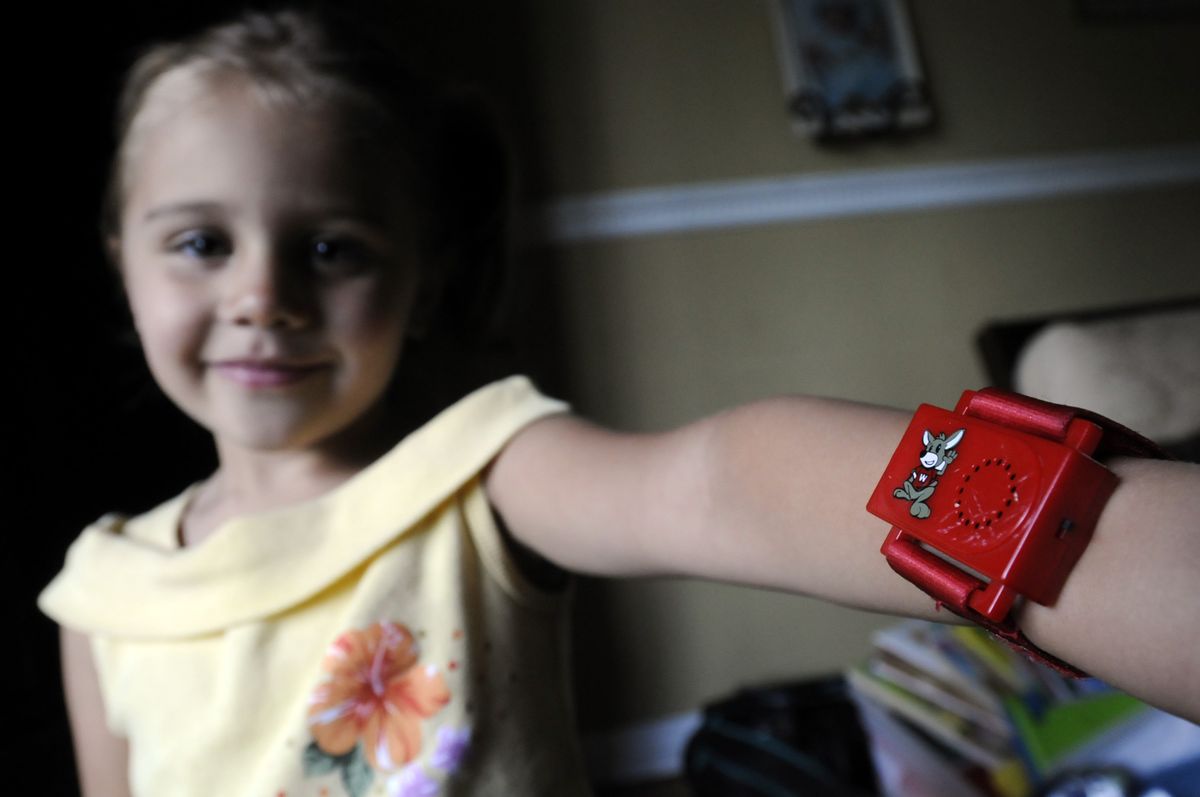 Any parent will tell you, it always happens at the worst possible times. In the middle of the grocery checkout line, during dinner with the in-laws, right before a visit with Santa. You look down at your cherubic toddler and see a tell-tale wet stain spreading across the bottom of her jeans. Potty training isn't pretty.
South Hill mom Heidi Santiago knows just how frustrating the process can be for both parent and child. When she married her husband, Cory, he was just starting to toilet train his youngest child. It wasn't going well. A seventh-grade teacher at the time, Santiago said, "I looked for books. They all said we should make it fun and positive, but there was nothing out there to make it fun."
She said she would try to remind her stepdaughter to use the restroom, but, with two older stepchildren and a full-time job, it was easy to forget. An accident would occur, and both she and her stepdaughter would end up feeling bad. "I was consumed with potty-training. It was my life."
Their dilemma isn't unusual. Pediatrician Matt Thompson said, "It's funny that one of the most basic and elemental things we do as humans can be associated with such stress and difficulties." He feels that children often pick up on a parent's anxiety, "just like a horse senses a rodeo rider's nerves before the gate is open; this can make for a rougher ride."
In Santiago's case, frustration became the mother of invention. She shared her struggles with a friend and said, "I wish there was a fun way to remind her to go to the bathroom on a routine basis, while at the same time handing the responsibility over to her. You know, like a watch that plays a song or something to remind her to go to the bathroom." Her friend thought that was a great idea and encouraged Santiago to develop and market it.
That night Santiago said, "I came up with the Wee-Minder." The Wee-Minder is a red musical alarm that looks like a watch. Sturdy Velcro straps attach the alarm to a child's wrist or belt loop. It can be programmed for three settings, 1 hour, 2 hours or 2 1/2 hours. At the pre-set time, Wally Wallaby, the Wee-Minder mascot, begins to sing "Put a big smile on your face and hop, hop, hop to the potty place."
In 2003 the Santiagos launched their company, Divine Innovations, to produce and market the potty-training system. Santiago wrote a picture book "Wally's Wee-Minder Adventure" and had an accompanying DVD produced to introduce children to the Wee-Minder.
The book illustrates the distractions children face when they know they should be using the restroom. "Distraction leads to accidents that become habitual with some kids," Santiago said. Wally's friends urge him to join their soccer game or have some candy, but he just keeps hop, hop, hopping to the potty place. The wallaby gets lots of affectionate encouragement from Mom and Dad and becomes a successful "potty animal."
To ensure children have a positive experience Thompson said, "It's important to make the distinction between a child being ready to potty train and a parent being ready for them to be potty trained."
For Santiago, giving her children a fun tool was a good way to gauge their readiness. "My idea was to give the kids ownership and more control of the process," she said. It worked in her family. "It helped a bad situation quicker than we'd hoped for," she said.
Her 6-year-old son, Jordan, and 3-year-old daughter, Leilani, also used the Wee-Minder system. Leilani doesn't need to wear the alarm anymore but she proudly held out her wrist to show it off. "I just like the song," she said.
While launching the business has been more work and taken longer than she would have liked, Santiago said, "The amount of interest has far exceeded what we expected – even internationally." They've received orders from Turkey and Scotland. A deal with a national big-box store is in the works.
Santiago is moving beyond potty training and is hard at work developing other parenting tools for Divine Innovations. "I'm officially an inventor," she said.
To other parents who are in the midst of toilet-training, she said, "God bless you. You will survive." Then she laughed, "Get the Wee-Minder, quick!"
For more information go to www.Wee-Minder.com
---