The great Goose
Gossage joins Williams in latest class at Cooperstown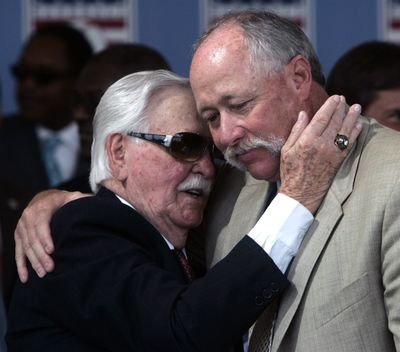 COOPERSTOWN, N.Y. – For more than two decades, Rich "Goose" Gossage unnerved batters as one of baseball's most menacing and dominating relief pitchers. On Sunday, it was his turn for the jitters.
"This experience is overwhelming, over the top. I can't put in words what this means," Gossage told a decidedly New York Yankees crowd during the National Baseball Hall of Fame ceremony that capped his 22-year career.
Gossage had to pause twice to collect his thoughts — including once when he was moved to tears talking about now dead teammates Thurman Munson and Bobby Murcer.
"I'm like a kid going on his first ride at Disney World and not getting off for 22 years," said Gossage, whose speech was interspersed with choruses of "Goose" from the crowd.
Dick Williams — one of Gossage's former managers — also was inducted Sunday. Williams managed six teams in 21-year career, winning the World Series with the Oakland Athletics in 1972 and 1973. He also won league pennants with the Boston Red Sox in 1967 and San Diego Padres in 1984.
"It's hard to believe that at age 79, this has to be one of my most memorable times," said Williams, whose 1,571 wins are good for 17th place all-time.
More than 14,000 people watched the ceremony, including a record 56 of the 64 living Hall of Famers.
Gossage was elected in January on his ninth try, almost unimaginable given his pioneering place in the evolution of today's relief pitcher.
Gossage —entering the hall wearing a New York Yankees hat — finished his career in 1994 with a 124-107 record, 1,502 strikeouts and 3.01 ERA in 1,002 games. He ranks third in both wins in relief (115) and innings pitched in relief (1,556).
The 57-year-old Gossage, a nine-time All-Star, joins Bruce Sutter, Hoyt Wilhelm, Rollie Fingers, and Dennis Eckersley as relievers enshrined in Cooperstown.
Gossage said he was blessed to have some of the greatest pitch instructors help him: Johnny Sain, Larry Sherry and Galen Cisco, among them. He said former slugger Dick Allen "taught me about pitching from a hitter's perspective."
It was Sain who taught him "the art of off-speed pitching. That pitch, with my power, was exactly what I needed," Gossage said.
Williams, known for his no-nonsense approach, credited the late Branch Rickey and former manager Bobby Bragan with having the greatest influence on him as a manager. Williams also spent 13 years as a utility player.
Despite his successes in Boston, Oakland and San Diego, Williams said in his opinion he did his best managing in Montreal, where he won 90-plus games in back-to-back seasons with a young, starless Expos team.
Others inducted Sunday were former Dodgers owner Walter O'Malley, former Pirates owner Barney Dreyfuss, former commissioner Bowie Kuhn, and former manager Billy Southworth, all deceased. Along with Williams, they were voted in by the revamped Veterans Committee.
---