News > Spokane
Something new, something old
Sun., June 1, 2008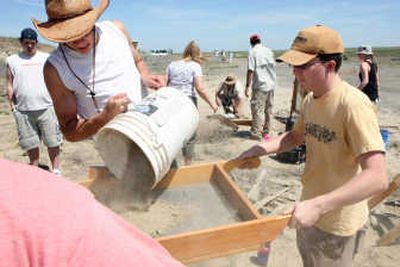 KENNEWICK – Joseph Morgan lined up with his classmates, wearing a cowboy hat to shield his face and clutching a handful of pink flags.
He watched the dusty ground carefully with each step, mindful that his shoe could catch on a weed, a rock or the bones of an 8- to 10-ton creature that wandered Washington more than 10,000 years ago.
Morgan, 18, a senior at Kamiakin High School in Kennewick, recently helped scientists and students from Central Washington University search for mammoth remains at a site southwest of town.
A few other students from the high school showed up, too.
"It'd be nice if we found something," Morgan said, eyeing the ground.
He didn't have to wait long. Members of the crew uncovered tooth fragments and large pieces of rib and long bones during the weekend dig.
The Kamiakin teens were invited to see it all. Jake Shapley, a graduate student at Central and co-leader of the dig, contacted the school when his group decided to make the trip.
"If our university is involved in a dig, I think it's important to involve the community," he said. "I've always wanted to work with (students). When I was in middle school, that's when I got hooked into science."
Morgan and his classmates got into the spirit. They wore sturdy shoes, walking in a tight line across the site, on the lookout for anything unusual. They marked what they found with the pink flags.
Max Guettinger, 16, a sophomore, spotted what he guessed was an agate. It got a flag.
No one seemed to mind the blistering heat or meticulous work.
"We're learning about the process of (a dig)," said Ashley Albert, 18, a senior.
"In the pursuit of knowledge," added fellow senior Kaitlin Bergez, 18.
The remains uncovered at the site likely are from a Columbian mammoth, a kind of elephant that lived 11,000 to 400,000 years ago, said Bax Barton, co-leader of the dig.
Barton is a research associate in paleontology at the Burke Museum of Natural History and Culture at the University of Washington and an affiliate faculty member at Central.
Columbian mammoths stood 10 to 13 feet tall at the shoulder, making them larger than the modern-day Asian or African elephant. They ate mostly grass and herbs.
There have been 400 to 450 mammoth finds in the state, though most involved only a single bone, tooth or tusk, Barton said.
The Kennewick site is significant because several bones were found in good condition, Shapley said.
Officials aren't disclosing its location for security reasons, and law enforcement agencies agreed to watch the site, he said.
Scientists hope the bank-owned land, listed with Willie Stewart of Divine Realty in Kennewick, is purchased by someone interested in doing more research at the site.
After the Kamiakin students finished scanning the ground, they helped sift soil from where the large bone fragments were found.
Morgan tipped a bucket of dirt into a waist-high wooden sifter and a college student rocked the contraption back and forth, sending dust flying.
Morgan kept pouring. When the bucket was empty, the crew picked through what was left in the sifter. A few pieces were bagged.
"I think it's a great opportunity," said Gary Kleinknecht, a Kamiakin social studies teacher who recruited students for the dig. "We don't teach much geology or archaeology in public schools … I think it's a very exciting area of science."
Kleinknecht also is president of the Ice Age Floods Institute, a Richland-based group that studies the series of catastrophic floods that inundated much of the Pacific Northwest.
Barton and Shapley hope to keep working at the Kennewick site and partnering with the high school. There's more to learn there and more to teach.
Morgan said he gained a lot from the experience.
"This is something new," he said, standing at the sifter. "I've always been kind of interested. What better chance? I'm sure not a lot of high school students get to do this."
Local journalism is essential.
Give directly to The Spokesman-Review's Northwest Passages community forums series -- which helps to offset the costs of several reporter and editor positions at the newspaper -- by using the easy options below. Gifts processed in this system are not tax deductible, but are predominately used to help meet the local financial requirements needed to receive national matching-grant funds.
Subscribe to the Coronavirus newsletter
Get the day's latest Coronavirus news delivered to your inbox by subscribing to our newsletter.
---
Subscribe and log in to the Spokesman-Review to read and comment on this story