Sports
Taking a stand
Sun., June 1, 2008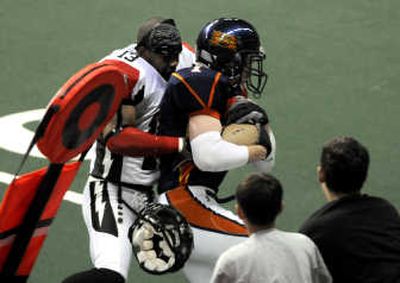 After spending nine weeks as the second-ranked team in arenafootball2, the Spokane Shock should ascend to the top spot in the next poll.
It wasn't an easy journey getting there.
Spokane blew a 24-point lead, but rallied with a late goal-line stand to hold off Stockton 52-42 in front of another sell-out crowd of 10,578 on Saturday night at the Spokane Arena.
"Man, what a dogfight," said Shock receiver Andy Olson, who had three touchdown catches. "We definitely didn't expect that. They got some turnovers and they played really hard in the second half, but we came out on top and that's all that really matters."
Spokane (9-0) is the only unbeaten team left in af2 and it leads the West Division by four games over Boise, which lost to Tri-Cities. Coupled with No. 1 Tulsa's 52-45 loss to Bossier-Shreveport, Spokane figures to move up to No. 1 when the rankings are released early next week.
Stockton has changed its head coach, offensive coordinator, quarterback and other assorted personnel since it absorbed a 70-12 loss to Spokane in early April. For a while in Saturday's rematch, it didn't make a difference on the scoreboard.
But after spotting the Shock a 24-0 lead, the Lightning (2-8) nearly pulled off an improbable comeback. Stockton pulled in front twice, the first time when quarterback Andy Collins, who played linebacker in the AFL earlier this season, shook off three defenders for a 1-yard scoring run on the last play of the third quarter, giving the Lightning a 35-31 lead.
"I thought they settled down in the second quarter and really started playing very good football," Spokane coach Adam Shackleford said. "We need to do a better job of reacting to another team having success."
Spokane reclaimed the lead on Nick Davila's 19-yard scoring strike to Patrick Bugg, but the Lightning answered midway through the fourth quarter when Collins, who signed with Stockton on Thursday, floated an 11-yard TD pass to Justin Taplin.
On the Shock's next play from scrimmage, Davila hit Kelvin Dickens in stride for a 47-yard scoring play to put Spokane in front 45-42.
Stockton moved to Spokane's 1-yard line, but Collins was stopped inside the 1 on third down. He tried a quarterback keeper on fourth down, but was stone-walled by the Shock defense with 2:30 remaining. Spokane drove for the clinching score with 5 seconds left.
"Before the play started, (defensive coordinator Alex Sirianni) was talking that they were either going to run it outside or inside," defensive lineman Harrison Nikolao said. "I said, 'No, they're going inside.' When it boils down at the end of the game … guys are going to go straight ahead and see who is going to win the pushing and shoving game. I got under the center and the guys beside me all played a role in that play."
Nick Davila had four first-half touchdown passes and Brian Jackson added a 21-yard field goal as the Shock raced in front. Sergio Gilliam set up Jackson's field goal with his 11th interception of the season, breaking Rob Keefe's single-season franchise record. As he promised earlier in the week, Gilliam ran over to the dasherboards and handed the football to his mother, who was visiting from South Carolina.
But the Shock offense sputtered in the third quarter, and the defense struggled to stop Collins and company.
Davila shook off some errant throws to finish 29 of 39 for 283 yards and six touchdowns.
"Nick was off a little bit at times, but he was seeing a lot of things he hadn't seen before," Shackleford said.
Spokane visits Boise on Saturday.
Shock 52, Lightning 42
| | | | | | | |
| --- | --- | --- | --- | --- | --- | --- |
| Stockton | 0 | 14 | 21 | 7 | — | 42 |
| Spokane | 17 | 14 | 0 | 21 | — | 52 |
Spo—Bugg 7 pass from Davila (Jackson kick)
Spo—Olson 15 pass from Davila (Jakckson kick)
Spo—FG Jackson 21
Spo—Olson 12 pass from Davila (Jackson kick)
Sto—Collins 4 run (Walls kick)
Spo—Olson 12 pas from Davila (Jackson kick)
Sto—Jones 23 pass from Collins (Walls kick)
Sto—Cunningham 11 pass from Collins (Walls kick)
Sto—Tapkin 18 pass from Collins (Walls kick)
Sto—Collins 1 run (Walls kick)
Spo—Bugg 19 pass from Davila (Jackson kick)
Sto—Tapkin 11 pass from Collins (Walls kick)
Spo—Dickens 45 pass from Davila (Jackson kick)
Spo—Davila 1 run (Jackson kick)
| | | |
| --- | --- | --- |
| | Sto | Spo |
| First downs | 16 | 19 |
| Rushes-yards | 11-4 | 7-14 |
| Passing yards | 267 | 283 |
| Passes | 21-28-1 | 29-39-1 |
| Fumbles-lost | 1-0 | 1-1 |
| Penalties-yards | 10-79 | 2-14 |
Individual Statistics
Rushing–Stockton, Collins 10-2, Tuialuuluu 1-2. Spokane, Dickens 1-7, Bethay 3-6, Davila 2-3, Bugg 1-(minus 2).
Passing–Stockton, Collins 21-28-1-271, Team 0-0-0-(minus 4). Spokane, Davila 29-39-1-283.
Receiving–Stockton, Cunningham 8-80, Taplin 7-102, Jones 6-89. Spokane, Olson 10-92, Bugg 10-89, Dickens 9-102.
Local journalism is essential.
Give directly to The Spokesman-Review's Northwest Passages community forums series -- which helps to offset the costs of several reporter and editor positions at the newspaper -- by using the easy options below. Gifts processed in this system are not tax deductible, but are predominately used to help meet the local financial requirements needed to receive national matching-grant funds.
Subscribe to the sports newsletter
Get the day's top sports headlines and breaking news delivered to your inbox by subscribing here.
---