News > Spokane
Woman hurt escaping fire
Wed., June 11, 2008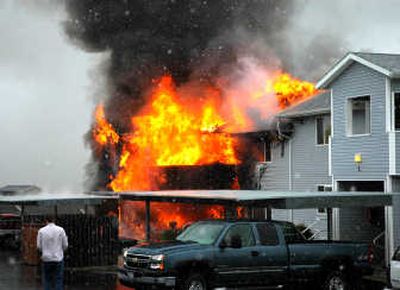 A young woman fractured her pelvis Tuesday morning when she and a friend jumped about 12 feet to escape flames at a Pullman apartment complex, Pullman Fire Department spokesman Glenn Johnson said.
The call came in just before 7 a.m. When fire crews arrived, four of the eight apartment units at 151 N.W. Terre View Drive were on fire; they sustained heavy damage.
Pullman fire officials estimated the damage at $450,000. The injuries to the woman, who is in her mid-20s, were not life-threatening, Johnson said.
Firefighters had to fight snow as well at the fire at the Clarke Terrace apartments, operations chief Mike Heston said.
According to the Fire Department, the woman, a student at Washington State University, slipped on the deck as she prepared to escape from the second floor and fell 10 to 12 feet to the ground. She was transported to Sacred Heart Medical Center in Spokane.
The friend "also jumped carrying a pet rabbit. Firefighters say both the man and the pet were uninjured," Heston said.
Fire prevention officer Rich Dragoo determined that a cigarette discarded on the front porch caused the blaze, according to a department news release.
Local journalism is essential.
Give directly to The Spokesman-Review's Northwest Passages community forums series -- which helps to offset the costs of several reporter and editor positions at the newspaper -- by using the easy options below. Gifts processed in this system are not tax deductible, but are predominately used to help meet the local financial requirements needed to receive national matching-grant funds.
Subscribe to the Coronavirus newsletter
Get the day's latest Coronavirus news delivered to your inbox by subscribing to our newsletter.
---