News > Spokane
Program offers free seat checks, advice
Sun., June 22, 2008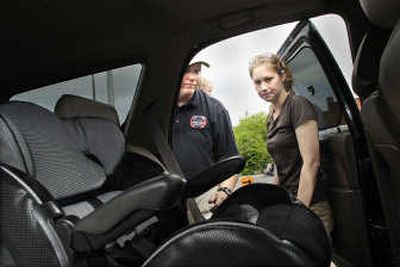 A child car seat at a garage sale or thrift store might seem like a bargain, but buying it for your little one could prove fatal. Old car seats can have weak plastic; straps that hold a child in place can deteriorate; and they could have been subject to a recall. Finally, if the chair has been in a crash, it may not sustain another.
"My biggest thing to parents is if you wouldn't trust someone with your child's life, then why would you buy a car seat from them," said Spokane police Officer Teresa Fuller, a volunteer with the Safe Kids Program, which offers free car seat safety checks.
"Plastic weakens after six years, particularly in this area with the extreme cold and hot weather," Fuller said. "The plastic goes through a lot of fluctuations."
Some people wash and dry the straps, she said. "Drying the harness straps can jeopardize the integrity."
During car seat checks, Fuller has seen several examples of car seats that were unfit for protecting a child, including some that had been recalled.
One stood out in her mind. The car seat had been purchased at a garage sale, Fuller said. "Someone had sewn in suspenders where the straps had been."
Cheney Fire Lt. Tim Steiner, another Safe Kids Program volunteer, said he's stopped at thrift stores and garage sales to talk people out of selling their used car seats.
If that doesn't work, he buys the used seat and "destroys it," Steiner said. "I wanted to make sure no one got ahold of it."
Officials know some parents are just trying to find a good deal. "But at the consignment shops and garage sales, you just never know," Fuller said.
Some discount retailers offer new seats for about $50, Fuller said. "The more money you pay for a car seat, the fancier it is. But it doesn't make them more durable – they are all tested with the same federal standards."
Local journalism is essential.
Give directly to The Spokesman-Review's Northwest Passages community forums series -- which helps to offset the costs of several reporter and editor positions at the newspaper -- by using the easy options below. Gifts processed in this system are not tax deductible, but are predominately used to help meet the local financial requirements needed to receive national matching-grant funds.
Subscribe to the Coronavirus newsletter
Get the day's latest Coronavirus news delivered to your inbox by subscribing to our newsletter.
---