News > Spokane
Spice essentials
Wed., March 26, 2008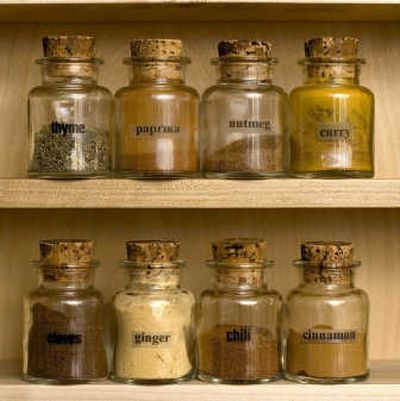 Setting up a spice cabinet for the first time? Or just ready to spring clean your old one? Here are herbs and spices the experts say are must-haves for every home cook:
BASIL: Fresh basil is best for pesto and salads, but dried basil is excellent for slow-cooked dishes, such as stews and casseroles, says Ian Hemphill, author of "The Spice and Herb Bible." Dried basil also is a staple for Italian foods, such as tomato sauces and soups, as well as pizza and garlic bread.
BAY: Bay leaves add a complex, earthy flavor to chicken soup, tomato, and seafood dishes. It's also the secret ingredient for French bouquets garnis, Indian garam masala, many Italian and Turkish recipes and even a good bloody Mary mix. Buy the leaves whole to simmer and remove, or grind them to a powder as needed.
CHILIES: Every good cook needs at least one jar of pure chili powder or flakes. Cayenne and red pepper flakes are the most popular. Chili adds kick to any dish, whether the cuisine is Mexican, Thai, Korean, Indian, Tex-Mex or North African.
CHILI POWDER: This blend of chili, garlic, onion, cumin, oregano, paprika and other ingredients is great for seasoning tacos, bean chili, fajitas, meat, steak and many other Southwestern and Mexican favorites.
CINNAMON: Sweet cinnamon is essential for American baking, but also makes an appearance in almost every region of Asian cuisine, Indian curries and masalas, Moroccan tagines, Mexican chocolate, tea blends, and as an accent in Cajun dishes. Powerful cassia cinnamon is the preferred version in America. Seek out true "vera" cinnamon for a more delicate, sweet seasoning. Vietnamese cinnamon offers intense flavors.
CLOVES: This potent American cookie and pastry spice crosses as many borders as cinnamon. Cloves appear in many spice blends, including curry and masalas, Chinese five-spice powder and those used for mulling, tagines, chai and pickling. Take a hint from the French and simmer half an onion stuffed with cloves in meat stews or soups, suggests Aliza Green, author of "Field Guide to Herbs & Spices." Remove before serving for a subtle clove flavor.
CUMIN: Cumin is a crucial savory spice for Mexican, Tex-Mex, Indian, Middle Eastern, Indonesian and North African cooking, says Amanda Bevill, owner of World Spice Merchants in Seattle. The seeds can be used whole to infuse rice dishes and breads or ground for stews and chili.
CURRY POWDER: True Indian cooks prefer to create their own blends of spices for curry, but prepared blends have become a staple for Westerners looking to replicate Indian dishes. It provides instant flavor and brilliant color to rice, stews, sauteed onions, and, of course, curries. This blend often includes coriander, cumin, chili, turmeric, ginger, mustard, as well as some sweeter spices such as fenugreek, cinnamon, cloves and cardamom. Blends vary widely according to region, dish or manufacturer.
GINGER: This rhizome provides warmth to American baking recipes, Asian stir-fries, Jamaican jerk, barbecue blends, and Indian curry and tandoori mixes. Dried ginger is much more pungent and hot than minced or grated fresh ginger, which has a milder, almost lemony flavor.
PAPRIKA: This mild, bright red chili pepper comes in numerous varieties. The classic sweet Hungarian paprika is a central ingredient in goulash and an accent for tuna salad and deviled eggs. It also plays a pivotal role in Mexican, Cajun, Middle Eastern and Moroccan cuisine. Try smoked paprika to add deep, savory notes to your cooking.
NUTMEG: Just a bit of freshly grated nutmeg complements almost any recipe where cinnamon also is used. It provides complex, sweet vanilla-like undertones to baked goods and ethnic cuisines. It's best to buy nutmeg whole, then grate as needed.
OREGANO OR MARJORAM: Oregano and marjoram are used widely in Mediterranean and European cuisine. Pungent oregano is a critical ingredient in southern Italian and American recipes, such as pizza, pasta, meatloaf and roasts. Marjoram – a sweet, mild variation on oregano – is popular in subtler French cuisine including stuffing, poultry, egg, fish, and vegetable dishes.
ROSEMARY: This savory, resinous herb is used in European and American cuisines. It goes well with many types of meat, including game, poultry and lamb; poultry stuffing; potatoes, sweet potatoes, carrots and squash; zucchini and eggplant; and quick breads. Dried rosemary needs long cooking in liquid or baked goods to soften.
THYME: While thyme does not have the same cross-cultural range as other herbs and spices, it still plays an important roll in traditional French, Italian and American dishes. It's a critical ingredient in bouquet garni, herbes de Provence and Italian blends for use in meat rubs, roasts, poultry and stuffing, tomato-based dishes, soups, stews and potatoes.
Local journalism is essential.
The journalists of The Spokesman-Review are a part of the community. They live here. They work here. They care. You can help keep local journalism strong right now with your contribution. Thank you.
Subscribe to the Coronavirus newsletter
Get the day's latest Coronavirus news delivered to your inbox by subscribing to our newsletter.
---
Subscribe and log in to the Spokesman-Review to read and comment on this story