News > Spokane
Father gets competency hearing
Sat., May 10, 2008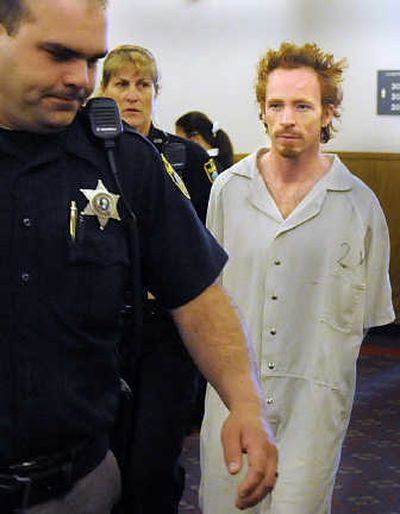 The father of 4-year-old torture-beating victim Summer Phelps is demanding a court hearing on his mental competence to stand trial on homicide-by-abuse charges.
Jonathan Lytle refused at a Superior Court hearing Friday to sign an order releasing the criminal case against him, put on hold six weeks ago when he was ordered to undergo a psychiatric examination.
The 29-year-old Lytle was sent to Eastern State Hospital on March 31, and his mental evaluation has been conducted and returned to Superior Court Judge Michael Price.
While those test results weren't divulged in open court, it appears that state psychiatrists and psychologists determined Lytle is mentally competent to aid in his own defense and stand trial.
If Lytle had signed the waiver, the judge was then prepared Friday to hear his attorneys argue whether the trial should be moved outside of Spokane County because of what the defense contends is extensive pretrial media coverage.
Lytle is accused of biting, beating and using a dog's electric shock collar on his daughter, who died at a Spokane hospital on March 10, 2007. Her 33-year-old stepmother, Adriana Lytle, also faces a homicide-by-abuse charge but will be tried separately from her husband.
Lytle's court-appointed attorneys, Ed Carroll and Dennis Dressler, told the judge that their client now wants a "contested hearing," challenging whether he is mentally competent to stand trial. The defense attorneys said they were surprised by Lytle's decision to now challenge the state's mental competency findings.
The judge scheduled a daylong hearing July 17 where prosecution witnesses apparently will argue that Lytle is mentally competent and the defense will bring in witnesses saying he's unfit to stand trial.
"Time is becoming very precious in this case," the judge told the defense attorneys and deputy prosecuting attorneys Jack Driscoll and Larry Steinmetz.
The judge said he's not inclined to further postpone Lytle's jury trial, now set for Sept. 8.
To bolster their pending motion for a change of venue, the defense team has submitted more than 1,000 pages of documents, including copies of numerous newspaper articles written about the Phelps case. Her death frequently was mentioned during the April 2007 monthlong "Our Kids: Our Business" campaign involving major media outlets in Spokane and most social services agencies.
In addition to the court filings, defense attorneys brought to the courtroom a small cardboard box full of folded copies of The Spokesman-Review, containing various articles pertaining to child abuse and the case of Summer, who was forced to wash urine-soaked clothing in a bathtub before she contracted pneumonia.
While waiting for court to start, Lytle pulled some of the newspapers from the box and appeared to be looking at the news coverage. He remains in custody.
After the mental competency issue is decided, the prosecution is expected to argue against moving the trial from Spokane.
Extensive pretrial media coverage doesn't necessarily mean it was inflammatory or would jeopardize the defendant's right to a fair trial, Steinmetz said in court filings.
Media coverage primarily focused on the "facts and events" surrounding the girl's death, the prosecutor said.
"It also describes the general community and legislative efforts to combat child homicides and abuse," Steinmetz said. "Very few articles and television news reports are inflammatory."
Local journalism is essential.
Give directly to The Spokesman-Review's Northwest Passages community forums series -- which helps to offset the costs of several reporter and editor positions at the newspaper -- by using the easy options below. Gifts processed in this system are not tax deductible, but are predominately used to help meet the local financial requirements needed to receive national matching-grant funds.
Subscribe now to get breaking news alerts in your email inbox
Get breaking news delivered to your inbox as it happens.
---