News > Voices
Dogs bring warm, fuzzy feeling to seniors
Pet visitors benefit participants at Adult Day Center
Thu., Oct. 30, 2008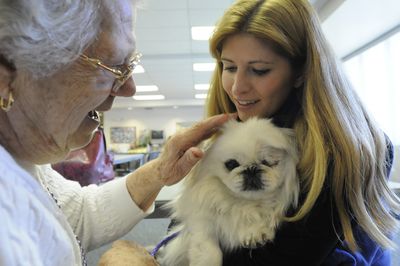 Muppy surveyed the room, shook his fur and marched inside to graciously accept hugs, squeezes and strokes from the seniors eager to visit with him last week at East Central Community Center's senior center.
"You've got white hair and so do I," Fran Ellis said as she gave Muppy a pat.
The white Pekingese recently had an eye removed because of an injury, but that didn't stop people from oohing and aahing over him during the pet therapy visit.
"Oh, he's darling," Ann Franek said as she beamed with pleasure while petting Muppy.
Muppy is one of several dogs that regularly visit senior citizens at the East Central Community Center.
They include a Springer spaniel, Maltese and dachshunds.
The benefits to the seniors the dogs cuddle with can be extraordinary, said Kathy Armstrong, who runs the center's Adult Day Center program.
Seniors who can't see very well, particularly enjoy holding and snuggling the smaller dogs, or petting the larger dogs. Armstrong said they crave that physical contact.
Others benefit in different ways.
"One woman was having a very bad tremor. She spent some time with Kona, the Springer spaniel, and it stopped," Armstrong said. "The dogs instinctively know how to behave."
The pet therapy visits are designed primarily for participants in the center's Adult Day Center program, but other seniors socializing at the community center also participate, Armstrong said.
Unlike other pet therapy programs, dogs visiting the East Central Community Center don't have to undergo a year of training. They must be vaccinated, groomed, obedience trained and well-tempered to make the cut. Many come from local pet-rescue programs.
Muppy fits the bill with his calm disposition. Owner Mary Johnson said she rescued the 6-year-old dog from an animal shelter.
He happily accepted pats, chin-scratches and squeezes from senior Adult Day Center participants.
Pet therapy is one of many programs they have available to them.
The Adult Day Center program is funded by Aging and Long Term Care of Eastern Washington, and is free to eligible seniors.
Senior citizens age 60 and older with incomes of $1,200 or less a month and living independently qualify. Transportation is provided to and from the East Central Community Center, and the program includes social activities, meals, crafts, exercise, nurse practitioner care and more.
Local journalism is essential.
Give directly to The Spokesman-Review's Northwest Passages community forums series -- which helps to offset the costs of several reporter and editor positions at the newspaper -- by using the easy options below. Gifts processed in this system are not tax deductible, but are predominately used to help meet the local financial requirements needed to receive national matching-grant funds.
Subscribe now to get breaking news alerts in your email inbox
Get breaking news delivered to your inbox as it happens.
---