News > Nation/World
Gates wants shift from 'exquisite' weapons
Proposal allocates more resources to troop support
Tue., April 7, 2009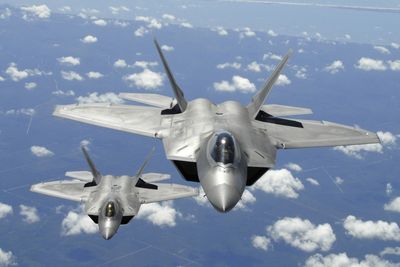 WASHINGTON – Defense Secretary Robert Gates outlined sweeping changes to the defense budget Monday that would shift hundreds of billions of dollars in Pentagon spending away from elaborate weapons toward programs more likely to benefit troops in today's wars.
The proposal by Gates amounts to a radical change in the way the Pentagon buys weapons. For decades, the U.S. has spent hundreds of billions of dollars on weapons programs striving for revolutionary leaps, but often were delivered years late and billions of dollars over budget. In proposing his 2010 budget, which will likely face stiff resistance from Congress, Gates emphasized that he wanted to change the "priorities of America's defense establishment."
The effort to pare back weapons programs that Gates derided as "truly in the exquisite category" reflects a growing recognition in the Pentagon that the days of soaring defense budgets are over. And it highlights Gates' long-stated desire to increase spending on surveillance systems and other relatively low-tech weapons that are best suited for guerrilla or irregular war, which has traditionally been an industry backwater. "I'm just trying to get the irregular guys to have a seat at the table and to institutionalize some of the needs they have," he said.
To bolster the Afghan war effort, he would spend $2 billion more on intelligence and surveillance programs to track shadowy insurgents, $500 million to field more helicopters and an additional 2,800 special operations personnel focused on counterterrorism. The $534 billion plan represents a $20 billion increase over 2009.
Among the weapons taking the biggest hits are the Navy's DDG-1000 destroyer, a stealthy ship whose cost has ballooned over the past decade. The Navy will purchase only three of the advanced ships and then revert to building the Arleigh-Burke Class destroyers that have been a mainstay of the fleet for years.
He recommended halting production of the Air Force's new F-22 fighter jet at 187 planes – four more than the current number – and killing the new presidential helicopter program.
The Pentagon proposal also would dramatically cut back the Army's ambitious Future Combat Systems program, which consists of a network of advanced vehicles, unmanned surveillance aircraft and battlefield sensors. Specifically, Gates said that he is canceling the $87 billion in the program set aside to develop a new generation of light armored vehicles that were meant to replace the heavy 72-ton tanks and Bradley Fighting Vehicles. These advanced vehicles, which have been in development for almost a decade, were supposed to rely on better surveillance technology to compensate for their lack of armor.
The huge toll that low-tech roadside bombs have taken on Army and Marine Corps troops in Iraq and Afghanistan led Gates to conclude that such an approach was not feasible. Instead of pouring more money into the futuristic vehicles, Gates indicated that he was more comfortable spending money on the Mine Resistant Ambush Protected Vehicle, which is based on a South African design that dates to the early 1990s.
He also set aside $2 billion for surveillance technology, such as Predator unmanned surveillance planes and other sensors that have proven their worth tracking down insurgents in Iraq and Afghanistan. Another $11 billion is being reallocated within the budget to pay for a planned increase of 65,000 troops to the Army's ranks and an additional 27,000 Marines.
Local journalism is essential.
Give directly to The Spokesman-Review's Northwest Passages community forums series -- which helps to offset the costs of several reporter and editor positions at the newspaper -- by using the easy options below. Gifts processed in this system are not tax deductible, but are predominately used to help meet the local financial requirements needed to receive national matching-grant funds.
Subscribe to the Coronavirus newsletter
Get the day's latest Coronavirus news delivered to your inbox by subscribing to our newsletter.
---
Subscribe and log in to the Spokesman-Review to read and comment on this story