News > Washington Voices
Southpaw's pitches disarmingly simple
WV coach says senior Anthony Salazar uses 'great movement' on the ball to fan batters
Sat., April 11, 2009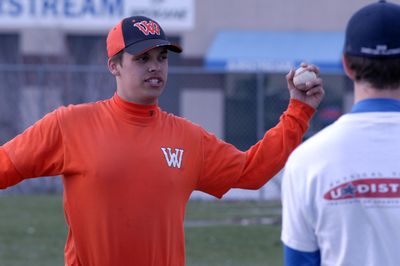 When West Valley High School baseball coach Don O'Neal first sent Anthony Salazar to the mound as a left-handed sophomore pitcher, he was a bit puzzled.
He wasn't a flame-throwing phenom and he didn't have overpowering stuff in his repertoire.
But opposing bats had trouble connecting with Salazar's pitches.
"He kept getting guys out, but I didn't understand why," he said. "He wasn't throwing that hard – his fastball wasn't that fast. He wasn't overpowering with any of his pitches.
"And then I caught him warming up in the bullpen."
What the coach discovered was simple. Salazar's pitches moved. A lot. Including, or perhaps especially, his fastball.
"Every pitch had great movement on it – naturally," the coach said. "His fastball moved so much that it was no wonder it kept missing bats.
"I wish I knew what it was about lefties, but their pitches just naturally move. If I knew why, I'd be retired and a millionaire."
Even without millions on the line, Salazar is a bankable starting pitcher for the Eagles and has been from the start. Already this young season he three-hit Riverside while striking out seven Rams in a 6-1 win. Against Pullman, the senior southpaw battled the arch-rival Greyhounds through five innings and left with the score tied, 4-4, before watching his team surrender a six-run sixth inning.
"We've had some really good pitchers come through this program the past few years," Salazar said. "We had Andy Vennum, for one. He's another left-hander and I learned a lot from him – I pretty much patterned everything I did after him.
"He helped me work on my mechanics and talked with me about how to work the count."
In a nutshell, he said, that's a hallmark of West Valley baseball.
Everyone, no matter what year in school they may be, is an equal part of the program, he explained.
"Guys help each other here," he said. "We make sure everyone feels like they're a part of the team and we support one another and help whenever we can.
"We're always there to pick one another up."
Now, as a senior, Salazar said he feels a sense of confidence when he takes the mound. After two full seasons as a starting pitcher, he knows what to expect when he takes on rivals from throughout the Great Northern League.
"You get to know the different teams," he said. "You know what to expect when you face Deer Park or Riverside. You know who's going to be aggressive and who's going to come out swinging from their heels.
"You learn who's looking for a first-pitch fastball. You get an idea how to work against them – I don't want to tell you how I want to pitch to them – but you learn what to throw and when to throw it."
In addition, Salazar has carried a hot bat for the Eagles, even though the early-spring weather has been less than cooperative – with spring break remarkable for its temperatures hovering just above freezing and significant morning snowfall.
"It's been a challenge so far," Salazar said. "When I'm pitching I have to really make sure I stay warm. I always wear a jacket when I'm on the bench and if we get a rally going, I will go out (of the dugout) and play catch just to keep my arm loose. The one thing you can't do is let yourself get cold and tighten up. That will get you injured."
The Eagles will have to get used to long rallies this season, he said.
"The last couple years we've had a bunch of guys who could hit the ball out anytime, anywhere," he said. "We can't do that this year because we don't have that kind of power.
"What we do have is a bunch of guys who can make contact. We can still score runs on people, but we're going to have to do that one hit at a time instead of with one big swing."
Salazar said he was eager to get into a batting cage whenever he could during the off-season – and still jumps at every chance to get in some extra swings.
"Whenever we could get someone to throw to us, a bunch of us would get together and take batting practice," he said. "That happened once in a while – just not often enough as far as I'm concerned. I love getting in the cage and working on my swing."
Salazar and a few teammates did just that Wednesday, corralling O'Neal for some extra batting practice.
"They had me in there working with them until it was almost dark," O'Neal said with a laugh. "It got to the point where I had to cut them off so I could get home before my kids went to bed. I left and told them to lock things up."
Salazar has extra motivation.
"I would love to play college baseball somewhere – maybe even play pro ball some day," he said. "So far no one is talking to me about it, but if I have a good season, I hope to find someone who wants me."
Local journalism is essential.
Give directly to The Spokesman-Review's Northwest Passages community forums series -- which helps to offset the costs of several reporter and editor positions at the newspaper -- by using the easy options below. Gifts processed in this system are not tax deductible, but are predominately used to help meet the local financial requirements needed to receive national matching-grant funds.
Subscribe to the Coronavirus newsletter
Get the day's latest Coronavirus news delivered to your inbox by subscribing to our newsletter.
---
Subscribe and log in to the Spokesman-Review to read and comment on this story