News > Washington Voices
Idle hands itch to work
Inmates affordable labor for state, nonprofit agencies
Thu., April 16, 2009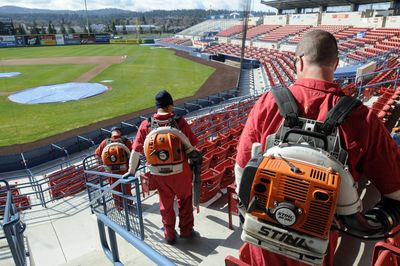 This winter, they shoveled snow from rooftops vulnerable to collapse. They cleared sidewalks for elderly and homebound residents and dug out schools and community centers. This is the same bunch that stacks fallen trees, sets up for Hoopfest and picks up trash after baseball games.
But inmate work crews shouldn't expect praise for good deeds anytime soon. They're just doing something useful while doing their time.
"A lot of people see us out there but they don't know what we're all about," said Sgt. Jason Robison, who heads up the program at Geiger Corrections Center. "For most of these guys it's just an opportunity to get out for the day – makes the day go by quicker when you're not just sitting around."
Robison said those chosen for the program are minimum-custody offenders who are put through a strict classification review process. This eliminates those with a history of violence, sexual misconduct or aggressive behavior and favors those incarcerated for misdemeanors like DUI. The inmates work as volunteers, Robison said, but it's a chance for them to demonstrate good behavior and earn entry into other programs, such as home monitoring and job search.
Crews are transported to and from the work site by trained corrections officers such as Andrew Vice, a crew supervisor for the past six years. Officers provide management and are responsible for guaranteeing the security of both crew and community.
Vice said there are usually seven teams of eight to 10 inmates around the Spokane area on any given day. Each weekday morning, as well as occasional weekends for special events, he picks up his crew at the prison and heads out to a project site.
Projects range from relatively undemanding trash pickup at the Interstate Fairgrounds to snow removal in extreme conditions like this past December.
Spokane County Fair and Expo Center facilities manager Craig Crocker usually hires crews three days a week in the spring and summer months for landscaping and cleaning. While he sometimes gets a sluggish worker or two, he said a phone call to the prison will have them replaced in no time.
Crocker said the inmate crews are a bargain for the 90-acre facility. "During the busy season, there's just no way we could afford to bring in full-time staff for this kind of work," he said.
The standard rate for an eight- to 10-person crew with a supervisor is $350 a day and just over 50 cents a mile, adding up to a low-cost labor force and some hearty work for otherwise idle hands.
"Quite a significant amount of money is saved through the use of this program," said Robison.
Because state law prohibits conflicts with the private sector, however, the program is limited to taking contracted jobs for government agencies and nonprofit groups related to public health, safety and welfare.
This doesn't mean they don't keep busy. Robison said that in 2007 alone, his work crews clocked 8,700 hours, collected 78,000 pounds of trash and removed graffiti at 23,000 sites.
Vice is right alongside the inmates. "I've seen letters in the paper asking, 'Why don't we put these prisoners to work?' " Vice said. "Well, I just want people to know that these guys are working, we've been working all winter, and I've got the frozen feet to prove it."
Local journalism is essential.
Give directly to The Spokesman-Review's Northwest Passages community forums series -- which helps to offset the costs of several reporter and editor positions at the newspaper -- by using the easy options below. Gifts processed in this system are not tax deductible, but are predominately used to help meet the local financial requirements needed to receive national matching-grant funds.
Subscribe to the Coronavirus newsletter
Get the day's latest Coronavirus news delivered to your inbox by subscribing to our newsletter.
---
Subscribe and log in to the Spokesman-Review to read and comment on this story