News > Washington Voices
Playing with push-ups
Instructor injects fun into fitness test
Thu., April 16, 2009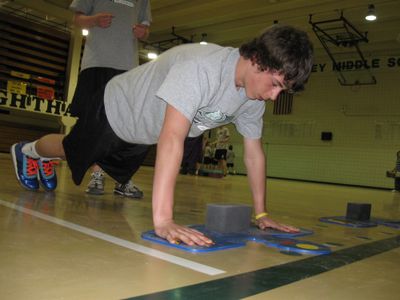 Cheney Middle School fitness teacher Selinda Riggs is busy making fitness fun for her students, and she recently received a $500 grant in order to make fitness assessment fun, too.
"We wanted it to be exciting and not boring," Riggs said. The school knew that its students needed to complete content-based performance assessments, sort of the fitness version of the WASL, and it wanted to make it fun for the kids.
When Riggs received an e-mail about a grant from the Kids in Need Foundation, she took the summer to think about what she could do to make the assessments fun.
She decided to use themes from popular movies and books for each section of the assessments: strength and accuracy, muscular endurance, flexibility, reaction times, agility, cardio endurance and balance.
Riggs bought costumes from Star Wars, Indiana Jones, the Fantastic Four, Batman, Pirates of the Caribbean, Harry Potter, Austin Powers and the Twilight book series for her student helpers to wear. She also downloaded music from each movie for the students to listen to while they complete a circuit of tests.
"Good luck today, and may the force be with you," Riggs told the students.
One station was manned by a Jedi Master to test their strength. Using their own 'force,' they threw a heavy ball behind them to check both their distance and accuracy.
At Miss Fantastic's station, students measured on how far they could stretch to their toes.
"Flexibility is something that is really good when you are young, but if you don't work on it, it goes away," Riggs told the students.
Indiana Jones kept track of how each student did push-ups. Only perfect push-ups were accepted at the assessment, and Indiana Jones, or student Ryelyn Mendoza, was instructed to kick anyone out of the assessment who wasn't doing one. Students had to keep their backs completely straight and keep their hands in perfect position.
"We're only measuring the perfect ones," Riggs told the students.
Over at Harry Potter's station, students were measured in their ability to respond quickly to stimulus. Students were given a Z-Ball, about the size of Harry's Golden Snitch in his quidditch matches, which bounced in different directions. Students held the ball at eye level or higher, dropped the ball and tried to catch it when it bounced. Students recorded the number of catches out of 10.
When they finished with the Snitch, students moved on to Team Edward to test their agility running forward and backward between a line on the gym floor and round cards that spelled out "Vampire."
The test was based on the baseball scene from the books and movie "Twilight," in which the vampire characters had to play in thunderstorms because they made so much noise hitting the ball and running so fast around the bases. The students were timed to see how fast they could complete the exercise.
There also was a cardio endurance test, run by the Joker from the last Batman movie. Students had to climb up and down on a step for two minutes.
Captain Jack Sparrow of the Pirates of the Caribbean movies ran the balance test, where students stood on a balance ball for as long as they could for a maximum of 60 seconds, much like walking the plank on the Black Pearl.
Finally, students moved on to Riggs' test. She was dressed in a psychedelic yellow and pink blouse, with a purple boa and blue sunglasses to represent Austin Powers. Students jumped rope for two minutes.
Riggs warned the students they had to make it through every test by the end of class, so if there was a line to record their scores, they could do another test and come back when the line was shorter.
The scores were all recorded to put into a software program called FitnessGram, which measured where the students should be based on their age against their scores in each test. The information will give the students information about ways to improve their scores or maintain them.
The students worked on the assessments all week long in Riggs' class. "We've been having a blast," she said.
Local journalism is essential.
Give directly to The Spokesman-Review's Northwest Passages community forums series -- which helps to offset the costs of several reporter and editor positions at the newspaper -- by using the easy options below. Gifts processed in this system are not tax deductible, but are predominately used to help meet the local financial requirements needed to receive national matching-grant funds.
Subscribe to the Coronavirus newsletter
Get the day's latest Coronavirus news delivered to your inbox by subscribing to our newsletter.
---