News > Spokane
STA votes today on benches
Mayor wants sign rule enforced; others say cost unnecessary
Thu., April 16, 2009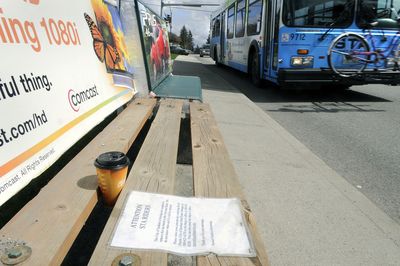 Bus routes in Spokane could soon be without benches, depending on a decision today by the Spokane Transit Authority board.
Spokane Mayor Mary Verner has ordered sign companies to remove bus benches in the city right of way by May 25 to comply with a 2001 city sign ordinance.
STA officials are scheduled today to vote on a $38,000 contract to buy 100 backless benches without ads to replace the almost 250 existing benches within city limits that have ads.
But some STA leaders are questioning Verner's order, and city Councilman Al French is leading an effort to change the law to allow bench ads.
STA board Chairman Dick Denenny said if the purchase goes forward, more benches would probably have to be bought later, too, to make up for all the lost seats.
"I question the sanity of spending $35,000 a year for a period of years when we have a free way to pay for them," Denenny said.
Verner said it's time to enforce the sign law. "We need to have consistent compliance with the law," Verner said. "Otherwise, we just by our lenience encourage others to place unlawful advertising in the right of way. This is about the advertising, not about the bus benches."
City leaders ordered sign companies to remove the benches last year based on the 2001 law that restricts signs for businesses, such as billboards that aren't on the businesses' property. The city did not enforce that order, but the new order says city crews could remove benches if sign companies don't by May 25.
STA currently has no say on the bench ads, and city officials say they would prefer that agency administered the program.
Sunset Outdoor Advertising, which is co-owned by Spokane businessman Tom Hamilton, paid the city about $45,000 from 2004 through last spring for the right to advertise in the right of way.
The city has declined to accept payments from Sunset since last summer.
The company also has signs in Spokane Valley, Cheney and unincorporated parts of Spokane County.
Denenny, a Spokane Valley city councilman, said it's unfair for people paying STA's sales taxes outside Spokane to pay for benches that will only be used within the city.
French argues that when the 2001 ordinance was adopted, the city assumed that it was unlawful to create rules that would ban some signs – like billboards – while allowing others, such as bus benches. A recent court decision opened the door for the city to change the rule to allow bench ads, he said.
"Why would we assume a program that the taxpayers are getting for free and then convert it to a program where the taxpayer has to pay for it?" asked French, adding that a change could include restrictions such as a ban on ads in residential areas.
Verner said she could support an amendment that allows bench ads if it included a "logical strategy to regulate advertising" and if the city's oversight role were transferred.
"We would like STA to be in the bus bench business," Verner said.
Councilman Richard Rush said bus bench ads detract from the aesthetics of the community. Economic development opportunities would be enhanced without the blight caused by the benches, Rush said, because many businesses prefer to locate in places where people aren't overwhelmed by advertising.
Hamilton, who also co-owns Emerald Outdoor Advertising, which will merge with Sunset this year, noted that Sunset pays for upkeep of the benches.
"We have been a very good steward," Hamilton said. "We're trying to do a public service."
Spokane resident Helen Harlander said bus ads help the economy by giving local businesses an affordable place to advertise. She criticized the proposed design of STA's benches.
"I am very much against the metal benches with no back. I don't think they're very good for our climate," she said, adding that they'll be too cold in the winter and too hot in the summer.
Marco Barbanti, an attorney representing Sunset, disputes the city's interpretation of the code.
Even if the city is right, Barbanti said, many of the benches would be grandfathered in, just like billboards that remain throughout the city.
City officials, however, say that because the city's contract with the company expired, the company's rights to maintain the signs on city property have expired as well.
A city memo on the topic says administrators decided to begin enforcing the 2001 ordinance, in part, because Lamar Outdoor Advertising began placing bus bench signs without a contract.
Duane Halliday, vice president and general manager of Lamar's Spokane office, said the company placed about 20 benches in the city right of way because Spokane's contract with Emerald expired.
"One company shouldn't be allowed to monopolize it," Halliday said.
This week, French held three public meetings about the benches, and he said he will introduce his proposed bench advertising amendment in time for the council's meeting April 27.
In 2003, French's unsuccessful campaign for city council president was given in-kind contributions in outdoor advertising totaling about $6,800 from three businesses owned by Hamilton.
Rush questioned French's motivation in leading the effort to reverse the ad ban.
"If that's true, it stands to reason – given in-kind donations in the past – that he is positioning himself nicely to get a similar consideration in any future race he might run," Rush said.
French called accusations that the donations motivated him "garbage."
"It's a distraction from the real topic," French said. "The real topic is how do we continue to provide a service to our taxpayers at no cost to them."
French added that his 2005 City Council and 2007 mayoral campaigns used no billboards or bus bench ads, nor did he receive contributions from Hamilton.
Hamilton said he made the 2003 donations from three of his other businesses – rather than from Emerald – because of tax reasons. He added that at the time, he owned Emerald, not Sunset, and that Emerald did not own bus benches at the time.
"I had no knowledge of and no interest in bus benches in 2003," Hamilton said.
If French's campaign used bus bench ads during the campaign it likely was through trades between sign companies, he said. Hamilton said he purchased Sunset in 2004 after Sunset's then-owner approached him about a sale.
Hamilton said French, an architect, has designed some projects for Hamilton, and is working on plans for an apartment complex.
City Councilman Bob Apple noted French's membership on the STA board, which is facing the expense to buying new benches.
"I'm not going to question his motivations in this," Apple said.
Local journalism is essential.
Give directly to The Spokesman-Review's Northwest Passages community forums series -- which helps to offset the costs of several reporter and editor positions at the newspaper -- by using the easy options below. Gifts processed in this system are not tax deductible, but are predominately used to help meet the local financial requirements needed to receive national matching-grant funds.
Subscribe to the Coronavirus newsletter
Get the day's latest Coronavirus news delivered to your inbox by subscribing to our newsletter.
---
Subscribe and log in to the Spokesman-Review to read and comment on this story