News > Spokane
Garage sales create opportunities for buyers, sellers
Mon., April 20, 2009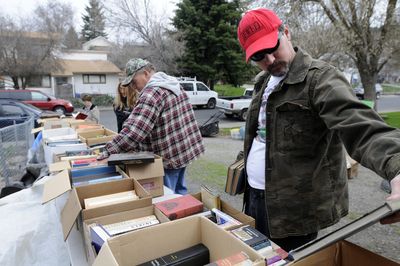 The arrival of warmer weather brings the opening of one of the Inland Northwest's most popular economic "sports."
Garage sales.
The want ads and online classified sites are starting to show the signs: "MULTI-FAMILY SALE!" "RUMMAGE SALE." "THIS IS IT – TOO MUCH TO LIST."
For the people placing the ads, it's a chance to clear out the clutter and make a little extra money. For the people using the ads to plan their Saturday morning assault, it's a kind of quest – to sift the gold from the dross and get it at a steal.
Heather Berndt, a Spokane woman who says she raised her family on garage sales, calls herself a "yard sale queen."
"Once yard sale season begins I will spend most Friday mornings out and about, and during those times will manage to find a wide range of items to fulfill my family's wants and needs," she wrote in a comment on the Everyday Economy blog. "I make a plan, try to stay focused, arrive early, and don't venture far from home."
Ken Trambitas kicked off the season last weekend with a sale at his East Bridgeport Avenue home in Spokane. He's a longtime buyer and seller at yard sales and online markets – some of the items he's selling now are things he's gathered because he "used to do a lot of e-Bay."
"We're trying to clean out our house," he said. "Stuff accumulates over the years."
This could be a boom year for yard sales, thanks to the recession. Postings on Craigslist for used items are way up, and observers say that's a sign that more people are looking to shed stuff and bring in cash.
"I believe that this year will see more garage sales than ever before," Bruce Littlefield, author of the 2007 book "Garage Sale America," told the Los Angeles Times. "The recession sort of shook us a little bit and made us realize we all have more than we really need. That includes big-ticket items."
Trambitas, an animal control officer for SpokAnimal, said he's held a lot of yard sales over the years, and one of his key principles is not to get too hung up over prices. "You don't ask for too much money for things, if your goal is to get rid of things," he said. "I don't care if people dicker me down."
Even if you sell an item for less than you'd like, "the money adds up if you sell a lot of stuff," he said.
Though Berndt takes an organized approach, she said she tries not to get too worked up about it.
"I try to remind myself that bargain hunting should be enjoyable and is not an opportunity to go all 'Survivor' on my fellow hunters," she wrote. "I trust that there are enough bargains for everyone and I try to be respectful of the hard work that goes into putting on a sale."
Berndt has a detailed system: She keeps a list of things she needs, and when she's looking for a big-ticket item like a rototiller, she researches the market. She keeps some cash with her at all times, and has an atlas, water and snacks and a tote bag in her car.
"(H)olding off paying full price and being patient for the bargain has allowed my family to enjoy a terrific lifestyle on mostly one income," she wrote. "I've been home with my kids a lot, we've helped keep stuff out of the landfill, and we've saved enough money to buy lakefront property.
"Yeah, that's pretty cool."
Local journalism is essential.
Give directly to The Spokesman-Review's Northwest Passages community forums series -- which helps to offset the costs of several reporter and editor positions at the newspaper -- by using the easy options below. Gifts processed in this system are not tax deductible, but are predominately used to help meet the local financial requirements needed to receive national matching-grant funds.
Subscribe to the Coronavirus newsletter
Get the day's latest Coronavirus news delivered to your inbox by subscribing to our newsletter.
---
Subscribe and log in to the Spokesman-Review to read and comment on this story