News > Spokane
Reform talk draws protest
McMorris Rodgers' health discussion closed to public
Thu., Aug. 20, 2009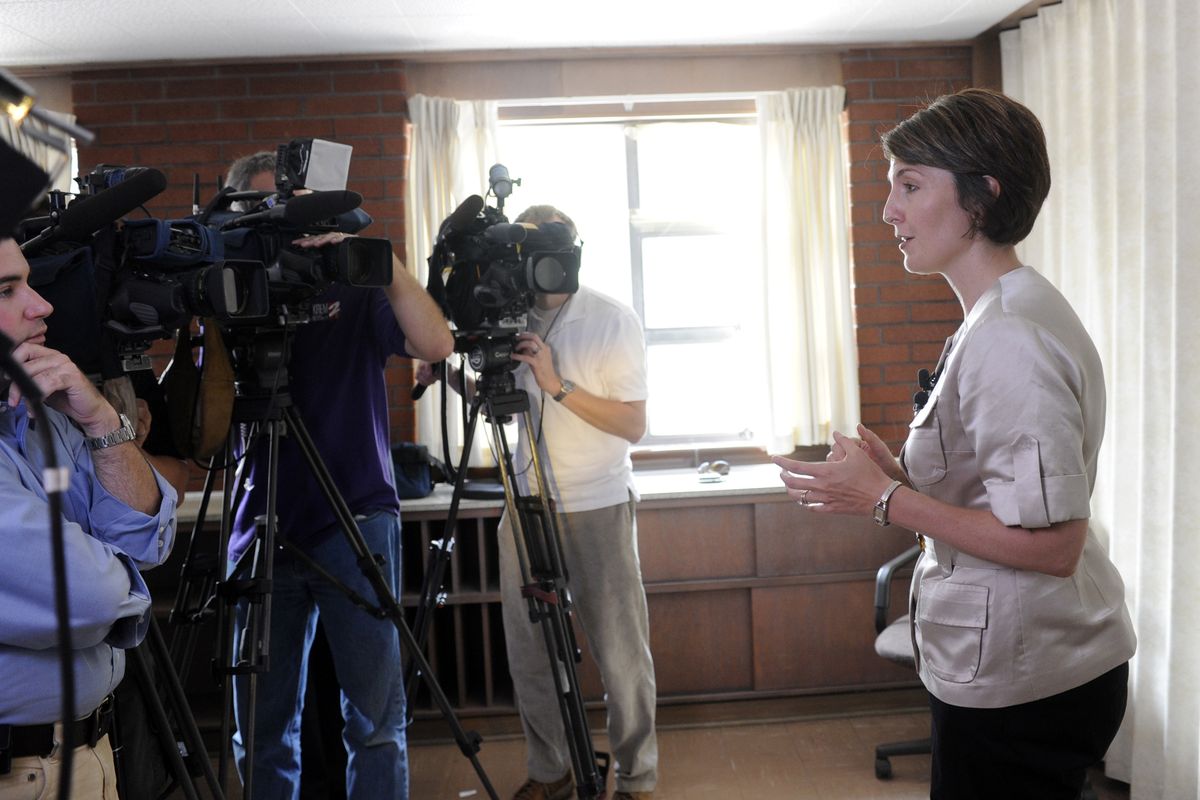 Congresswoman Cathy McMorris Rodgers speaks with the media after a meeting about health care from which the media was denied access Wednesday, Aug. 19, 2009. (Jesse Tinsley / The Spokesman-Review)
While U.S. Rep. Cathy McMorris Rodgers travels across Eastern Washington discussing health care reform, one of her only stops in Spokane was a closed affair Wednesday in a Browne's Addition church with invited members of two special-interest groups.
Across the street in Coeur d'Alene Park, nearly 200 people, organized by the liberal political action group MoveOn.org, rallied in support of a public health care option that McMorris Rodgers opposes.
"It is the biggest leverage we have to change private insurance practices," said family nurse practitioner Hope Busto-Keyes of the public option, a proposed government-run insurance program, like Medicare, that would be open to anyone.
Busto-Keyes said she and her physician husband, both in private practice, pay about $1,300 a month for health insurance.
McMorris Rodgers spoke at All Saints Lutheran Church to about 50 people representing the National Active and Retired Federal Employees Association and the AARP, the national advocacy group for people 50 and older.
Although the media were not allowed to attend, a few people who did said afterward that health care was the primary topic of discussion and that a woman in the audience who spoke in favor of the public option received the loudest applause.
MoveOn member Cynthia Hamilton questioned McMorris Rodgers' decision not to hold an open meeting in the biggest city in the 5th Congressional District.
"I think she's nervous about it. Everything on her Web site is right out of a Frank Luntz memo," said Hamilton, referring to the conservative consultant who has advised Republicans on fending off health care reforms backed by Democrats.
In a news conference after the meeting, McMorris Rodgers said she favors health care reform but not government-run health care, which she believes would result in people fleeing private insurers by the millions.
She said Democrats are offering a "one-size-fits-all" plan that would come at the expense of Medicare.
As far as the 47 million uninsured in America, McMorris Rodgers said that number includes illegal immigrants and 18- to 35-year-olds who can afford insurance but just don't bother.
One of those who attended the McMorris Rodgers event was Susie Seher, of Colbert, who recently lost her job with a small Spokane business that did not provide health insurance for its employees.
Seher said even after being laid off she managed to afford catastrophic insurance coverage for $175 a month. But after Group Health raised her rate by 43 percent, she had to drop it. Now she's uninsured.
"That's why I want a public option," she said.
In a meeting with The Spokesman-Review editorial board on Wednesday – her other Spokane visit – McMorris Rodgers said she is often asked about health insurance provided to members of Congress. The federally funded system offers several choices. McMorris Rodgers chose Blue Cross/Blue Shield and pays $400 monthly for health coverage for herself and her 2-year-old son, and another $200 monthly for dental and vision care. She said she received better coverage when she was a member of the Washington Legislature.
Local journalism is essential.
Give directly to The Spokesman-Review's Northwest Passages community forums series -- which helps to offset the costs of several reporter and editor positions at the newspaper -- by using the easy options below. Gifts processed in this system are not tax deductible, but are predominately used to help meet the local financial requirements needed to receive national matching-grant funds.
Subscribe now to get breaking news alerts in your email inbox
Get breaking news delivered to your inbox as it happens.
---