News > Nation/World
Obama orders Afghanistan surge
Buildup: First of 30,000 will deploy soonDestination: 'Epicenter of violent extremism'Timetable: New troops start pulling out in 2011Price tag: Will cost $30 billion in the first year
Wed., Dec. 2, 2009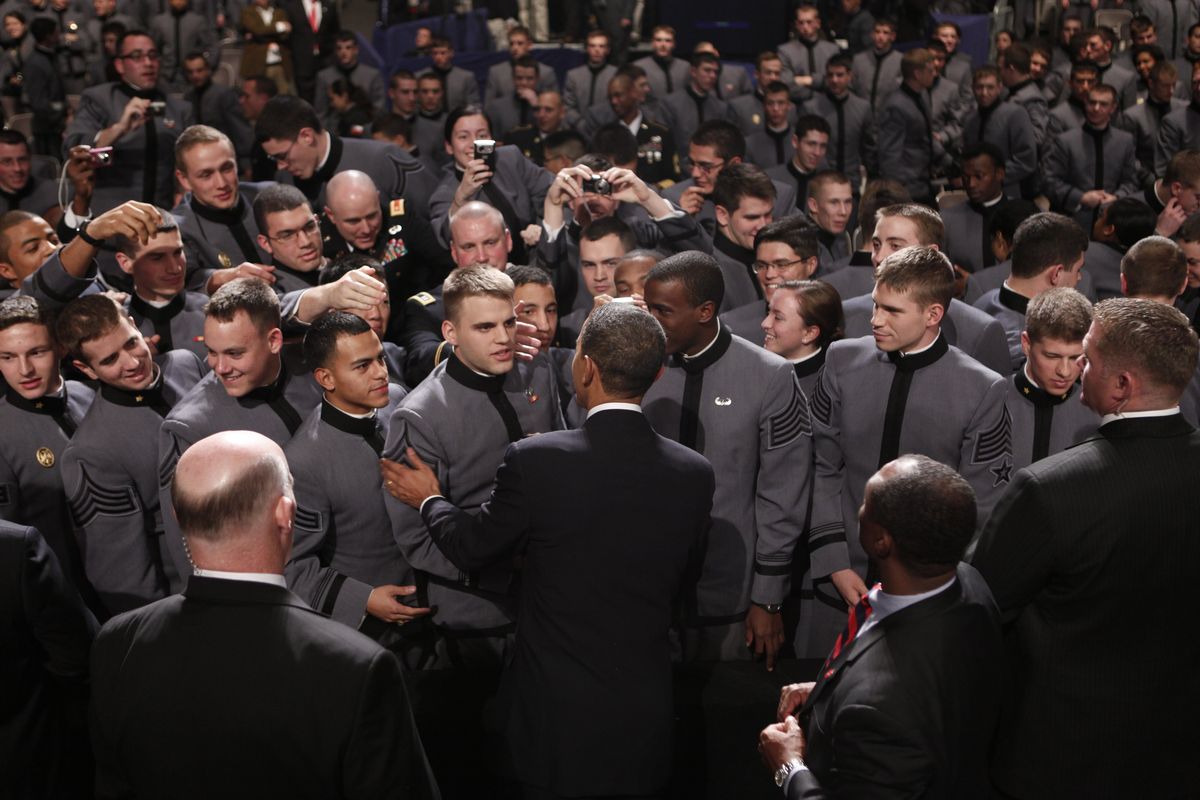 President Barack Obama greets cadets after his speech Tuesday at the U.S. Military Academy at West Point, N.Y. Associated Press photos (Associated Press photos)
Announcing a major expansion of the war in Afghanistan, President Barack Obama on Tuesday said the swift deployment of 30,000 troops would be enough to break the Taliban before the soldiers begin coming home in mid-2011 – a bet he is making because the U.S. cannot afford a drawn-out, costly campaign.
Describing Islamic extremism as "no idle danger, no hypothetical threat," Obama outlined what would amount to a rapidly executed surge, rushing tens of thousands of combat forces into the country by next summer, while pledging that 18 months later they will begin to be brought back.
"I make this decision because I am convinced that our security is at stake in Afghanistan and Pakistan," Obama said. "This is the epicenter of the violent extremism practiced by al-Qaida. It is from here that we were attacked on 9/11, and it is from here that new attacks are being plotted as I speak."
The decision to send 30,000 additional soldiers, beginning almost immediately, had been widely anticipated. The more surprising element was Obama's decision to set a specific month for the start of the soldiers' return.
Based on Obama's schedule, the war would begin to wind down nearly 10 years after it began. The timetable is likely to please members of Obama's own party, who have pushed him to set a clear exit strategy for the war. But others expressed alarm that Obama had signaled an end to the surge even before it started.
"A date for withdrawal sends exactly the wrong message to both our friends and our enemies – in Afghanistan, Pakistan and the entire region – all of whom currently doubt whether America is committed to winning this war," said Sen. John McCain, R-Ariz. "A withdrawal date only emboldens al-Qaida and the Taliban, while dispiriting our Afghan partners and making it less likely that they will risk their lives to take our side in this fight."
But in a briefing with news columnists before his speech, Obama dismissed concerns that signaling a withdrawal date would encourage the enemy to wait for U.S. forces to leave.
"If you follow the logic of this argument then you would never leave," Obama said. "Essentially, you'd be signing on to have Afghanistan as a protectorate of the United States indefinitely."
Beyond that, Obama said that without a timetable the United States would have "very little leverage" to push the government of Afghan President Hamid Karzai to prepare for the day when it would have to handle security – and fend off the Taliban – on its own.
But even with the timetable, Obama left himself ample room to keep tens of thousands of troops in Afghanistan for years to come. Administration officials said the pace of the withdrawal had not been decided and would be determined by conditions on the ground.
Obama stressed that the troop surge was part of a broader strategy that would involve expanded collaboration with the governments of Afghanistan and Pakistan. But his speech offered few specifics on how it would achieve the overall goal of defeating al-Qaida, which has taken sanctuary in Pakistan since fleeing U.S. forces in Afghanistan in 2001.
Obama delivered his speech before thousands of cadets at the U.S. Military Academy at West Point. But his words were crafted to reach disparate audiences around the world.
Among them are U.S. voters increasingly impatient with the 8-year-old war; anxious allies in Pakistan and Afghanistan; and Taliban commanders searching for signs of wavering U.S. resolve.
The president divulged his plans after spending much of the first year of his presidency searching for a suitable strategy in Afghanistan. Obama's order to ramp up the U.S. military presence in the country to nearly 100,000 troops is certain to be one of his defining decisions as commander in chief.
Local journalism is essential.
Give directly to The Spokesman-Review's Northwest Passages community forums series -- which helps to offset the costs of several reporter and editor positions at the newspaper -- by using the easy options below. Gifts processed in this system are not tax deductible, but are predominately used to help meet the local financial requirements needed to receive national matching-grant funds.
Subscribe now to get breaking news alerts in your email inbox
Get breaking news delivered to your inbox as it happens.
---