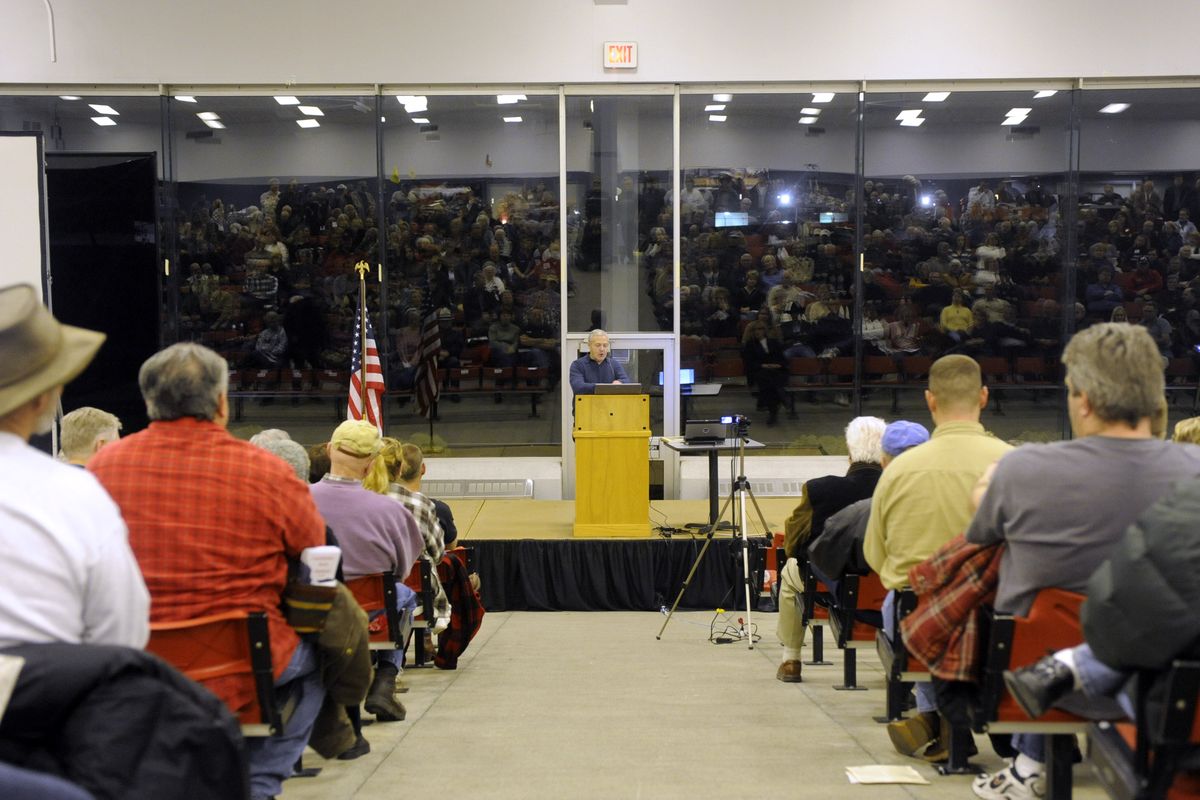 They're angry, and they're getting organized.
Groups once seen as fringe political outcasts are banding together, powered by what experts describe as an unprecedented fear of the federal government and disgust with the political climate.
It's happening across the country, and in the Inland Northwest it's drawing big crowds of diverse attendees.
More than 1,000 people, including local sheriffs, state representatives, lawyers, families and blue-collar workers, gathered in Post Falls last month to hear a former Arizona sheriff blast the federal government. About 500 met last week in another event organized by the Friends of Liberty Coalition – a coalition of about 10 Inland Northwest groups hoping to create a forum to share ideas and create a louder voice in politics.
Some aren't afraid to use the word militia.
"We need to rob that word back from the people who villainize it," said Schaeffer Cox, a 25-year-old from Fairbanks, Alaska, eliciting a roar of approval from the crowd in Post Falls Wednesday night.
It was the second Freedom Festival held at the Post Falls Greyhound Park – evidence, some say, of a new rise of the militia movement in America, but one that blurs the line between extremism and mainstream.
"These groups are popping up like mushrooms after a spring rain." said Mark Potok, director of the Southern Poverty Law Center's intelligence project.
The center, a nonprofit that focuses on education programs, prosecuting white supremacists and tracking extremist groups, issued a report this year on the "return of the militias" that said "the movement clearly is growing again."
The militia movement sprang up in the 1990s, "sparked by a combination of anger at the federal government and the deaths of political dissenters at Ruby Ridge, Idaho, and Waco, Texas," the report said.
Wednesday's meeting was the first event locally since the large gathering on Veterans Day for a speech by Richard Mack, a man described by Potok's organization as "an iconic hero of the militia movement."
Mack wrote a book with Randy Weaver in the 1990s about the federal siege at Ruby Ridge and was part of a successful lawsuit against the Clinton administration challenging sweeping gun control legislation.
Mack was joined at the Post Falls event by Washington state Rep. Matt Shea and Idaho state Rep. Phil Hart. County sheriffs were invited to dine with Mack before his speech. Spokane County Sheriff Ozzie Knezovich missed most of the dinner but said he enjoyed Mack's speech.
"I didn't hear hate. I heard the exact opposite," Knezovich said. "I heard respect. Respect for states, respect for individual rights, for the job of the sheriff."
'Greatest threat … is our federal government'
Knezovich said he received more invitations to Mack's speech than any other event since he was elected sheriff in fall 2006. Everywhere he went, it seemed, people asked if he planned to go.
"I thought to myself, 'If that many people would like me to attend this event, I'll do that,' " Knezovich said.
Mack has long been a speaker on the constitutionalist circuit, gaining fame in the militia movement in the 1990s. "There's really a remarkable amount of anger out there that this movement reflects," Potok said.
Still, Potok added, "it's a little shocking that Richard Mack, given his ideas, could draw such a large crowd, including so many public officials."
On Mack's Web site, he says "the greatest threat we face today is not terrorists; it is our federal government."
His speech last month emphasized that sheriffs are the supreme law enforcement agent in the county, capable of standing up to the federal government and resisting concentrated power.
"This meeting is not racist," Mack said in the beginning of the speech, according to a video recording. "This meeting and this movement is freedom for all Americans, all people."
Mack is a member of the Oath Keepers, a national group that describes itself as being dedicated to protecting the Constitution. Potok said the group is founded on conspiracy theories.
"The group believes that martial law, foreign troops on U.S. soil and the rounding up of U.S. citizens and placing them in concentration camps is just around the corner," Potok said. "These ideas were absolutely parts of the militia movement in the 1990s in the United States that produced so much political violence."
Knezovich said he heard nothing from Mack that promoted militias.
But talk of a well-organized and well-armed militia kicked off Wednesday's event, which included speeches refuting climate change and linking local sustainability projects to the United Nations.
About 10 groups hosted information booths on topics ranging from global warming myths to private property rights and privacy.
"We all have our little niches, but we felt it was important for us to get together at times to provide that critical mass," said John Christina, a coordinator with Campaign for Liberty. "What we want to do is channel the anger in a positive way."
Trying to change the system
More and more, people are showing an interest.
"We used to be thought of as extremist," said Liberty Lake resident Rob Chase. "But the mainstream won't laugh anymore. They're looking for answers."
Knezovich said the crowd at Mack's speech ranged from "your everyday citizen, your everyday businessmen, your soccer moms."
The diverse crowd reflects the widespread political angst Knezovich said he's seen since President Barack Obama's election.
The surge in gun and ammunition sales is one example, he said.
"I've never seen that type of response to a change in government," Knezovich said. "There are a lot of people in there who are middle of the road."
Attendees at Wednesday's Freedom Festival had different ideas centered on one thing: the loss of freedom and the perceived trampling of state powers by the federal government.
"Basically, I'm just tired of the way our system is working and we need to change it," said Don Dyer, who traveled to the events from Waverly, Wash. "The Republicans and the Democrats aren't doing it."
One attendee, Rathdrum resident Brody Scott, said he's a member of the North Idaho Light Foot Militia, which has 65 Idaho members and 18 members in the Spokane area. He said he's seeing more interest in the 3-year-old group. "It's finally started to take off," Scott said. "We've had people just contacting us like crazy."
A man in neo-Nazi regalia at the event said he represented the Aryan Nations but stayed for only a portion of the program. Event organizers said the group wasn't invited.
The man's presence underscored a dynamic emerging in the militia movement: mainstream Americans joining a cause once thought to be so extreme that neo-Nazis see it as a potential recruiting place.
"It can't be an isolated little clique of angry people," Cox, the Alaskan militia representative, told Wednesday's crowd. "It's got to be a group of people brought together by respect and a power to act." About 3,500 Alaskans have joined a militia, Cox said.
North Idaho militia members are armed and train together through activities like target shooting and hiking a couple times a month, Scott said.
They've contacted county sheriffs, including in Bonner and Boundary counties, about working with search and rescue crews.
"I would call it a community help group," Scott said. "We're just everyday Joes."
---