News > Spokane
Robotics inspires scientific drive
Students engineer their way to spirited competition at EWU
Sun., Dec. 6, 2009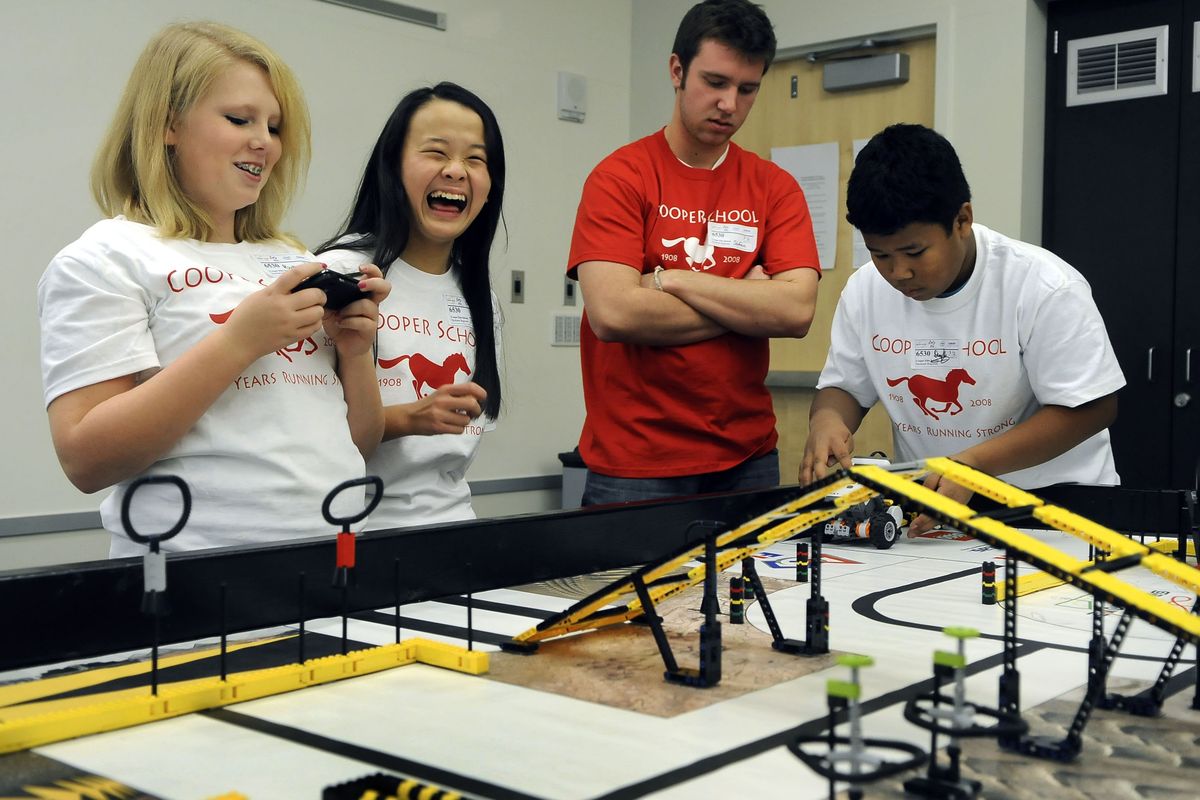 Competing has its fun side for Trinh Nguyen and teammates Brittnea Nelson, left, and Duy Vo, right, at the LEGO competition Saturday at Eastern Washington University. The Cooper Elementary students test their transportation robot as coach Stefan Altberg looks on. (Dan Pelle)
At first glance, the competition under way inside Eastern Washington University's computer science building Saturday looked and sounded like a fierce athletic contest.
Fans cheered. Music blared. Referees in black and white striped jerseys called the shots.
"Go, go, go," one proud mom shouted, pumping her fist in the air.
But the competitors weren't your typical athletes: They were LEGO robots built and programmed by elementary and middle school robotics teams.
For the second year, EWU has hosted the FIRST LEGO League competition. More than 150 students ages 9 to 14 competed in the regional robotics event to qualify for the Washington state FLL championships in Bellevue later this month.
A similar event was held Saturday at Post Falls High School, where hundreds of children competed for a chance to be the robotics champions.
"It's like sports for the mind," said Lorna Kropp, a teacher from the Discovery School in Spokane who helped organize Saturday's event in Cheney.
Students from 18 teams built LEGO robots and programmed them to compete in various missions on a 4-by-8-foot game board. The robots earn points for completing a series of tasks.
In addition, the competition includes a real-world topic related to the sciences that students must research and present. This year the topic was transportation.
"The Flaming Skulls" from Discovery – Graham Adams, Aidan Dearman, both 10, Austin Rambo, 9, and Brevin Simon, 11 – did their research project on the Centennial Trail. The foursome came up with a new marking system that lets riders and walkers know they are still on the trail.
The research projects, in addition to the robotics, provide students a hands-on approach to math, science and engineering, organizers said.
"I want to be an engineer when I grow up," Graham said.
The boys were hopeful they would make it to state for a second year, having qualified last year.
Kropp said this year's regional event in Spokane was the largest ever. Four years ago, there were only two teams in the Spokane area competing, and they had to travel to Moses Lake.
Not only has the number of teams grown, but the number of girls participating has also increased, she said.
"Last year you could count them on one hand," Kropp said. With help from area public schools and the Girl Scouts of the Inland Northwest, this year there appeared to be as many girls as boys.
Brittnea Nelson, 12, and Trinh Nguyen, 11, joined three male teammates, Cashawn Chapman-Egbert, 12, Davian Martinez, 11, and Duy Vo, 11, to represent Cooper Elementary School in northeast Spokane.
The school wrote a grant to pay for the LEGO robotic components and registration for the competition, which can cost hundreds of dollars.
"We love math and science," Chapman-Egbert said. "Everybody here does. It's awesome."
Local journalism is essential.
Give directly to The Spokesman-Review's Northwest Passages community forums series -- which helps to offset the costs of several reporter and editor positions at the newspaper -- by using the easy options below. Gifts processed in this system are not tax deductible, but are predominately used to help meet the local financial requirements needed to receive national matching-grant funds.
Subscribe now to get breaking news alerts in your email inbox
Get breaking news delivered to your inbox as it happens.
---