Sports
Locker to stay
QB decides to remain a Husky
Tue., Dec. 15, 2009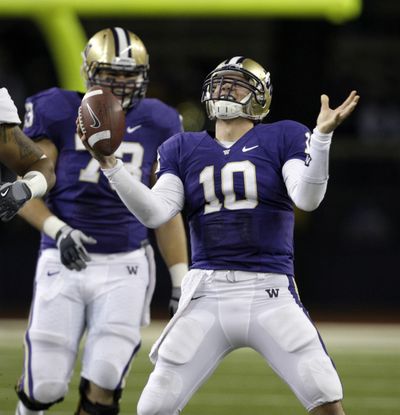 With two simple words Monday – "I'm staying" – Jake Locker changed the course of Washington's football future.
Locker, UW's junior quarterback, made that statement around 11 a.m. to coach Steve Sarkisian and offensive coordinator Doug Nussmeier, not only settling the issue that loomed over UW's off-season more quickly than anyone anticipated, but also setting off a raucous celebration in Husky Nation.
Now, the optimism surrounding the five-game improvement in Sarkisian's first year can continue unabated with Locker back.
Locker was projected as among the top picks in the NFL draft had he decided to come out – earlier Monday, the first mock draft of ESPN's Todd McShay had Locker as the No. 1 overall pick.
But Locker, who recently turned 21, decided he wanted to finish the rebuilding of UW's football program while also continuing to groom himself for a solid long-term NFL future.
"After a great deal of careful thought and deliberation, I have decided to return to Washington and play my senior year," Locker said in a statement released by the university. "I am very excited about this team's opportunities and potential for the upcoming season and I am looking forward to being a part of it."
Locker was accompanied by his chocolate lab – appropriately named Ten – when he told the coaches.
"I just thought he was going to shoot the breeze," said Sarkisian, who hadn't been aware Locker was this close to making a decision. Instead, Locker told the coaches he was staying, Sarkisian soon joking to UW athletic director Scott Woodward that, "this is the first time in history I've ever signed a 10-star recruit. Forget four- or five-star recruits. We got a 10-star recruit today."
Sarkisian added that upon hearing the news he and Nussmeier "gave a pretty good high-five and a hug."
Sarkisian said he didn't put any hard sell on Locker, instead simply supplying him with as much information as he could. That included the fact that quarterbacks who leave early tend to have shorter NFL careers than those who finish their college careers.
Sarkisian said UW's success in the final two games of the season, wins over Washington State and California, as well as the style of play, helped sway Locker.
"That painted a picture for him of where we are headed and what we are capable of getting done," Sarkisian said.
Still, Locker had said following the season finale against Cal on Dec. 5 that he would consider all options, and a week ago Monday he applied to be evaluated by the NFL Advisory Committee, which supplies underclassmen with an estimate of where they will be selected.
But Locker decided not to wait for that input – the committee hasn't even begun to return evaluations – before making his choice to stay.
Locker made the decision to stay over the weekend after spending time with his family in Ferndale.
"He really had a chance to spend the last 48 hours or so really assessing it and looking at it with all the information that he had without any distractions," Sarkisian said. "That's why he was able to make the decision and feel good about it."
Locker began informing teammates and others around the program of his decision at midmorning – sending out a mass text – and in his typically understated fashion, he eschewed a news conference, simply having the school send out a release announcing his decision.
Locker was not available for comment Monday, saying he wanted to wait until after finals and the holidays to speak to the media.
Woodward said the school will prepare a Heisman campaign for Locker, who will enter the 2010 season as one of the top contenders for the award. Sarkisian said he has discussed that with Locker, who tends to shy away from media attention. But Sarkisian said Locker understands going through a season with such a spotlight will further ready him for what awaits in the NFL.
"I think that's part of the process of preparing yourself so that you're not overwhelmed when you get to the NFL," Sarkisian said.
It's the third time Locker has spurned a chance for a big payday to play quarterback for the Huskies.
Locker also turned down chances to play pro baseball out of high school and again last summer that likely would have paid him millions. He did sign a contract with the Angels last summer after the club took him in the 10th round, paying him a reported $300,000. But that was done largely to give the Angels his rights for six years should he decide he wants to play baseball. He said he has no plans to do so anytime soon.
UW reported it received roughly 30 deposits for 2010 season tickets within hours of the announcement.
Local journalism is essential.
Give directly to The Spokesman-Review's Northwest Passages community forums series -- which helps to offset the costs of several reporter and editor positions at the newspaper -- by using the easy options below. Gifts processed in this system are not tax deductible, but are predominately used to help meet the local financial requirements needed to receive national matching-grant funds.
Subscribe to the sports newsletter
Get the day's top sports headlines and breaking news delivered to your inbox by subscribing here.
---