News > Spokane
Suspect in Seattle police officer's death arraigned
Monfort enters not guilty plea in Halloween shooting
Tue., Dec. 15, 2009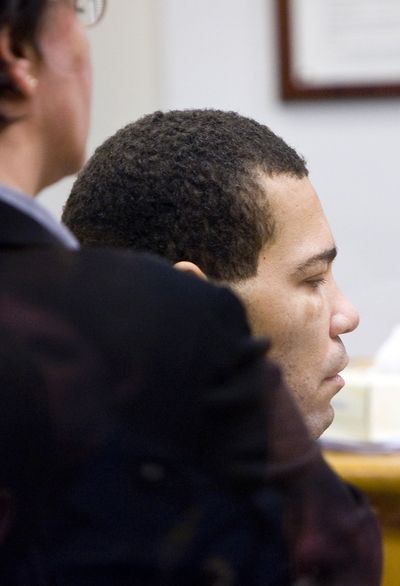 SEATTLE – Paralyzed by a detective's bullet, a man accused of killing a Seattle police officer on Halloween was wheeled into a courtroom Monday and pleaded not guilty to charges that could bring the death penalty.
Christopher Monfort, 41, was handcuffed and shackled despite his condition, and a lawyer entered the pleas on his behalf as Officer Timothy Brenton's widow and fellow officers looked on. Monfort's defense team surrounded him, sometimes holding a clipboard in front of his face to obscure the view of him from the packed courtroom during the arraignment.
Deputy prosecutor John Castleton summarized most of the five charges against Monfort, but read one verbatim: that of aggravated first-degree murder. Investigators said he drove alongside Brenton's cruiser as it was parked after a traffic stop and opened fire, killing Brenton instantly and grazing the neck of his partner, Brit Sweeney.
Monfort is also charged with arson and attempted murder for the firebombing of several police vehicles in a maintenance yard on Oct. 22 – the first step in what prosecutors called Monfort's "one-man war" against Seattle police.
Detectives located the suspect at his Tukwila apartment Nov. 6 after the complex's manager called police with a tip that Monfort owned a vehicle similar to the one investigators were looking for, an early '80s Datsun. When they approached him, detectives said, he ran, aimed a handgun and pulled the trigger – to no avail, because he had neglected to load a bullet into the chamber.
Police opened fire, paralyzing him from the waist down. Inside his apartment, they found evidence he was preparing for a last stand: several guns and homemade bombs, one with a fuse placed on the heating element of his kitchen stove, and stacks of automobile tires that could provide shelter from a hail of police bullets.
Ballistics evidence proved one of the guns was used to kill Brenton.
Local journalism is essential.
Give directly to The Spokesman-Review's Northwest Passages community forums series -- which helps to offset the costs of several reporter and editor positions at the newspaper -- by using the easy options below. Gifts processed in this system are not tax deductible, but are predominately used to help meet the local financial requirements needed to receive national matching-grant funds.
Subscribe to the Coronavirus newsletter
Get the day's latest Coronavirus news delivered to your inbox by subscribing to our newsletter.
---