News > Spokane
Yake, 90, helped reshape Spokane
Former city official, who played pivotal role in Expo '74, died last week
Tue., Dec. 29, 2009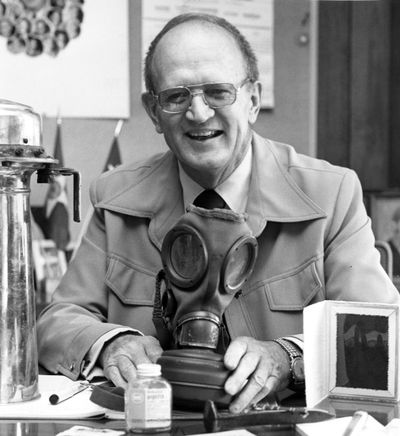 The retired Spokane administrator who led the city's engineering effort that transformed the industrialized, decaying core surrounding the Spokane Falls into a park that became the region's central gathering spot died last week. Glen Yake was 90.
Yake worked at City Hall for 33 years, including an 11-month stint in the top position, city manager.
His co-workers said Yake always stressed long-term vision.
"He had a very significant impact," former Spokane Mayor David Rodgers said Monday. If a concept for improving the city emerged, Yake would get to work immediately, and "the next thing you'd know, we'd have a riverfront park."
Yake started at the city as an assistant city water engineer in 1949. He retired as the manager for engineering after spearheading efforts to create the Waste-to-Energy Plant, increase the power generation at the city's Upriver Dam, and substantially improve wastewater treatment. He played prominent roles in numerous other projects, including the widening of streets such as Wellesley Avenue and Southeast Boulevard and the extension of city sewer service onto the West Plains.
Just this year, one of his long-term goals became reality. Yake, like other city officials, argued that urbanized land should be within city limits. Part of the city's strategy was to bring sewers to the West Plains. That effort is the basis for Spokane County agreeing Dec. 3 to give up control of 10 square miles of the land starting in 2012.
Yake died Dec. 21 at Cascade Vista Convalescent Center in Redmond, Wash., from complications related to a stroke he had in 2001, said his daughter, Charlotte Jenkins. Yake is survived by his three children. His wife, Irene, died in 1998.
He is the third former Spokane city manager to die in the past five months. His predecessor, F. Sylvin Fulwiler, died in October. Terry Novak, who followed Yake in the position, died in August.
Two years before the start of Expo '74, Yake crafted a 20-page report detailing actions needed to prepare for the World's Fair. At the time, the Expo site was covered with railroad tracks and other dated infrastructure.
"We couldn't have done it without Glen, because he was doing all the things a CEO would do to make sure you have the resources you need to get the job done," said Brad Blegen, a longtime Spokane administrator who served as the city's project engineer for the Expo site.
It was Yake's idea to build a mound over Washington Street to better connect the park. He was instrumental in getting state funding for the project, said James Sloane, former city attorney.
In less than two years, the rusting bridges that covered the site were gone and the river exposed.
"The wall that separated downtown Spokane from the river was gone forever," said Sloane, who worked on the Expo project with Yake as an assistant city attorney. "Glen Yake played a huge part in that."
When Fulwiler, who was the city manager during Expo '74, left Spokane for a new job in 1977, Yake was named the interim city manager. But 11 months later, the City Council chose Novak over Yake in a 4-3 vote.
Yake was offered an engineering job in California, but he chose to stay at City Hall and partnered with Novak on several projects.
Jenkins said her father preferred work as a public servant. She remembers her family hosting annual summer picnics for public works employees at their home. "He felt like he was really accomplishing something," she said.
Much of Yake's work generated controversy. Street widening, extension of sewers and the creation of the Waste-to-Energy Plant were completed despite significant disapproval from residents. Some of his goals, including the construction of the North Spokane Corridor and fluoridating the city's water – were lost or delayed indefinitely in the face of opposition.
Rodgers, the former mayor, said Yake and his team occasionally did things out of order in the name of efficiency.
"They'd see something that had to be done. They'd just go ahead and do it, and worry about getting council approval later," Rodgers said.
"He did very wonderful things for Spokane by his initiative and his willingness to stick his neck out."
Local journalism is essential.
Give directly to The Spokesman-Review's Northwest Passages community forums series -- which helps to offset the costs of several reporter and editor positions at the newspaper -- by using the easy options below. Gifts processed in this system are not tax deductible, but are predominately used to help meet the local financial requirements needed to receive national matching-grant funds.
Subscribe to the Coronavirus newsletter
Get the day's latest Coronavirus news delivered to your inbox by subscribing to our newsletter.
---