News > Spokane
Idaho joins Washington in putting child support on Visa cards
Sun., Feb. 1, 2009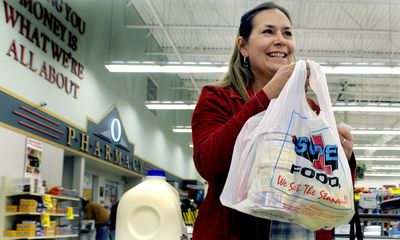 Jill Daly could sense the disapproval in grocery store lines when she paid for food with her Idaho state-issued Quest card. The Athol mother of three teens felt people were judging her harshly because Idaho food stamp money was on the card. The disapproving shoppers didn't know that some of the money on the card came from child support paid not by taxpayers, but by the children's father.
Beginning Monday, 21,000 Idaho parents will no longer feel the same stigma when they use their child-support payments because the payments will be loaded onto Visa debit cards instead of the Quest cards. (Food stamps will remain on the Quest cards.)
"It's just like a normal, everybody-else card," said Daly, who was part of a January testing program for the state-issued Visa card.
The change in cards highlights a little-known fact about the state's role in child-support payments. In Idaho and Washington, child support is collected by the state from any parent court-ordered to pay it. The states perform this service for wealthy parents, poor parents and parents in between. The states then distribute the money to the custodial parents through checks, direct deposit in checking accounts or through the Visa debit cards. Washington has issued Visa cards since 2001.
Mark Swenson, district manager of Washington's Division of Child Support, says "There are many, many parents who would never have a problem with paying … but our job is encouraging (all) parents to meet their obligations."
State child support programs usually get more attention for helping women establish the paternity of their children or for going after nonpaying parents. Involvement in routine child support services saves money for Washington and Idaho taxpayers. When parents pay for the support of their children, states don't have to fill as many gaps.
The Idaho move from Quest to Visa cards was done primarily as a cost-saving measure.
"It will save us $250,000 a year," said Tom Shanahan, public information officer for the Idaho Department of Health and Welfare. "With the Quest cards, we were charged to make a deposit in every account, which equaled $12 a year per card. And there are 21,000 cards out there. There are no fees for the Visas."
Shanahan said the cards will give parents more options while shopping for food, clothing and other necessities for their children. The debit cards can be used anywhere Visa cards are accepted, including ATMs.
Daly's happy for the convenience – she can now pay for gas directly at the pump – but she appreciates the dignity factor most of all.
"It's time they started thinking along these lines," she said of state officials. "It seems like a lot of times they are against us, but they are trying to do something for us. It's amazing they got it to work."
Local journalism is essential.
Give directly to The Spokesman-Review's Northwest Passages community forums series -- which helps to offset the costs of several reporter and editor positions at the newspaper -- by using the easy options below. Gifts processed in this system are not tax deductible, but are predominately used to help meet the local financial requirements needed to receive national matching-grant funds.
Subscribe to the Coronavirus newsletter
Get the day's latest Coronavirus news delivered to your inbox by subscribing to our newsletter.
---
Subscribe and log in to the Spokesman-Review to read and comment on this story