News > Business
Voluntary layoffs can have benefits, but do your research
Sun., Feb. 1, 2009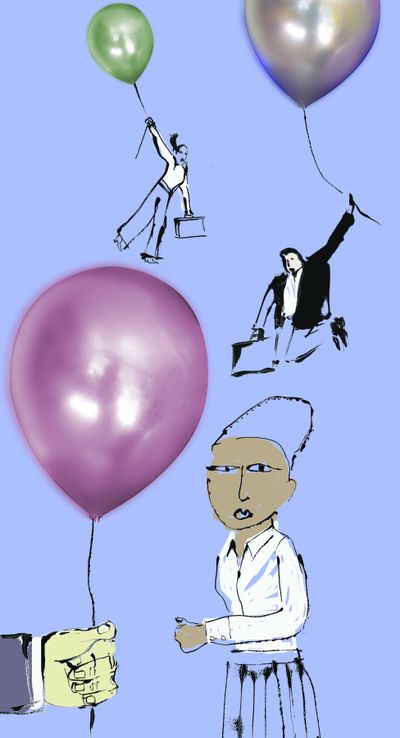 John Smith – who asked that his real name not be used – realized his employer, which makes shipping containers, was not having a great year. Smith, of Seattle, is 51, married with no children and has some money in the bank. He figured this was a good time to take a severance package that would carry him over until his next job.
After two meetings with a human resources director, Smith persuaded his firm – which insisted he not talk about the deal in public – to give him three months' salary, a better deal than he would have received if he had been laid off, said an attorney with knowledge of the case.
Even in a bad business climate, some workers can negotiate a better severance deal than the one a company typically offers during a layoff.
"If a company has any kind of severance plan, then the whole thing is all open to discussion," said Michael Eisenberg, a Los Angeles CPA and commentator on workplace issues.
Formal severance plans range from the generous – such as those paying salaries pegged to length of service along with job-transition counseling – to the minimal, offering little more than a detailed guide to filing for unemployment benefits.
In general, any company offering a severance package provides two weeks of salary as a minimum payment. Many offer a variety of outplacement services to assist workers with job searching.
In a difficult economy, getting more than that becomes a challenge, said Eisenberg.
Even so, he said skilled and well-prepared workers sometimes can improve the severance benefits offered, if they leave their job voluntarily and make a good case that they deserve more for leaving now.
Some workers can get a company's attention by arguing that voluntary departure, unlike a layoff, spares the company the cost of up to 26 weeks of unemployment benefits.
Even if a firm has a standard one-size-fits-all severance plan, any worker who leaves, voluntarily or not, should visit the firm's human resources office to discuss options, said Eisenberg and others who deal with job benefits.
A worker's unique circumstances, and the company's need to adjust its bottom line, determine how much give there is in a severance package, said Eisenberg.
A basic option: Most firms want to pay the entire buyout in one check. That's negotiable. "I had a woman arrange to get her year's worth of buyout spread over 12 months," said Eisenberg.
A key consideration before searching out severance options: If your work performance is below par, don't bother trying to improve your severance; the company is unlikely to help out.
Plus, if someone offers to take a buyout, there's a small risk the company will see that worker as halfway out the door already. Raising one's hand might make it harder to negotiate better benefits, Eisenberg said.
Sometimes a company announces it needs to reduce costs but isn't targeting specific employees. In that case, a worker with career options can negotiate a deal, said Adele Bolson, a certified accountant and financial adviser in Bellevue, Wash.
"The company in that case is just trying to get to some number" of layoffs within the total work force, she said.
"But it's important that you then ask (the HR staff) what will happen to you if you don't take the buyout," Bolson added. "You want to be sure that if you discuss the option and don't leave, that it won't be a problem for you."
If the company has a fixed buyout based on years worked, the worker might find a way to persuade the company to sweeten the deal. "You might say," Eisenberg suggested, "that you have kids at home and private insurance or COBRA (subsidized medical insurance for people who've been laid off) is expensive. So you can ask for another month's wages to cover that," he said.
Bolson and Eisenberg agree workers who have a working spouse, or who've bankrolled adequate savings, are more prepared to suggest and arrange a voluntary buyout from a current job.
A working spouse's medical insurance takes care of health expenses, while cash in the bank allows a person to leave a job without needing to get another one quickly.
Spokane attorney Robert Dunn says he gets several calls each month from executives and workers seeking advice on dealing with a looming layoff, or who've been told they're going to be laid off and think they have a possible workplace grievance.
He calls workers who sense a coming layoff and want to do something before the ax falls "dead men walking."
Those with valuable skills or who have a key role within the company are more likely to have some advantage in gaining extra severance package benefits, he said.
In the past year Dunn represented a Seattle architect who had a falling-out with his partners. He knew he had to leave and was confronted with the standard buyout the company had signed with him when he first joined the firm.
Dunn and his client learned that his partners were anxious that his departure not endanger the company's relations with key customers. As a result, Dunn received an enhanced payout for the architect, in exchange for his assurance not to badmouth the company.
If anything, the down economy seems to be increasing his business, Dunn said. When he reviews contracts for corporate officials who are being let go, it's common for him to negotiate an added "silence upon departure" incentive.
In every case Dunn has handled, he said, company managers insist that the departing worker cannot disclose terms of the severance. "That's their way to ensure that those deals aren't widely known and invite more people to insist on the same deal," he said.
Dunn noted the choices available, when negotiating with the company, diminish the lower a worker is on the corporate ladder. Line workers or staff employees who want help in arranging a better buyout mostly get the standard deal, unless they've been discriminated against or have a legal case based on physical impairments, said Dunn.
As Eisenberg helps workers address the financial impact of taking a buyout, he also cautions people to anticipate the emotional and personal impacts that follow leaving one's current job.
"For some people, what you do on a daily basis helps us feel important," he said. "When you stop working, you might need to replace that with something else."
Local journalism is essential.
Give directly to The Spokesman-Review's Northwest Passages community forums series -- which helps to offset the costs of several reporter and editor positions at the newspaper -- by using the easy options below. Gifts processed in this system are not tax deductible, but are predominately used to help meet the local financial requirements needed to receive national matching-grant funds.
Subscribe now to get breaking news alerts in your email inbox
Get breaking news delivered to your inbox as it happens.
---