News > Nation/World
Former detainees on terror list
Saudi Arabia names 11 men on wanted list
Thu., Feb. 5, 2009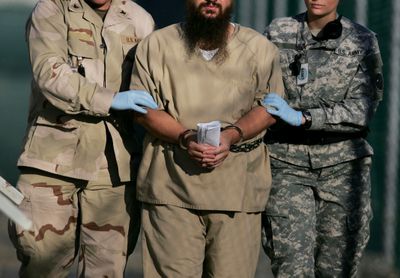 CAIRO – Saudi Arabia said Wednesday that 11 men released from the U.S. prison at Guantanamo Bay are now on the kingdom's most-wanted list despite having attended its touted extremist rehabilitation program.
President Barack Obama has signed an executive order closing the detention center at the naval base in Cuba, leaving countries scrambling over what to do with released detainees.
Saudi Arabia and terror experts defended the program for terror suspects, saying it is largely effective. The Pentagon has said it's unlikely to change its policy on prisoner transfers to the kingdom.
Saudi Arabia, the birthplace of al-Qaida leader Osama bin Laden and home to 15 of the 19 Sept. 11 hijackers, has pursued an aggressive campaign against militants but also sought to rehabilitate those it believes can abandon their violent extremist beliefs and reintegrate into society.
These rehab programs – and the kingdom's assurances that they are effective – have been a major reason why most of the Saudis have been released from Guantanamo. Only 13 of the 133 Saudis detained there remain, said Saudi Interior Ministry spokesman, Gen. Mansour al-Turki.
"Besides the 11 people (on the wanted list) who came from Guantanamo, there are still 106 people who have gone through this rehabilitation program and are doing OK," al-Turki told the Associated Press by phone. Three others committed suicide in Guantanamo.
The 11 were on a list of 83 Saudis and two Yemenis wanted for their connections to al-Qaida issued Monday by the Saudi government.
Among the 11 were two Saudis who have emerged as the new leaders of Yemen's branch of al-Qaida. The two appeared in a militant video last month calling for attacks against Arab governments and Western interests.
Local journalism is essential.
Give directly to The Spokesman-Review's Northwest Passages community forums series -- which helps to offset the costs of several reporter and editor positions at the newspaper -- by using the easy options below. Gifts processed in this system are not tax deductible, but are predominately used to help meet the local financial requirements needed to receive national matching-grant funds.
Subscribe to the Coronavirus newsletter
Get the day's latest Coronavirus news delivered to your inbox by subscribing to our newsletter.
---
Subscribe and log in to the Spokesman-Review to read and comment on this story