News > Spokane
Lifeline on the chopping block
Program that gives short-term benefits to the unemployable may disappear under proposed Washington budget cuts
Thu., Feb. 5, 2009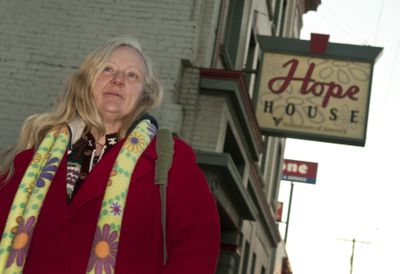 A few years ago, a homeless woman named Lee Ann Winters was nearly run over by a car while walking across a downtown Spokane intersection. She yelled at the driver, saying she was in a crosswalk and had a green light.
"What does it matter?" she recalls the driver yelling back. "You're homeless!"
Now 52 and living in her own apartment, Winters is worried that the homeless will be dismissed the same way by state lawmakers looking to cut spending.
A program called General Assistance for the Unemployable that once provided Winters a critical lifeline – health care and $339 a month – is among budget cuts that state officials are considering.
GA-U now benefits about 21,000 people statewide, including about 1,400 in Spokane County, who are deemed too physically or mentally disabled to hold a job. The program is intended to provide short-term help for people transitioning to long-term and largely federally funded assistance programs.
In December, Gov. Chris Gregoire suggested that state lawmakers eliminate the program, which would cost taxpayers $411 million over the next two years, saying the state must solve its budget mess without raising taxes.
Republican budget leaders in the Statehouse agree.
"Washington is one of the few states in the country that has a government assistance for the unemployable program," said state Rep. Gary Alexander, R-Olympia. Designed as help for people waiting to qualify for Medicaid or longer-term help, the program has morphed into a major ongoing cost, he said.
"It ends up being a lot longer than transition," Alexander said.
And the priority now should be trying to preserve the long-term safety net for the vulnerable and disabled, he said. The state should focus on getting qualified people on those long-term programs faster, he said.
But Winters and other formerly homeless people say the health care and monthly stipend are important to people who might otherwise be untreated and sleeping on the streets.
A 2006 state report found that about a third of the people on the program have drug or alcohol problems. It also found that about a third had recently been arrested. The most common prescriptions under the program were antidepressants.
At Hope House, a Spokane women's shelter that also offers permanent housing for low-income women, two formerly homeless women said the assistance was critical.
For Glenda, 54, the program paid for foot surgeries that have made it possible for her to walk. Gina, 39, lived under a Portland bridge before moving to Spokane and applying for the program.
"The $339 was a big deal," she said. "I went from being homeless to having some money in my pocket. This was a place to start a life."
The two women, who spoke on the condition that their last names not be used, have struggled with addiction and mental illness.
With their GA-U payments, they paid $92 a month to live in subsidized apartments at Hope House. That left less than $250 for other expenses, including court-imposed fines.
"I started a bank account with $100," Gina said.
Glenda, a former drug user who served time in prison, says she's been off drugs for nearly six years. With the state help, she said, "you enable people to better themselves."
GA-U gets people help more quickly than long-term programs can, Hope House director Rusty Barnett said.
"We all know people one paycheck away from being homeless," she said. "That's a phrase that a lot of people said in the past, but today that's what the phrase really means. How can we not help one another?"
As the Legislature tries to write a budget for the next two years, GA-U has two key allies in Olympia: Senate Majority Leader Lisa Brown and House Speaker Frank Chopp, the two most powerful lawmakers in the state, both with roots as anti-poverty activists.
"We're going to make it a high priority to preserve that funding," said Chopp, D-Seattle. "It is a matter of life and death in many cases."
Brown, D-Spokane, says it would be foolish to throw people off the program only to see them on the streets and turning up for expensive last-resort care in emergency rooms, shelters and jails. There may be reductions, she said, but "we'll try to moderate it." She's floated the idea of saving money by changing the way the health coverage is administered.
The big question, however, is whether the state's budget problems will override legislative leaders' hopes to keep the program going. November's state revenue forecast stunned lawmakers, slashing nearly $2 billion from what was expected. Similar forecasts are scheduled for March, July and September.
Winters and the other women said they know taxpayers might resent sending money to people on the streets. But they predicted the program's elimination would cause a ripple effect: more homeless people, and more people in jail with untreated mental illnesses. All three women are now on long-term assistance programs primarily funded by the federal government.
"I'll be the first one to admit I have not made good choices in my life," said Winters. "I am at the point where I am trying to take responsibility for what I've done, but I need some help getting back on my feet."
Local journalism is essential.
Give directly to The Spokesman-Review's Northwest Passages community forums series -- which helps to offset the costs of several reporter and editor positions at the newspaper -- by using the easy options below. Gifts processed in this system are not tax deductible, but are predominately used to help meet the local financial requirements needed to receive national matching-grant funds.
Subscribe to the Coronavirus newsletter
Get the day's latest Coronavirus news delivered to your inbox by subscribing to our newsletter.
---
Subscribe and log in to the Spokesman-Review to read and comment on this story