News > Washington Voices
Pool work begins at Shadle Park
Progress depends largely on weather
Thu., Feb. 5, 2009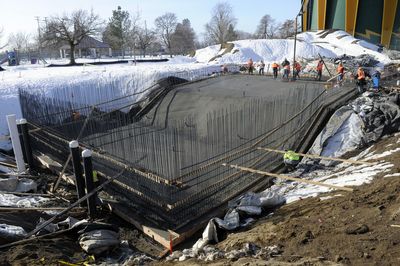 The Spokane Parks and Recreation Department took another big step toward finishing the renovation and construction of the city's six pools, when 375 cubic yards of concrete were poured at the Shadle Park pool on Friday.
Workers "poured the bottom of the pool, which is like a big slab of concrete," said Nancy Goodspeed, department spokeswoman. "That's a big deal because once that's in, then they can tent the whole site and get working faster."
The pool at Shadle is brand-new, but other pools required more prep work. At Comstock, construction crews had to remove an old pool basin that was discovered under the current pool.
"The biggest thing is, are we on schedule?" Goodspeed said. "It's a moving target right now. We've made up some time, but December was just really difficult to try and do anything. When we finish is weather- dependent."
The project was made possible when voters approved a $42.9 million bond, which will also pay for the first phase of a sports complex to be built just west of Joe Albi Stadium and to replace park wading pools with spray pads.
To help crews work through frost and snow, the Parks and Recreation Department authorized the rental of two thawing machines.
"They are big, heavy-duty pieces of equipment, like a big heating machine," Goodspeed said. Because of the cold weather, thawing machines were in great demand, and the contractor could only locate one.
Using thawing machines might allow crews to work through colder weather or to start work a bit earlier than a natural thaw would allow.
"Right now we are hoping for a mild February, despite what the groundhog says," Goodspeed said. "We can make up some time, but right now it's a waiting game to see what the weatherman is saying."
Local journalism is essential.
Give directly to The Spokesman-Review's Northwest Passages community forums series -- which helps to offset the costs of several reporter and editor positions at the newspaper -- by using the easy options below. Gifts processed in this system are not tax deductible, but are predominately used to help meet the local financial requirements needed to receive national matching-grant funds.
Subscribe to the Coronavirus newsletter
Get the day's latest Coronavirus news delivered to your inbox by subscribing to our newsletter.
---
Subscribe and log in to the Spokesman-Review to read and comment on this story