Sports
Harvick wins Shootout
Boldly passes McMurray on final lap
Sun., Feb. 8, 2009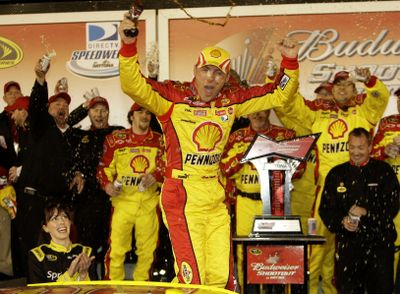 DAYTONA BEACH, Fla. – Thrilling finish, dramatic wrecks and a record number of lead changes.
It was just what NASCAR wanted, and needed.
Kevin Harvick boldly passed Jamie McMurray on the last lap of the exhibition Budweiser Shootout to give a sparse Saturday night crowd at Daytona International Speedway reason to want more.
"There's nobody who can leave today and say they didn't see an exciting race," third-place finisher Tony Stewart said.
NASCAR has taken a beating in the three months since last season's finale, as the economic crisis forced teams to slash budgets, lay off employees and even cease operations. Unemployed crew members are scouring the garage for work, sponsorships are hard to come by and everyone in NASCAR knows 2009 may be its toughest season.
"With the economy the way it is and the amount of layoffs – it's almost depressing right now to turn the news on," second-place finisher McMurray said. "I get up at 6 a.m., I turn the news on and the headline is how many people are getting laid off from major corporations. I think it will be a tough year for us to sell tickets."
Harvick and McMurray did their part to promote next week's season-opening Daytona 500.
"For the fans, the price of admission was well worth it," winning car owner Richard Childress said.
When the crash-plagued Shootout finally became a shootout, Harvick used a huge push from Denny Hamlin to grab a come-from-nowhere victory that mimicked his Daytona 500 win two years ago.
"That was some wild racing," Harvick said from Victory Lane. "What a race. That was wild as heck there at the end."
Wild indeed.
It was Harvick's first victory in 71 races, dating to the non-points All-Star race in May 2007. The only other event he won that year was the season-opening 500, when he nipped Mark Martin in a photo finish.
Harvick started 23rd in the Shootout, spent most of the race in the back dodging wrecks, then slowly worked his way toward the front. McMurray seemed headed for the win until a late wreck between Greg Biffle and David Stremme set up a two-lap overtime sprint to the finish.
Harvick was fourth on the restart, and didn't seem to have anything for McMurray until getting the big push on the outside.
Harvick coasted to the win as Hamlin, Jimmie Johnson, Kyle Busch and Brian Vickers all crashed behind him.
Stewart was third in his first race as owner of his race team. He left Joe Gibbs Racing at the end of last year to take over Stewart Haas Racing.
"Yeah, I'll take that for a debut night," Stewart said.
Jeff Gordon was fourth and was followed by AJ Allmendinger, Kasey Kahne and Carl Edwards. Matt Kenseth, Kurt Busch and Kyle Busch rounded out the top 10.
The race used to be for the previous-year pole winners and past champions of the event, but NASCAR overhauled the format and opened Saturday night's exhibition to the top six teams from each manufacturer. Then last month, NASCAR passed "The Tony Stewart Rule" and allowed each manufacturer one wild-car entry.
The joke around the garage was the caveat was added so Stewart, a three-time Shootout winner, could get his new team into the race despite switching from Toyota to Chevrolet this season.
In all, a record 28 cars competed in the race, which also was expanded five laps to 75.
Local journalism is essential.
Give directly to The Spokesman-Review's Northwest Passages community forums series -- which helps to offset the costs of several reporter and editor positions at the newspaper -- by using the easy options below. Gifts processed in this system are not tax deductible, but are predominately used to help meet the local financial requirements needed to receive national matching-grant funds.
Subscribe to the sports newsletter
Get the day's top sports headlines and breaking news delivered to your inbox by subscribing here.
---
Subscribe and log in to the Spokesman-Review to read and comment on this story