Sports > Outdoors
Out & About
Sun., Feb. 8, 2009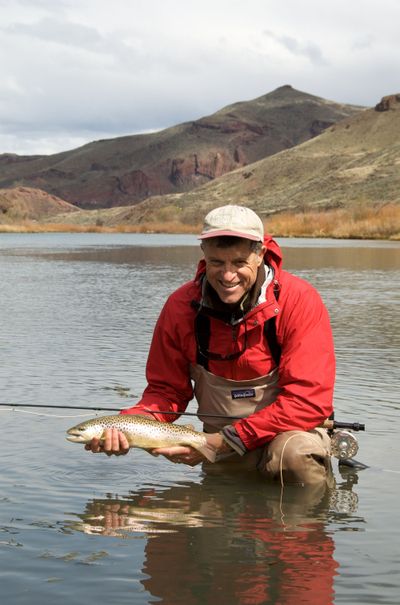 OUTCAST
Angler explains what bugs trout
What: "Understanding Emergers," free program on fly fishing with aquatic insect patterns.
Who: By Rick Hafele, aquatic biologist and fly fisher from Gresham, Ore., sponsored by Spokane Fly Fishers.
When: Wednesday, 7 p.m.
Where: St. Francis School, 1104 W. Heroy St.
OUTDO
Race for the dogs
The Doggie Dash, a six-legged event for skier-dog teams on groomed trails, is set for 9 a.m. next Sunday, starting at the Winthrop Town Trailhead.
Info: (509) 996-8080; www.mvnordic.com .
OUTCLASS
Wilderness first aid
Learn "Wilderness First-Aid" techniques geared especially for backcountry adventurers and group outdoor leaders at an in-depth, 16-hour course set for Feb. 28-March 1 at Gonzaga University, taught by instructors from the National Outdoor Leadership School (NOLS).
Cost: $185.
Contact: Todd Dunfield, e-mail dunfield@gonzaga.edu.
OUTDINE
Big-game night
"It's a great night to share with your sweetheart," said Harry Williamson, coordinator for the Safari Club International annual fundraising banquet set for Saturday evening at the Mirabeau Park Hotel in Spokane Valley.
The event, which falls on Valentine's Day this year, encompasses guns, game and elegance to raise money for wildlife conservation projects.
Advance tickets required: 981-9153.
OUTSHOW
Outdoor expo debuts
The first annual Sportsman's Exposition is set for Saturday and Sunday at the Bonner County Fairgrounds in Sandpoint, sponsored by The Men's Alliance of Christian Churches.
Outdoor vendors and outfitters will have booths, plus food. A fishing pond for kids and a full schedule of hunting and fishing seminars are planned.
Info: Dave Lotze (208) 263-9887 or Larry Book (208) 263-7416.
OUTLOOK
Best fishing times
Lunar tables from the U.S. Naval Observatory. Be fishing at least one hour before and one hour after peak times. Applies to all time zones.
(* indicates best days.)
Through Feb. 15
Today: Noon —
Monday: — 12:25 a.m.
Tuesday: 12:55 a.m., 1:15 p.m.
Wednesday: 1:40 a.m., 2:05 p.m.
Thursday: 2:30 a.m., 2:50 p.m.
Friday: 3:15 a.m., 3:35 p.m.
Saturday: 4:00 a.m., 4:25 p.m.
* Next Sunday: 4:50 a.m., 5:15 p.m.
See the Hunting-Fishing Report every Friday in Sports
Local journalism is essential.
Give directly to The Spokesman-Review's Northwest Passages community forums series -- which helps to offset the costs of several reporter and editor positions at the newspaper -- by using the easy options below. Gifts processed in this system are not tax deductible, but are predominately used to help meet the local financial requirements needed to receive national matching-grant funds.
Subscribe to the sports newsletter
Get the day's top sports headlines and breaking news delivered to your inbox by subscribing here.
---
Subscribe and log in to the Spokesman-Review to read and comment on this story