News > Nation/World
Toll mounts in Australia
Towns destroyed, 130 killed in wildfires
Mon., Feb. 9, 2009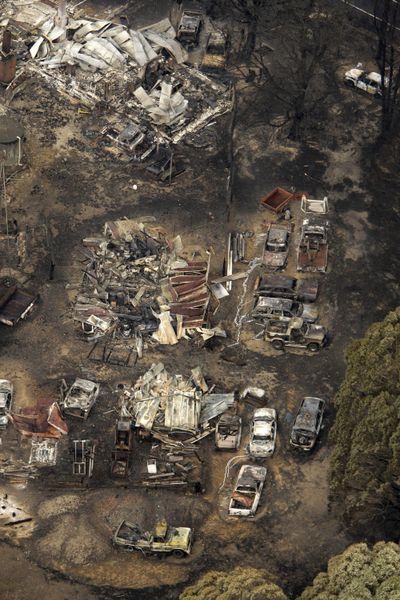 HEALESVILLE, Australia – The deadliest wildfires in Australia's history burned people in their homes and cars and wiped out entire towns, officials discovered Sunday as they reached further into the fire zone. The death toll rose to 130 by early today.
Blazes have been burning for weeks in the southeastern state of Victoria but turned deadly Saturday when searing temperatures and wind blasts created a firestorm that swept across a swath of the region. A long-running drought in the south – the worst in a century – had left forests extra dry and Saturday's fire conditions were said to be the worst ever in Australia.
From the air, the landscape was blackened as far as the eye could see. Entire forests were reduced to leafless, charred trunks, farmland to ashes. The Victoria Country Fire Service said some 850 square miles were burned out.
Only five houses were left standing out of about 40 in one neighborhood of the hard-hit Kinglake district that an Associated Press news crew flew over. Street after street was lined by smoldering wrecks of homes, roofs collapsed inward, iron roof sheets twisted from the heat. The burned-out hulks of cars dotted roads. A church was smoldering, only one wall with a giant cross etched in it remained standing.
All the deaths occurred in Victoria state, where at least 750 homes were destroyed.
Police said they suspect some of the fires were set deliberately, and have declared some sites in the fire zone as crime scenes. If that is the case, Prime Minister Kevin Rudd said today, "there are no words to describe it other than mass murder."
On Sunday, temperatures in the area dropped to about 77 degrees but along with cooler conditions came wind changes that officials said could push fires in unpredictable directions.
Thousands of exhausted volunteer firefighters were battling about a dozen uncontrolled fires today in Victoria, officials said. But it would be days before they were brought under control, even if temperatures stayed down.
Residents were repeatedly advised on radio and television announcements to initiate their so-called "fire plan" – whether it be staying in their homes to battle the flames or to evacuate before the roads became too dangerous. But some of the fatalities were people who were apparently caught by the fire as they fled in their cars or killed when charred tree limbs fell on their vehicles.
"It does appear that people have been taken by surprise by how fast this fire has come," Victoria police Sgt. Creina O'Grady told Australian Broadcasting Corp.
Police and fire officials reached on Sunday the town of Marysville and several hamlets in the Kinglake district, both about 50 miles north of Melbourne. They found the area utterly devastated.
At Marysville, a picturesque hilly district that attracts hikers and tourists and is home to about 800 people, up to 90 percent of buildings were in ruins, witnesses said. Police said two people died there.
"Marysville is no more," Senior Constable Brian Cross told the Associated Press as he manned a checkpoint on a road leading into the town at Healesville.
At least 29 of the deaths were from the Kinglake area. Many residents in hard-hit areas said the fires were moving so fast that they hit without warning, something that could have contributed to the unusually high death toll.
Local journalism is essential.
Give directly to The Spokesman-Review's Northwest Passages community forums series -- which helps to offset the costs of several reporter and editor positions at the newspaper -- by using the easy options below. Gifts processed in this system are not tax deductible, but are predominately used to help meet the local financial requirements needed to receive national matching-grant funds.
Subscribe to the Coronavirus newsletter
Get the day's latest Coronavirus news delivered to your inbox by subscribing to our newsletter.
---
Subscribe and log in to the Spokesman-Review to read and comment on this story