News > Spokane
'Murder' e-mail meant as a joke, suspect says
Message named seven people, including Cowleses
Thu., Feb. 12, 2009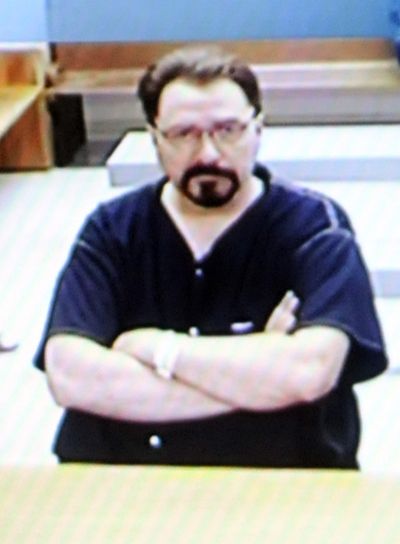 The man accused of threatening to kill Spokane City Council President Joe Shogan listed seven others he wanted "to murder" in an e-mail to a group of people, according to court records released Wednesday.
David H. Elton, 43, was arrested Tuesday on two felony counts of harassment.
Last week, Elton sent an e-mail that began "comedy below," court records say. It then said he planned to kill himself before July 4. The message said he wanted "to murder" Cowles Co. Chairwoman Betsy Cowles, Spokesman-Review Publisher Stacey Cowles and convicted rapist Kevin Coe. He also listed a man he met while playing chess at Starbucks; Elton's ex-wife, Robin Stewart; and Stewart's brother and mother, court records say.
"Elton admitted to having a reoccurring dream where he or someone else kills his ex-wife and then burns her remains while listening to Chopin and Van Halen," Spokane police Detective Corey Turman wrote in a report about the charges.
The threat aimed at Shogan was written by Elton in an e-mail in December. In it, he wrote that he would "enjoy the decapitation of Joey boy," court records said.
In a jail interview Wednesday, Elton called himself a "freakish poet." He also said the e-mail with the list is protected speech.
"I don't want to cause fear," Elton said. "I want people to wake up to bipolarity."
He added that his writing is "humorous" and that he wrote some of the messages while drinking late at night. "This whole thing is a joke," he said.
Elton said before getting into jail he had been on medication to treat his bipolar disorder.
"I don't blame any of my writings on beer or bipolar," he said. "It's me, David Elton. But I know that being bipolar and drinking alcohol can give you negative results."
Elton is a civic gadfly and former Spokane Valley City Council candidate. He has a Web site promoting the removal of Shogan from office. Last month, he paid for radio ads that said he plans to sue the Cowles family.
Elton has faced harassment charges before. In 2004, he was charged with a domestic violence-related harassing phone call to his ex-wife. Court records say Elton pleaded guilty to a lesser charge.
At a hearing Wednesday, Spokane County District Court Judge Patricia Connolly Walker set Elton's bond at $400,000. In response, Elton asked Walker what her relationship is with Betsy Cowles. In the jail interview, Elton said he hopes to prove a connection between the judge and Cowles or Shogan.
"I sincerely hope that some of my hacker friends do invade their e-mail," Elton said. "Although I'm not recommending that, they're probably doing it now."
Local journalism is essential.
Give directly to The Spokesman-Review's Northwest Passages community forums series -- which helps to offset the costs of several reporter and editor positions at the newspaper -- by using the easy options below. Gifts processed in this system are not tax deductible, but are predominately used to help meet the local financial requirements needed to receive national matching-grant funds.
Subscribe now to get breaking news alerts in your email inbox
Get breaking news delivered to your inbox as it happens.
---