News > Nation/World
Peanut executive mum before House hearing
Thu., Feb. 12, 2009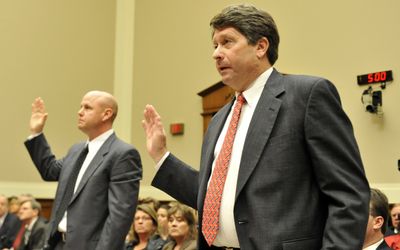 WASHINGTON – As salmonella illness began spreading across the country last fall, the owner of a Georgia peanut company that was causing the outbreak railed against the cost and delays that the contamination was causing his businesses, according to internal company documents obtained by Congress.
Stewart Parnell, president of the Peanut Corporation of America, also pressed federal regulators to allow him to continue using peanuts from the tainted plant and shipped contaminated products to customers with a homemade certificate that falsely attested to their purity, according to e-mails and memos made public Wednesday at a hearing of the House Commerce and Energy Committee.
Parnell, whose company is at the center of a massive food contamination scandal and federal criminal investigation, was compelled by subpoena to appear before lawmakers but refused to answer questions.
The e-mails and records also showed how Parnell repeatedly tried to get around internal laboratory tests that showed salmonella contamination by sending the samples to a different laboratory for new tests. When confronted with a positive reading for salmonella in October, instead of destroying the product – a standard industry response – Parnell sent it to a different lab and then complained about the delay.
"The time lapse, besides the cost is costing us huge $$$$$," Parnell wrote in an October e-mail to plant manager Sammy Lightsey.
In another e-mail between Parnell and Lightsey, the manager reported that samples from the plant taken on Aug. 11 tested positive for salmonella but had been sent to another laboratory and received a negative result. "Okay, let's turn them loose then," Parnell wrote.
Federal regulators at the hearing called Parnell's actions "unconscionable"; several lawmakers called them criminal.
"This is a company that cared more about the financial bottom line than it did about the safety of its customers," said Rep. Henry Waxman, D-Calif., the committee chairman.
The committee dismissed Parnell Wednesday after it was clear he would not answer its questions.
The death toll from the outbreak rose to nine Wednesday as health officials linked the death of an Ohio woman to the ongoing outbreak that has sickened at least 600 people since September.
Local journalism is essential.
Give directly to The Spokesman-Review's Northwest Passages community forums series -- which helps to offset the costs of several reporter and editor positions at the newspaper -- by using the easy options below. Gifts processed in this system are not tax deductible, but are predominately used to help meet the local financial requirements needed to receive national matching-grant funds.
Subscribe to the Coronavirus newsletter
Get the day's latest Coronavirus news delivered to your inbox by subscribing to our newsletter.
---
Subscribe and log in to the Spokesman-Review to read and comment on this story